Sink your hands into clay and learn more about yourself during the process in these social pottery classes in Brisbane! Making DIY ceramics is a relaxing and meditative experience where you'll be surprised by the new and unexpected things you learn not only about the craft but also about life and the world around you.
From social clay and sip classes to wheel throwing for beginners, the possibilities of what you can create and learn are endless! Pottery classes in Brisbane allow you to embrace your creativity, work at your own pace, learn a new skill and discover a thing or two about yourself as well. Suitable for kids, teens and adults, everyone is welcome to join in on the fun and learn how to make pottery pieces from scratch.
Perfect for date night ideas or a mother and daughter day, you can spend quality time with your loved ones and leave the class feeling proud of what you have made. Your handmade ceramic pieces add a personal touch and colour to your living space or make for a great gift for your significant other.
Read on to find out 10 things pottery classes in Brisbane will teach you today.
You don't have to be a pro to make beautiful ceramics
It might seem daunting to jump into the world of pottery and master this mesmerising craft but beginner-friendly pottery classes show you just how easy it is to learn how to make pottery for the first time. Under the guidance of a friendly local ceramicist, you will have a helping hand each step of the way.
There are ceramics classes for kids, which are great for developing fine motor skills as kids work with clay and make cute creations like a polymer clay mini planter. Or if you're on the hunt for a Friday night activity, clay and sip pottery classes in Brisbane, where people can bring their own drinks, unwind and paint their own unique artwork, are the perfect choice for beginners. There is something for everyone to come away feeling inspired and confident in this new skill!
It's never too late to unleash your creativity
Can you learn creativity? With pottery you can! Come and discover your artistic side and experiment with different designs and mediums. The great thing about pottery is that you will never be bored of making it. There's wheel throwing, pottery glazing, hand building clay and Kintsugi workshops and not to mention, you can make a variety of ceramic pieces to brighten up your room such as a DIY ceramic mug, pot planter or clay coiled vase. Forget artist's block and the pressure to be perfect and get creative with friends!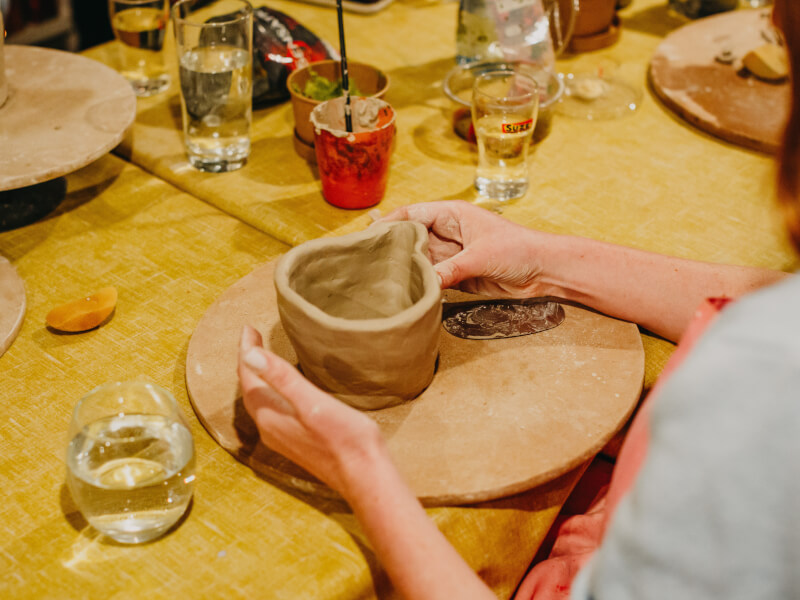 Finding your passion is beneficial for mental wellbeing
Find something you love to do by going to mindful pottery classes in Brisbane. With work as a constant distraction, it can feel like you have no time for finding a passion or hobby. But don't let that stop you from doing something that not only boosts your wellbeing but is a great creative outlet for you to express yourself through art. So come to the pottery wheel and feel excited about what you can create with just your hands and imagination.
It's important to take time for yourself
Pottery is an extremely relaxing and therapeutic craft, as it allows you to unwind from the stress of everyday life. As the pottery wheel spins, you'll get lost in the rhythm of moulding and shaping clay by hand. Learning pottery for beginners makes you concentrate and focus on the clay, which serves as a great way to switch off your mind, make time for yourself and take a break. Pottery is great for your wellbeing and is proven to reduce stress and anxiety. So come along to one of the best things to do in Brisbane!
It's okay to slow down and work at your own pace
In this hyper-active world, we are all hurrying onto the next thing. But pottery doesn't work that way. It's not a "fast" craft to do, instead it allows you to take your time and be patient with the process. This way, you can have a newfound sense of appreciation for what you have made because of the time and effort you put into your handmade ceramics. Perfect for team building activities, you can unwind together with your colleagues outside of the office and come away feeling refreshed and rejuvenated.
Don't fear change
When you start making pottery, you might have a certain design or vision but as you play and experiment with the clay, it might turn out different than you hoped. A pottery class is all about accepting change and how you can come up with a new look that is better than before. Even when it comes out of the kiln after glazing and firing, they look completely different and that just shows you that change is a good thing, even though it may be scary or uncertain at first.
Failure is not the end
The best thing about pottery? There's no such thing as mistakes! Even with the tiniest error, you can smooth the clay over or ask your teacher or the people around to help you. But what happens if my piece falls apart on the wheel? Your teacher can recycle the clay and you can try again! Everyone is on their own journey with pottery and it's never too late to start. A Japanese art like Kintsugi teaches you to embrace the beauty of life's imperfections and flaws by repairing broken pieces with gold powder and lacquer. With no pressure to be perfect, beginner's pottery classes are a must do Brisbane activity.
Slow down and live in the present
If you're looking for mindful Brisbane activities, head to these pottery classes and experience what it feels like to truly live in the present. There's something about pottery that makes it so relaxing and with no screens present, it makes you fully focus on the clay in front of you. Forget past or future worries and be in the moment. After all, pottery is a grounding experience that helps you get in touch with all of your senses.
Don't be scared to try something new
Held in our teachers' lovely pottery studios in Brisbane, friendly and experienced ceramicists make it a priority to have a safe and non-judgemental space, where you can keep trying new things. Whether you're a beginner or someone who already has some experience, everyone can come to the pottery wheel and feel ready to learn and get the best tips and tricks for everything from clay hand building to pottery painting.
Never miss an opportunity to spoil your loved ones
Creating DIY ceramics and gifting them to a loved one sends out a heartfelt message that they'll definitely enjoy! So why not try learning to make a quirky clay mug or going to a clay and sip class for charity and to give back to your community. These classes are suitable for anyone looking for date night ideas, getting together with friends at a hens party or corporate Brisbane workshops for team building and workplace wellbeing.
Everyone has hopped onto the trend of creating handmade pottery and you can too! So come along to these relaxing and fun pottery classes in Brisbane and celebrate the people around you with a beautiful handmade gift.
Pottery workshops in Brisbane