Looking for a sign to reignite that childhood passion for painting? This is it! Join paint and sip classes in Perth and unleash your inner artist as you learn the skills to create a masterpiece with the swish of a paintbrush!
Bring along your girlfriends for a fun night out, or treat your mum to a gift experience she won't forget! Pop a bottle of bubbly (or your favourite Savvy B) and get those creative juices flowing as you mix colours and make magic with paint.
What is a wine and paint night?
When you picture an art class, you're probably thinking of a more serious affair. Chances are you imagine a room full of people clutching paintbrushes and staring intently at a blank canvas, each with their own unique vision of the finished piece. If that sounds more stressful than relaxing, then paint and sip classes in Perth would be the perfect experience for you! This relaxed approach to painting classes will have your heart singing and your inner artist bursting to get free.
If you're looking for something to do with friends or family that's a little more unique than the usual dinner out or movie night, paint and sip classes are the perfect combination of fun and creativity! There are no rules at these art workshops, so get wild with colours and create your own interpretation of an artwork that you'll be proud to show off. Let loose and get those creative juices flowing at sip and paint classes - it's all about having fun, relaxing with some wine in hand and spending quality time with loved ones.
Beginner-friendly art workshops for everyone
Just as much as paint and sip classes in Perth are great for those who have never picked up a brush before, they're also a fantastic way to improve your art skills. No matter if you've got a secret talent for painting, or this is the first time you've picked up a paintbrush since school, there's something for everyone to learn!
Learning from a friendly professional is the best way to take your artwork to the next level and learn some industry tips to be able to create the best masterpiece you possibly can. Discover new ways of seeing and mixing colours and find your unique artistic style too.
Hens party ideas sorted
If you are looking for fun things to do in Perth with the girls, how about a paint and sip class? These art workshops are popular hens night ideas because they are easy to organise and don't require the bride-to-be to lift a finger! All you'll need to do is bring along an open and creative mindset as well as any drinks and snacks.
Got a special spot in your heart for Australian wildlife? Join Pinot and Painting's Kookaburra sip and paint class and get up close and personal with one of this country's famous birds. Transport yourself to the striking colours of the outback with Adriana Nascimento's Sunset Break painting class, or unwind and learn to paint a peaceful landscape at Fusion Cre8tive's funky art studio.
Paint and sip for hens parties in Perth are the perfect group activities for anyone looking for beginner-friendly experiences to get all the girls excited about. Paint the town red and make new memories together that you'll treasure forever!
Team building activities for socialising
Keen to create something special with your work crew? Whether you're interested in art or not, these Perth painting classes are guaranteed to bring your team closer together. Not only is painting a relaxing activity to do after a long week at work, but you can take the chance to bond with your colleagues as you sip wine and learn new skills together.
Set in a relaxed and welcoming environment, these painting classes in Perth are the perfect setting for groups to let their hair down and get inspired by each other. You'll each get to make your own interpretation of the same artwork - you'll be surprised how different each piece is too!
This is the perfect opportunity for teams in Perth to get creative and let loose while making lasting memories together. If you've never really tried painting before but still want to enjoy a team building activity that will get everyone enjoying each others' company, then these Perth workshops would be a great choice for you!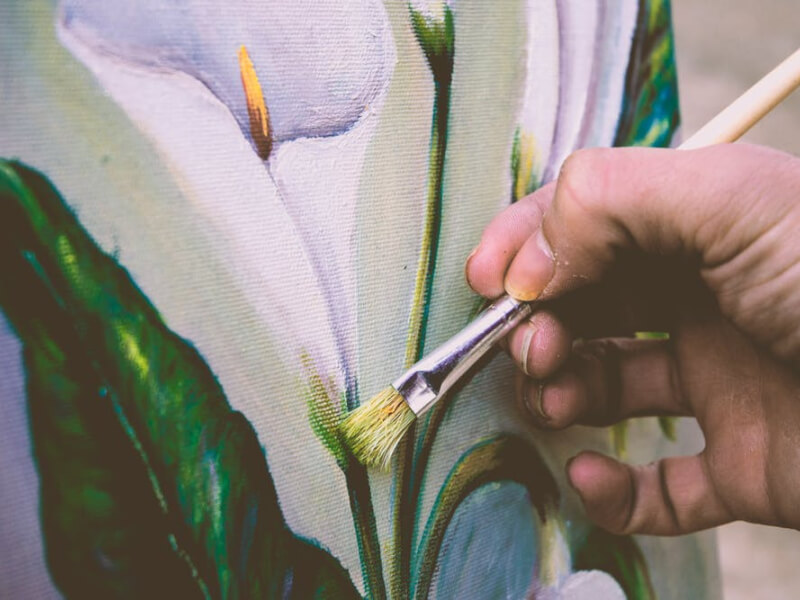 Unwind with art workshops
Take a break from technology and turn off your phone at sip and paint classes in Perth. Bring along a bottle of bubbly and let an expert guide you through the calming process of creating a beautiful piece of artwork from start to finish.
You'll learn the skills to be able to decorate your home with masterpieces that showcase your artistic style and reflect your personality. The best part is that you don't have to be an art expert to take one of these courses, just pick up a brush and get started! These painting courses offer an amazing outlet for creativity as well as give you the opportunity to socialise with other like-minded people who love art as much as you do! You can even use your new skills to create some personalised gifts for friends or family, or give a loved one a gift experience they won't forget for their next birthday.
Turn any blank canvas into a work of art with tips from friendly experts at these fun and calming wine and paint classes - it's one of the best things to do in Perth!
Paint and Sip workshops in Perth