Make new memories with loved ones and unwind with paint and sip classes in Perth! If you're searching for private event ideas and unique group activities to spoil your loved ones, why not take the chance to paint the town red at these fun and relaxing art classes for adults.
What could be better than spending some quality time with friends and family while learning a new skill? Grab a bottle of your favourite vino and gather your girlfriends or colleagues for a night of creative fun! Whether you're planning your next hens party or looking for team building activities, there's a range of beginner-friendly Perth workshops for you to try.
With a glass of wine in one hand and a paintbrush in the other, your inner artist will undoubtedly make an appearance! Take the plunge and check out these five amazing paint and sip studios in Perth.
If you're looking for a funky art studio in West Perth, then look no further than Louise Farnay's creative space. From international art and sculptural exhibitions to award-winning paintings, globally travelling exhibitions, and internationally sponsored artist workshops, Louise Farnay is nothing but an expert when it comes to all things sip and paint. With over 40 years of experience in art and design, Louise's collections are located on every curve of the globe.
With a passion for teaching others, Louise's classes are always filled with laughter, enthusiasm and bright colours. If you're looking for hens party ideas in Perth for a keen creative, join Louise's 'Curvalicious' paint and sip class and learn how to make masterpieces from scratch. Treat your girlfriends to a relaxing night out at a West Perth paint and sip class where you can decompress after a long week at work and reconnect over a glass of vino too.
In need of a little creative break - whether that be a child-free night out or an escape from the stress of work? Lousie's painting classes are perfect for you! As a qualified art therapist, Louise understands the healing nature of the art making process and creates a safe and encouraging environment that allows you to uncover your own creative talents!
In and around the neighbourhood of Pearsall and looking for fun Perth workshops? Adriana Niscimento's wine and paint classes at Kaleidoscope Art Room are the perfect place for you to unleash your creativity and connect with like-minded people in a fun and relaxed environment. Get inspired by her creative studio and learn how to make colourful masterpieces from scratch with special tips and tricks from Adriana.
Originally from Brazil, Adriana followed her passion for drawing around the world and studied a variety of media from Canada, to the USA, her home country and finally Australia. In her fun and trendy paint and sip classes, Adriana combines her passion for colours and nature and shares her love of native Australian flowers, South American birds and more! From Eucalyptus flowers to butterflies, there's a range of fun artworks for you to recreate in your own unique style.
With a paintbrush in one hand and a glass of your favourite wine in the other, you're bound to have a wonderful time at Adriana's wine and paint workshops in Perth.
If you're searching for fun group activities or birthday gift ideas for a keen creative in Applecross, let loose at an art class with Perth's upcoming wine and paint provider Sip n Dip! Grab your friends or family and spend some quality time together as you bond over learning a new skill at Sip N Dip's groovy Derbal Yerrigan studio at Heathcote Cultural Precinct.
Get to know your local arts community, connect with talented Perth artists and celebrate together as you paint your own artworks from scratch. Bring along a bottle of your favourite wine and you've got yourself an evening filled with fun and excitement.
If you're looking for fun team building activities that will help you connect with your colleagues outside of the workplace, Dip n Sip's intimate art studio is the perfect place for you. Uncover your unique artistic style and experiment with different painting techniques to create your very own art piece that you can take home and hang on your wall.
Learn more about the calming process of art-making and bond with loved ones as you make magic with paint - it's one of the best things to do in Perth!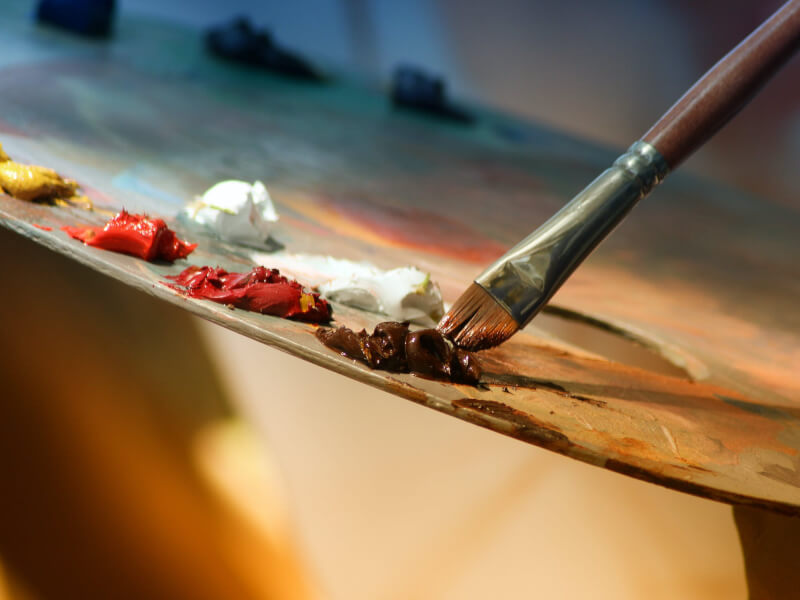 Keen to try out some Perth workshops in the Maylands neighbourhood? Join Pinot and Painting's colourful sip and paint classes and learn how to paint in a relaxed environment as you embrace your inner artist.
Run by passionate art and entertainment professionals Nic and Ebony, Pinot and Painting is a fantastic studio where you can get your creative juices flowing so you can leave with your very own piece of handmade art! Having combined their love of meeting new people and painting, Nic and Ebony have created an inviting space where you can connect with like-minded individuals and spend one-on-one time with your loved ones.
You'll get the chance to learn new skills from a bunch of local artists and maybe even pick their brains for special tips and tricks to help create quality artworks time and time again. Bring along a bottle of bubbly or wine and some snacks and unwind as you feel your creativity flow through you and onto the canvas.
Pinot and Painting's beginner-friendly wine and paint classes are fabulous things to do in Perth if you're looking for 30th birthday ideas or gift experiences for a budding artist. You'll start with a blank canvas and end with a completed masterpiece!
Need some inspiration for birthday party ideas or fun team building activities? Learn to paint from one of Perth's best artists Jose Bacarreza at his mobile paint and sip classes. If you've got a place, Jose will be there to take you and your loved ones through a creative experience you won't forget!
Originally from Chile, Jose is an internationally acclaimed artist who loves to spend his spare time sharing his passion for painting. Having studied and practised painting for many years, Jose understands the calming and therapeutic nature of art making. If you're looking for a lovely relaxing class that will get you unwinding from the week and still being actively creative at the same time, then his paint and sip classes in Perth would be a great pick for you.
Whether you're looking for killer creative birthday party ideas, or a fun evening out with girlfriends, these art teachers and paint and sip studios have a fountain of knowledge they're excited to share with you. Uncover the secrets to making funky masterpieces and get ready to sip and paint in Perth!
Paint and Sip workshops in Perth