Sink your hands into clay and get creative with pottery classes in Brisbane! By heading along to the city's best pottery studios, you can learn how to create ceramic art with ease and enjoy the blissful process of it too. No matter where you are in Brisbane, you are bound to find a ceramic studio that will suit you any time of day or night.
Pottery classes in Brisbane are designed for all levels, from beginners to more experienced potters, which means anyone can come ready to learn and take your pottery skills to the next level. Whether you are looking for date night ideas, birthday gifts or kids activities, pottery classes will be one of the best things to do in Brisbane today.
Immerse yourself in a relaxing, friendly environment and make pottery at Wesley Taylor Art Studios. Inspired by Australian landscapes, animals and people, Wesley brings his passion for art to life and offers clay and sip, hand building ceramics and beginner's art classes. Bring a bottle of wine, grab a few friends and unleash your creativity with crafting air dry clay. You can make anything you desire from a candle holder to a DIY pot planter or ceramic decorated plate.
With pop-up Brisbane venues like Gumdale Tavern, you can BYO food and drinks or purchase them from the bar and experience a pottery haven for yourself. If you're looking for team building activities or birthday party ideas, join pottery classes in Brisbane and make your own unique masterpiece.
Held at Woolloongabba Substation, Artfolk is the perfect place to become inspired and express your creativity through art. Enter a safe and warm space willing to learn how to hand build clay and paint your own pottery. Artfolk provides all the tools and materials you need so all you have to do is bring yourself and have some fun! Owner and artist Vanessa has an open and welcoming approach, where she believes there is no right or wrong with art and making DIY ceramics. You can feel easily relaxed to enjoy working with clay in the ceramic studio and let your worries disappear as you get behind the pottery wheel for the first time.
The Blushery Studio in Salisbury is the perfect getaway from those midweek blues! Escape to a welcoming atmosphere, listen to some funky music and make your own polymer clay jewellery. This art studio offers pottery classes in Brisbane for kids and adults, which means everyone can join on in the fun! You can make everything from polymer clay earrings to mini pot planters and fairy doors. Whether you are looking for school holiday kids activities in Brisbane or unique gift experiences, making handmade pottery is a creative and enriching activity for your soul. The best part? You can take home your unique clay sculpture that you'll be proud of, as well as some newfound skills!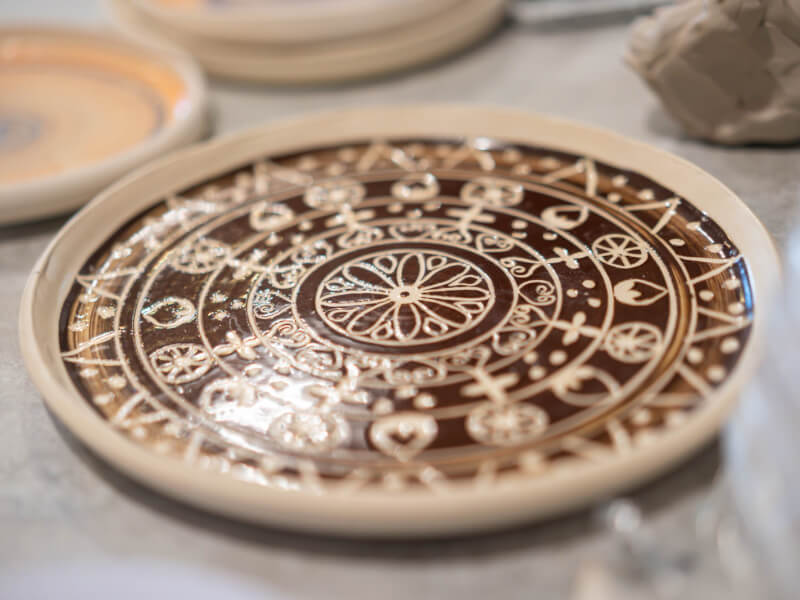 Their message is simple: "Design with passion, create with integrity and collaborate with intention." Run by a mother and daughter duo, Peta and Ellie, Bowerbird Collections was born out of a love for sharing their knowledge and skills in ceramics, jewellery and lampshade making. Whether you're a complete beginner or have some experience, these Brisbane pottery classes are all about experimenting with different mediums and clay. At the end of each class, you'll come away with a deeper appreciation of what goes behind the scenes in making a simple piece of pottery. If this resonates with you, why not try coming along to their pottery studio in Brisbane for a unique experience you'll never forget.
Play with clay as you sip wine in this social ceramics class in Brisbane! Lai Art is all about bringing an immersive experience to you and helping enrich your daily life through art and creativity. They offer a fun clay and sip class, where you can learn air drying clay techniques and make cute home decor items like a wall hanging or trinket bowls. Your teachers will take you step by step through the process, where you will be able to make handmade ceramic treasures of your own!
Escape from the worries of life and sink your fingers into clay as a mindful and relaxing experience. This is suitable for date night ideas, team building activities or a night out with friends so come along and experience a safe and supportive environment to learn and have fun in.
Windmill Pottery's Brisbane pottery studio in Sheldon invites you to get a taste of being a professional potter in wheel throwing and ceramic glazing workshops. Perfect for beginners, you can learn how to throw clay on the potter's wheel and the techniques behind the glazing and firing process. With over 40 years of experience, your teacher loves sharing the joy of working with clay with his students. So come and get hands-on with pottery, enjoy your favourite beverage and nibbles, and relax in the garden as you'll come away feeling calm and refreshed.
Are you a fan of funky shapes and colourful earrings? Check out this polymer clay earring workshop, where you can learn how to make a bold statement with DIY jewellery. Under the guidance of Christine Haberl, you can create handmade earrings from scratch and gain basic knowledge of cutting, marbling and texturing. Come to the class with a creative design in mind and your teacher will help you bring that vision to life. Get the crew together for a night of laughter and fun as you are bound to enjoy working with clay and wear these quirky, cute earrings that will match with any outfit.
Come with a sense of play and adventure in these Brisbane pottery courses! At Bag End Studio, it doesn't matter if it's your first time or you don't think you're creative enough. The workshop space is full of treasures and trinkets that will help inspire you with making your own unique pottery piece. All materials and tools are provided so all you need is your wonderful self and some creativity! Transform simple items in your home like wine glasses to upcycled fabric wrapped glasses with clay, which will make for the perfect gift, table decor for special occasions or for yourself to pair with a bottle of champagne.
With a variety of pop-up venues all around Brisbane, you'll find a Brisbane pottery class that will take your fancy. Whether you're in the West End or Paddington, they bring the party to you and help you and your friends feel relaxed as you get stuck into clay. Over two hours, you learn hand built pottery techniques and create functional ceramic pieces that will brighten up your living space or office desk. Slow down, get to know new friends and get in touch with your creative self in the ceramic studio. At the end of each workshop, you'll feel a sense of accomplishment with your gorgeous handmade homewares, as well as a new passion for pottery.
Pottery workshops in Brisbane