Jump behind the bar and learn nine easy cocktails to make at your favourite Melbourne venues! There's no need to be a master mixologist with these simple cocktail recipes and almost immediately you'll feel your confidence - and your thirst for your delicious creations - grow.
Whether you love savouring salty margaritas or prefer something a little sweeter like a fruity pina colada, you'll find that making cocktails can be almost as straightforward and satisfying as drinking them! Find local mixology classes that'll get you shaking, muddling, stirring and pouring in no time and say hello to your new weekend hobby that'll surely be a crowd favourite at your next dinner party.
Check out these nine easy cocktails to make and start shaking at a Melbourne mixology course today!
Embrace your inner coffee-lover with an espresso martini
Calling all coffee addicts! A cocktail making class would not be complete without a classic espresso martini. One of the most popular cocktail choices in the city of Melbourne, the espresso martini combines espresso, vodka and sometimes even a coffee liqueur like Kahlua to create the ideal balance between sweet and bitter notes.
Looking for team building activities that are sure to invigorate your team? Switch out the morning coffee runs for a cocktail class at night with your colleagues and get everyone learning how to make these easy (but delicious) cocktails at home!
Enjoy a fun night out with a delicious margarita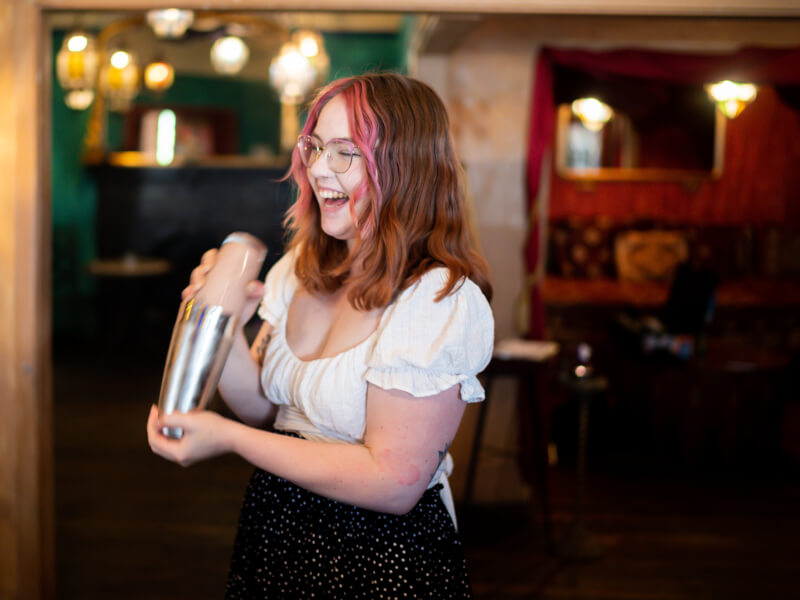 Nothing says cocktail party quite as much as a margarita! A clear favourite in Mexico and among tequila-lovers, this classic drink is tasty, zingy and only requires a few basic ingredients to make.
Get your next birthday party started with a private margarita making class and bring along salsa and tortilla chips to complement your drinks. You'll feel like you're being transported to Mexico from your favourite Melbourne bar with this creative cocktail party!
Bring in the summer vibes with minty mojitos
One of the most refreshing cocktails out there, mojitos are a great choice for summer parties and gatherings with friends. With just mint leaves, lime juice and rum needed to make these tasty drinks, you'll be shaking with confidence in no time!
Ask your local mixologist if they can customise your mojito recipes to suit your private group class by adding elements like pineapple or raspberry, for an extra special touch.
Sip on a fruity Aperol spritz
If you love a spritzer, then an Aperol spritz is the perfect easy cocktail for you. Made with Aperol (an Italian bitter orange liqueur), prosecco and sparkling water, this drink will get your taste buds dancing.
If you're looking for something sweet but not too sweet to drink at your next dinner party, this cocktail will definitely hit the spot!
If you like Pina Coladas... learn how to make them!
Nothing says "beach holiday" quite like a refreshing pina colada. This tropical cocktail is surprisingly easy to make at home and tastes even more delicious when served in its very own pineapple cup.
The coconut rum provides a delicious background flavour while pineapple juice adds just the right amount of sweetness to this classic cocktail recipe. The only thing left to decide? Whether you want an alcoholic or non-alcoholic version, depending on how much time you have before bedtime after your night out!
Stir up a classic Italian Negroni
If you're wanting to learn how to make classic cocktails and looking for a bit of a challenge, try a Negroni. Consisting of equal parts gin, vermouth and Campari, this cocktail is classically Italian in flavour and appearance.
Take your mates out with a Negroni class at one of Melbourne's favourite small bars and see who can master this intriguing drink the fastest. Feeling brave? Add a zesty orange twist!
Make a foamy and fruity whiskey sour
One of the most traditional drinks from America, an old fashioned whiskey sour is made with bourbon, sugar syrup and fresh lemon juice topped off with egg whites. This delicious cocktail recipe has stood the test of time by being reinvented over and over again by bartenders around Melbourne (and around the world).
Add some style and flair to your bucks party ideas with a whiskey mixology class, and add the classic whiskey sour to your cocktail making list!
Get classy with a sophisticated cosmopolitan
Looking for a classy cocktail to make in your mixology class? There's nothing more sophisticated than a cosmopolitan! Popularised in the television show Sex And The City, this cocktail is made with vodka, triple sec and cranberry juice.
You and your gals can live out your Carrie Bradshaw fantasies with these classy hens party ideas. Make sure you take plenty of amazing pics with your pretty-in-pink cosmo to share on social media, too!
Shake together a sweet daiquiri
This simple cocktail is the perfect way to beat the heat! A daiquiri is a mix of rum, lime juice and sugar syrup and takes only a few minutes to prepare. Make it even more refreshing by replacing sugar with honey or try swapping out the rum for tequila or vodka for an equally delicious drink.
Add some tropical flair to your cocktail class with a variety of ingredients from sugared rims to fresh fruit and maybe even edible flowers like hibiscus - anything goes when it comes to these easy cocktails!
Now that you know there are so many easy cocktails to make out there, try something new and get out of your comfort zone with these fun Melbourne activities. Join a public mixology class and learn how to make your bartender's signature cocktails or request a private workshop for a special event or occasion and see if your local mixologist can accommodate your group's preferences.
No matter what you choose, one thing is for certain, you'll be shaking up these easy cocktails at home in no time. Your family and friends will be so impressed with your skills they won't even realise just how simple these cocktail recipes really are!
Cocktail workshops in Melbourne