Discover the best Mother's Day gifts for Grandma and celebrate the unique joys of each generation. After a tumultuous year, make 2021 the moment you celebrate every mum in your life, including your powerhouse grandma – because without her, you wouldn't be here!
Given the state of things in the world right now, some grandmas may not be too keen on rejoining big groups for social occasions or family events. In fact, many elderly people are still taking measures to protect their health and wellbeing. And although you might still be separated from your grandma right now – whether that's due to distance or for health-related reasons – we've assembled a few experience gifts that you, your mum and grandma can do together, regardless of where you are in the world.

Mother's Day gifts for a Nan who loves knitting
Presents for grandma can often be a challenge. Something for her to wear? Something for her to use? There are almost too many possibilities. So why not think outside the square in 2021 and gift your nanna an experience she'll never forget.
Consider gifts for grandma that are very much similar to the pastimes and hobbies she already has. Many grandmas love to knit, so offering her the chance to expand on a skillset she already has is a wonderful way to show her you care. When it comes to finding gifts for her, this is one of the most popular Mother's Day gifts for grandma on offer.
May we cordially recommend our stitching and embroidery craft boxes to you and your granny? Our punch needle embroidery class is as grandma-friendly as a tea-cosy crafted out of vintage lace. If your Nan hasn't already mastered it, punch needle embroidery is similar to painting but, with thread in place of paint. It allows complete creative freedom and covers a variety of textures and patterns; imagination is the only limitation to what you can do with punch needle embroidery. It's perfect for expanding grandma's embroidery skillset and, with our easy-to-follow live stream - as well as all the materials and resources delivered straight to her door with our new LiveBox service - your Nan won't have to compromise her health to learn from the best local artists in town.
Alternatively, our weaving class is a great 2021 Mother's Day gift for nan! She'll learn the basics of how to weave a gorgeous hanging wall-piece and the craft box even contains her very own personal loom! A loom, ladies and gentlemen. Bet she won't see that coming! While you're weaving together one of the best grandma gifts of all time, your nan will be using knitting needles like an amateur, completely oblivious to the weaving mastery you're about to bestow upon her.

Check out more crafty gifts for Mum here!
Mothers Day gifts for a Grandma who loves gardening
Mother's Day gifts come in many shapes and sizes. If there's another grandma stereotype/truism, it's that grandma's love taking care of a garden, and purchasing nan a plant is a winner. However, it's not that simple, currently. Nan can't just go out and buy herself a bunch of marigolds and get to work in the garden, her health is at risk! But she can work on a small indoor green space!
Our range of live classes online grows every day, but we already offer a few very distinct, inside gardening options for a nanna to give two green thumbs up to! Our kokedama workshops are perfect gifts for grandmas who are stuck inside! Kokedama - or moss ball plants - is an ancient Japanese gardening technique that takes a small bonsai plant and wraps it in moss to create a decorative ball that's ideal for indoors!
Requiring very little sunlight and minimal attention, kokedama plants are a literal ball of fun to make, and our craft box will deliver your grandma everything she needs to make it. Not only this, but indoor plants have been found to purify the air of toxins, as well as lower depression and anxiety. If you're looking at gifts for grandma that will also lower her stress levels, our kokedama workshops are perfect.
Mothers Day gifts for a Nan who loves painting
This Mother's Day create your own artwork with a painting class, it's a fantastic indoor activity for any arty nan! We understand that some mums and grandmas would prefer to do something lowkey, so we have a range of different Paint N Sip classes that you and your grandma can do without having leave the living room! Throw in a bottle of bubbly or wine and you've got your very own DIY Paint N Sip class.
With a fully interactive live stream to help guide her through the basics of whatever medium she'd most enjoy - and with a craft box full of all the artistic essentials - your Nan will be able to bring out her inner artist for Mother's Day 2021. Not only this, but our online painting workshops are a lot of fun to do as a group, making this class an ideal activity if you are planning on getting the family together. Whatever Mother's Day gifts for grandma you're looking for, refining her painting skills is sure to be a hit with the family matriarch!
Mother's Day gifts for a Nanna that loves soaps
This year, indulge your nanna and give her the creative gift of soap making this year! We all know soap is a very personal topic, with almost everyone having very different preferences. Instead of buying your Nan that expensive soap from the store she loves, get her hands-on to create a soap scent that is absolutely perfect for her.
This experience is a fabulous bonding activity for you and your grandma, as you get creative and create your own homemade soap. Not only will you be ab;e to take your creations home and enjoy them, but you'll also be able to take home the tips you've learnt so that you and your nanna can create your own soaps from home time and time again. This could become your new favourite activity to do together this 2021.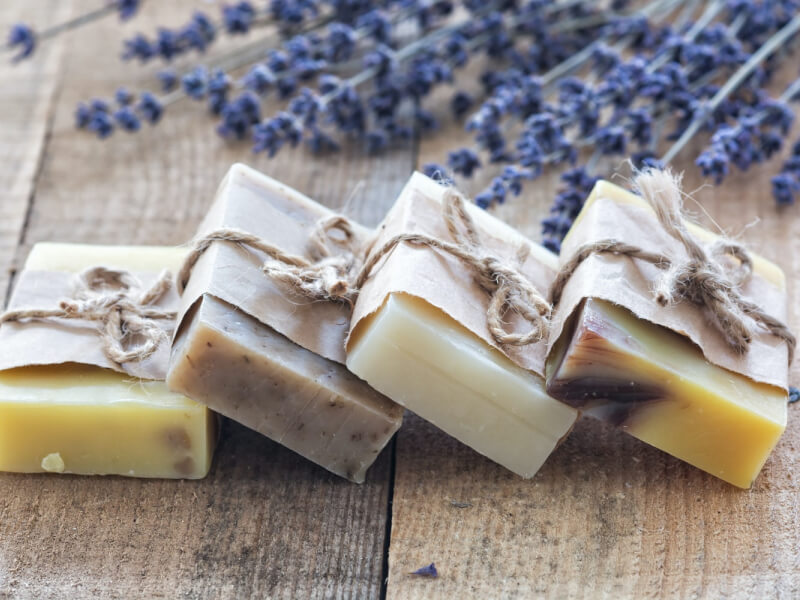 Offering up Mother's Day gifts for grandma is a tradition many families see as a very important part of the day, but if it isn't, change that! It's nanna, after all. She raised your mother, who in turn raised you, so if anything she deserves twice the credit! With our live online classes, you can avoid the busy shops and instead circumnavigate the waters of gift-shopping online!
Our new Livebox classes offer you the opportunity for nan to jump on the Live stream and work face-to-face with one of our expert instructors, or, if the internet is a little beyond your grandma's comprehension (no disrespect), a few select Craft Boxes contain all the necessary materials and resources - including instructions - she'll need so she can complete the class without a computer. With so many options for Mother's Day gifts for grandma, you can't go wrong being grandkid of the year in 2021.