Never hosted a festive feast without feeling frazzled? Rest assured, you can take a load off with this year's Christmas lunch in Brisbane. The holiday season is a celebration of food, family and fun, so don't let all those Christmas activities make you feel more stressed than cheerful! In 2021, focus on feeling more present while spending quality time with your loved ones and appreciate the true meaning of Christmas.
There's no need to rush around the supermarket in the lead up to Christmas. Feel calm and collected as you build the confidence you need to host a Christmas lunch like no other! Learn from some of the best chefs in Brisbane and enjoy picking up new skills you can continue to practice after the class has finished. Bring friends and family along for a sensory experience, be fully present in the moment and make special memories this Christmas with cooking classes in Brisbane.
Whether you're looking for Christmas party ideas in Brisbane or you need to find some incredible recipes, it helps to gain more confidence in and out of the kitchen by expanding your cooking skills. With thousands of cooking classes in Brisbane to discover, you could explore more cuisines from around the world for Christmas lunch this year. Explore new Christmas cake recipes, healthy Christmas lunch recipes, and so much more.
If you'd prefer not to cook at all this Christmas, why not get the whole family together with a fun cooking class instead of going to a restaurant? You'll learn how to make restaurant-worthy dishes and sit down together to eat your meal at the end of the course. It sure makes it much more fun than going to a restaurant!
Cooking courses are also a popular option if you're looking for Christmas lunch ideas for work in Brisbane. If you're struggling to get a restaurant booking or you'd prefer to do something different, why not book a team-building cooking class instead? It will help strengthen relationships and lead to the development of stronger team bonds in the long run.
Let's dive in and inspire you with some fabulous ideas for your upcoming Christmas lunch in Brisbane – there's no better way to create new Christmas traditions this year!
Vegan cooking masterclass
Are you looking to add more healthy dishes to this year's Christmas lunch in Brisbane? If you're catering to vegans and you have no idea where to start, why not try some of our vegan cooking classes in Brisbane and explore some new plant-based recipes your family will love. Discover a vibrant world of delicious dishes full of colour this Christmas and you might even kickstart your New Year's resolutions a little earlier.
Taught by a local vegan chef in Brisbane, this fascinating cooking class will help you on the path of health and wellness as you learn how to cook more vibrant, plant-based meals at home. Learn tips and tricks for creating drool-worthy meals and feel empowered and confident as you tackle new recipes in the kitchen. Be sure to bring your friends and family along and have fun making memories at this unique Christmas activity in Brisbane together.
Beer & BBQ cooking class
Go above and beyond at this year's Aussie Christmas BBQ by brushing up on your cooking skills at a local BBQ cooking class in Brisbane. If you're looking after the BBQ this year, your friends and family will no doubt congratulate you on your fantastic cooking skills (rather than stepping in to show you how it should be done).
As you're taught by a local BBQ chef in Brisbane, you'll learn simple tricks to help you marinate different types of meat and smoke them perfectly on the barbeque. If you feel pretty confident with your cooking methods, bring a friend along and hang out with a local chef who will be able to teach you genius tips for bringing out the flavours of the meat. Sip on a beer during the class and take time out from the Christmas rush by being present and enjoy a moment with your BBQ-loving buddies.
Learn where to buy the best cuts of meat in the city and discover how to make the most of the tools you have at home so that you can make Christmas Day lunch in Brisbane a complete breeze. After the class, you'll feel totally relaxed and confident behind the BBQ, which means more quality time with your loved ones, rather than more stress about your festive feast. Looking for alcohol-free Christmas party ideas in Brisbane? We've got you covered.
Asian street food cooking class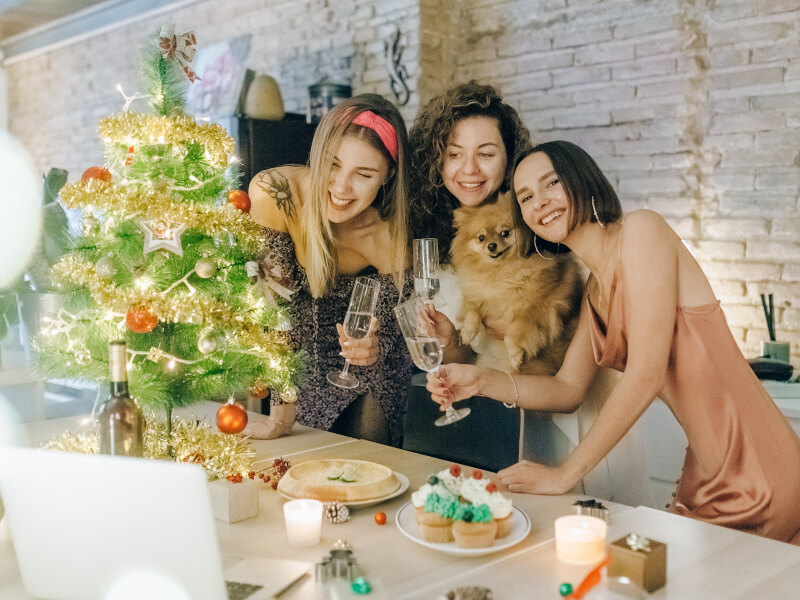 Missing travel? Add a few new dishes from other countries into your Christmas lunch in Brisbane this year! Whip up a rainbow-coloured spread full of oriental flavours and surprise your loved ones with a Christmas feast like no other! While you might already have your Christmas traditions set in place, why not try something new and learn from some of the best local chefs by joining one of our Asian street food cooking classes in Brisbane? Learn the secrets of cooking Asian food from a local expert and impress your friends and family with unique dishes to add to your Christmas feast this year.
In a three hour class run by Vanilla Zulu, you'll learn how to make everything from curry pastes to Asian-inspired sauces and classic Asian meals, free from gluten and dairy with vegan and vegetarian options. The menu is seasonal and there's plenty of variety to enjoy – you could learn to make chicken karaage, Chiang Mai curry and a delicious grilled banana with mouth-watering salted caramel sauce and ice cream.
Round up your friends and family for a fun-filled Christmas cooking class and enjoy making memories together. After all,spending quality time together is what it's all about. If you're keen to make new Christmas traditions, you could even head along to a Christmas cooking class each year! After a few classes, you'll have added plenty of new dishes to your Christmas lunch in Brisbane. You won't only learn to make new recipes, you could kick start a newfound love for getting creative in the kitchen and learn to create new and exciting dishes into the New Year.
Whatever you're cooking this Christmas, make it a special day and surprise friends and family with your newfound cooking confidenceTake time out to enjoy yourself and learn new dishes everyone will love!
Cooking workshops in Brisbane