Coming up with craft ideas for adults is a breeze. Seriously. Any old crafting stereotype will show you that crafting is either for kids who want to make finger puppets or grandma's who want to knit the day away watching re-runs of I Love Lucy. But ClassBento's new live classes online are here to make a brave and emboldened stand: crafting is not just for children and grandparents.
There are a variety of benefits to learning a craft that extends well beyond a simple distraction when you're looking for what to do when you're bored! If you're stuck inside this quarantine season and looking for fun things to do at home, ClassBento's live classes online will keep your hands busy and your brain active next time you are confined to the living room or simply looking for good rainy day activities. Not only this but learning a craft is a fantastic way to improve your mental health and wellbeing.
Health benefits of crafting
With the current crazy state of the world (and things only forecast to get crazier) it's never been more important to preserve your own mental health and wellbeing, and crafting and art therapy are a superb way to maintain a firm grip on your sanity. That may sound extreme, but it really isn't. Art therapy is used to treat patients suffering from mild depression and anxiety, all the way to PTSD in war veterans, and with remarkable success.
Crafting is a wonderful way to keep busy when looking for what to do when bored, but it's also an incredible method to stay mentally healthy. Learning a brand new skill forms white matter in the brain, and white matter is responsible for opening up new neural pathways and connecting parts of the brain that otherwise didn't connect with each other. Expanding your skillset will literally open up new parts of your brain, keeping you sharper for longer.
Not only this, but the white matter has been found to ward off degenerative brain diseases such as Alzheimer's and dementia, so the benefits go well beyond just killing time. Although learning any craft is better than learning none at all, there are a few that are more effective than others.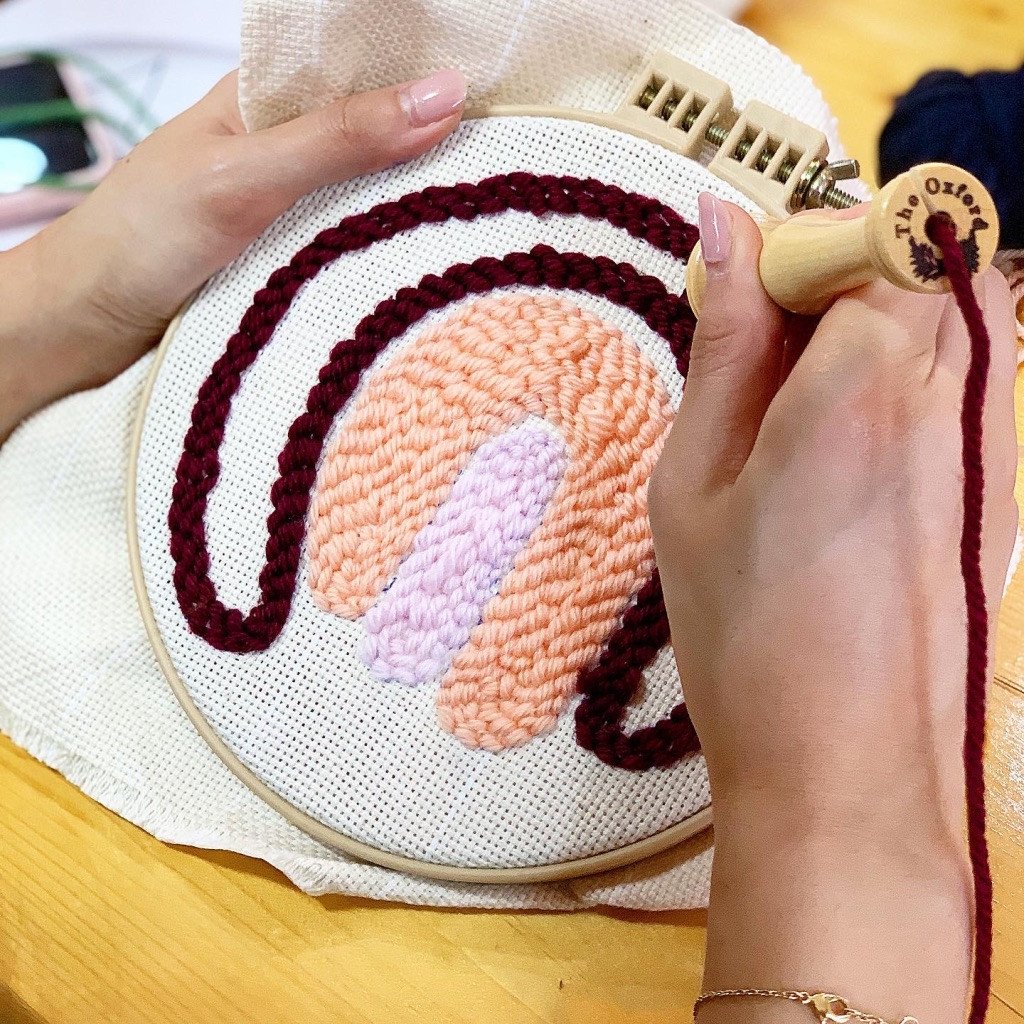 Craft ideas for adults: Stitch up
Do you ever find yourself watching television, whilst also on your phone, jumping between apps, never feeling fully satisfied? Welcome to the over-stimulation dilemma. Sometimes when you're looking for things to do at home, it can be all too easy to resign yourself to watching a show you've seen before, so you don't have the pressure of needing to follow every minute of it, thereby freeing you up to distract yourself from the initial decision you made. That's where crafting comes in.
There's a reason knitting is so popular with older generations, and that's because it has an almost meditative quality to it. In a study out of the US in 2018, 1000 participants took up knitting to improve their overall health. 92 per cent of participants said that knitting boosted their daily mood, and 70 per cent claimed that their newfound craft actually improved their physical health. This is because knitting and embroidery work activates both the motor skills part of the brain and the creative side of the brain, turning your head into a literal dopamine factory. ClassBento's live classes online can help that factory amp up production.
Punch needle embroidery is similar to knitting but allows you to have more creative freedom before you've fully mastered the art form. Often described as "painting with thread" punch needle embroidery works by using a thread pen to punch your design into material. It's fun, creatively liberating, and a quirky way to give any cushions, shirts, jumpers or blankets a very personal touch. And, unlike knitting, your choice of creations aren't limited by your experience!
Our live classes online can show you how to start embroidering next time you're chasing fun things to do at home. So instead of constantly ping-ponging between the television and your phone, get comfortable on the couch, put the phone away, and rewatch your favourite show whilst embroidering or knitting something creative. You'll find it considerably more rewarding and, with a reduction in blue light, you'll probably be sleeping better.

Craft ideas for adults: Make some art
Painting is the jewel in art therapy's creative crown. Painting allows you to access certain emotions and feelings that words simply cannot encompass, and is a liberating medium to express yourself in. Art, at its core, is completely subjective, and although there are certain techniques you can learn, what's good and what's bad truly is in the eye of the beholder and artist.
Painting is a fantastic pastime when you're chasing rainy day activities, as it can be incredibly effective in helping you fight those rainy day blues or feelings of general anxiety as the days get weirder and weirder. Looking for fun things to do at home? Painting is an emotionally rewarding place to start.
ClassBento's live classes online can help you kickstart your artistic journey. Whether it's acrylics or watercolours, portraits, landscapes or abstract, we've got online workshops to cover nearly all the bases. Plus, many of our live classes online encourage not just creative freedom but a glass or two of vino, so you can really get those creative juices flowing. Combining alcohol and art (the former in moderate amounts) has been proven to enhance creativity and loosen up the artistic imagination, making it a great combination for painting beginners. Seriously, science wants you to have two glasses of pinot while you paint.
ClassBento's live classes online are a great place to start if you're chasing craft ideas for adults. With so many fun things to do at home, we can help you make the time fly by when looking for what to do when you're bored. But, more importantly, it's crucial to look after your mental health during times of stress. Learning a new craft is a very effective way to lower anxiety and depression, and whether it's with us or on your own terms, the benefits of doing this will have you feeling healthier, happier and ready take on any challenge this weird world throws at you.