Flex your creative muscles at art classes in Brisbane and use your imagination to create a stunning masterpiece! Whether your medium is resin art or alcohol inks, a DSLR camera or just your average smartphone, these Brisbane workshops are some of the best ways to unleash your inner artist, build your confidence and take home something amazing.
Try out these fun indoor activities with a friend or private group and share the excitement. Whether you want to paint and sip with your bestie or try out relaxing team building activities like a watercolour painting workshop, Brisbane art classes are a great opportunity to not only create, but connect too!
Take a look at just some of the many ways you can get creative at art classes in Brisbane and discover your new favourite hobby.
Create practical resin art homewares
There's nothing better than creating a work of art that you can use! Resin homeware workshops are a must do Brisbane activity, especially if you love entertaining and winning your besties over with a beautiful Charcuterie board. Give cheeseboards, coasters and even coffee tables a unique look at a local resin art class. Mix, swirl and blend complementary colours under the guidance of your teacher and learn all the tips, tricks and techniques to this addictive art form.
As well as being super fun to make, resin art homewares also make fabulous and unique gift ideas for your loved ones. Learn how to make your own resin DIY projects and start customising gifts for all your family and friends.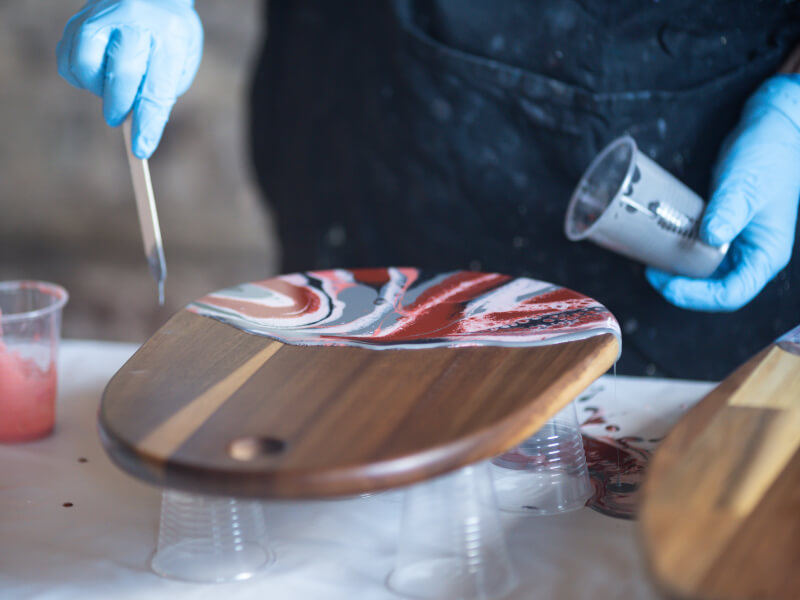 Paint and sip with your favourite people
When it comes to popular art classes in Brisbane, paint and sip experiences are firmly at the top of the list. Not only are these Brisbane workshops perfect for complete beginners, but they also combine creativity with socialising - a winning combo if we've ever seen one. The concept of a paint and sip class is that you learn how to paint with a glass of wine in one hand and a paintbrush in the other. This may sound dangerous at first, but it's actually the best way to get you out of your comfort zone, relax and let your inner artist take over.
Grab your bestie and get creative at one of the many wine and paint classes in Brisbane out there. Sip and paint classes are also a great icebreaker when it comes to team building activities. Everyone will be in the zone and having so much fun, they won't even realise how much team bonding is going on!
Alcohol inks are a perfect way to explore your artistic side. If you've never used them before, you're going to be amazed at how much fun they are! Alcohol inks are flowy, vibrant and unlike any other craft medium out there. They can be a little tricky to use at first, but with the right guidance from a teacher who knows their stuff, you'll soon be creating gorgeous works of art that are completely unique and one of a kind.
The best thing about flowy alcohol inks is that there really is no wrong way to do them! It's one of those Brisbane workshops that don't require any special skills or tools - just paints and some paper - everything else is up to you! The amazing thing about experimenting with alcohol inks is that even if you don't have any specific ideas or designs, they bleed into each other so beautifully that it doesn't really matter what your final piece looks like as long as it's created with love.
Capture your city at a DSLR photography course
If you have a DSLR camera at home gathering dust, there are some fantastic Brisbane workshops that you can try to finally put it to good use! From basic photography courses with an emphasis on composition and lighting to more advanced courses that teach you how to edit your photos, DSLR courses are a great way to learn the ins and outs of photography. Be inspired by the stunning view from Kangaroo Point or capture the hustle and bustle of the Brisbane CBD and Oxford Street at its best. These Brisbane photography courses are great for learning how to develop your own style and capture memories that will last forever.
Change how you see the world with smartphone photography
The camera in your pocket is truly an incredible thing - it can capture photos literally at the click of a button! There's no denying the fact that smartphone photography has revolutionised the way we capture memories. From your first trip overseas to your first baby step, you'll want to record every single moment with an awesome photo. Now, you can learn how to take better photos on your phone with basic photography classes Brisbane style.
Looking for the ultimate birthday gift for the Instagram-lover in your life? A smartphone photography course is sure to win them over!
Play with watercolours to make a vibrant masterpiece
Watercolour painting classes are perfect for amateur artists who are looking to explore their creative side. These Brisbane activities are also known to help people relax and unwind after a hard day at work, while also building confidence. Watercolours are an incredibly versatile medium, making them so much fun to play around with and experiment with different techniques and effects. The only thing you need is an adventurous spirit and a paintbrush - everything else will be provided by your talented teacher!
Experience the magic and joy of watercolours with your closest friends at one of these amazing art classes. From classy hens party ideas to unique birthday parties, these painting classes in Brisbane guarantee that everyone returns home with their own special artwork to admire.
Try your hand at paint pouring
If you're looking for something a little different to your average Brisbane art class, then paint pouring classes are just what you need. This unusual technique uses acrylic paints to create unique patterns and designs on canvas or other objects. Pouring the paints directly onto your canvas makes this method super fun and relaxing too. The key to pouring paint successfully is in controlling the speed at which the paint flows down the piece of paper or canvas. This is where your teacher can help give you tips and tricks on how to make sure your artwork turns out exactly how you want it to.
Paint pouring artworks take on a form of their own, so there's no need for you to be an expert before trying these fun and laidback classes. The end results are well worth the wait, so don't forget to take lots of progress pictures along the way!
Art workshops in Brisbane