Macrame kits are underrated. No seriously. Macrame is the unsung hero of the knitting world and it deserves some respect. Macrame kits are often overlooked for their fancier relatives like cross stitch and punch needle when it comes to fun things to do at home. But macrame is a style of knitting that's completely in a league of its own, predominantly because it isn't even "technically" knitting.
Using a series of intricate knots and ties, you can learn macrame without ever having to pick up a needle, making a macrame diy kit perfect for little ones, sailors looking to transfer their skills to a more artistic outlet, or really anyone looking to expand their creative horizons!
ClassBento has a growing range of arts and craft kits, so you can have a bit of choice when it comes to looking for macrame kits for beginners, this quarantine season. Still unsure on whether you want to learn macrame? We've compiled a few of our macrame DIY kits for you to check out that are perfect for taking your rainy day activities to the next level.

As far as our macrame kits for beginners are concerned, this little craft box is a perfect place to start. Run by the fine people at Maker's Loft in Sydney, Cammeray's own creative superhub has been producing some of the best workshops, courses and arts and craft kits Sydney has to offer since 2010, and a little quarantine isn't holding them back!
With the help of a macrame master on the live stream, you'll be shown four fundamental knot-tying techniques you'll need to learn macrame, and how to put them into practice as you craft up a storm designing your own set of keyrings.
If you're completely new to not just macrame but arts and craft kits in general, this is an easy and relaxing place to start. The craft box will contain everything you need to get started (with the exception of scissors) and you'll even get practice chord to make sure you can nail down the macrame knots before starting your piece. This is also a great choice if you're looking at things to do at home for kids! Sinking their teeth into a macrame kit is an awesome way to break up the homeschooling day, and allows them to have a creative outlet and activity above and beyond watching telly.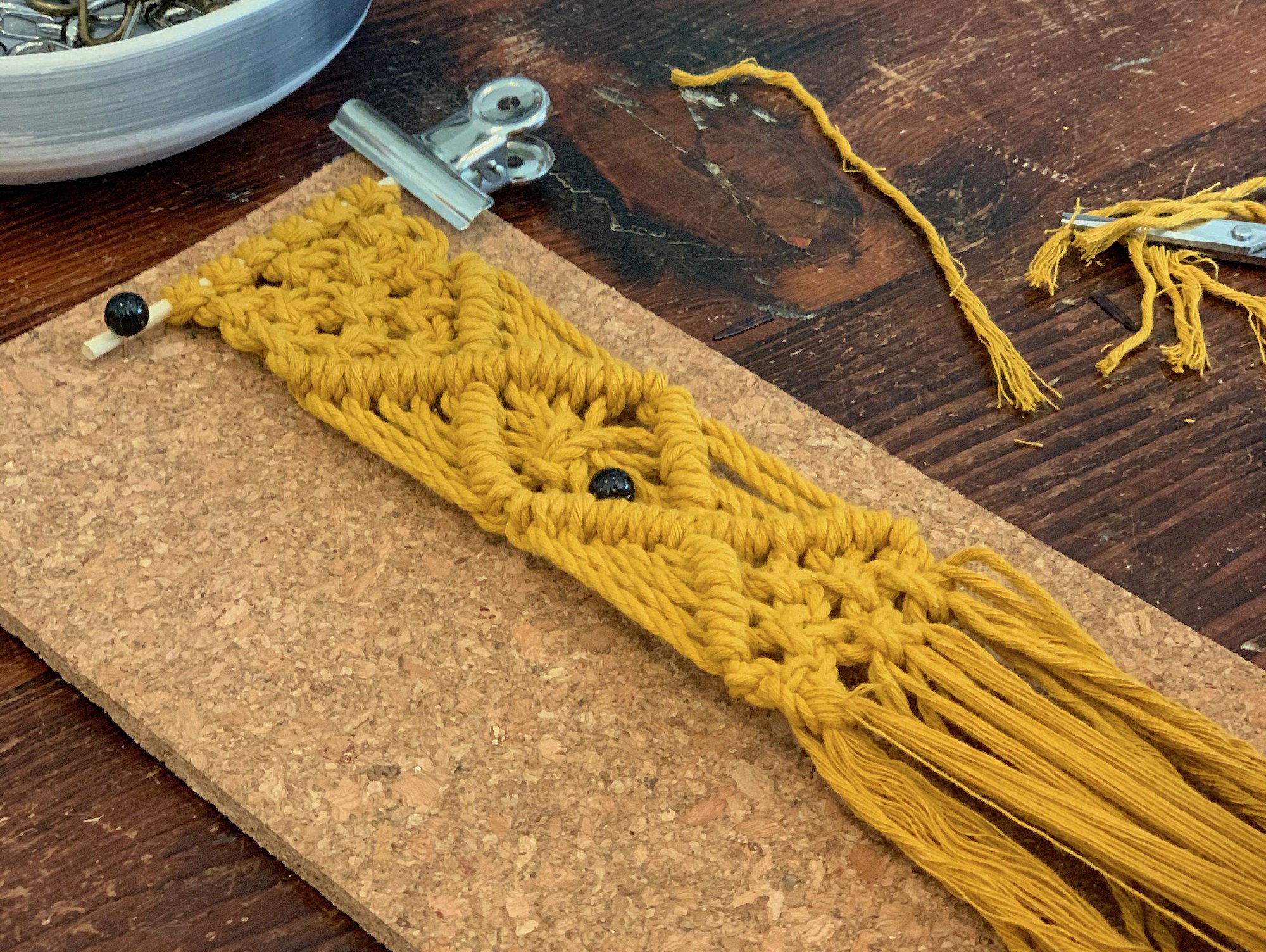 Is the house in need of a little love? Looking for something fresh to put up on the walls? Instead of buying household accessories, why not make a few of them? Macrame is often utilised to create beautiful wall-hanging pieces of art, and its no surprise as to why.
In this DIY macrame kit, you'll be shown both the basics of macrame and how to put them into practice when it comes to crafting your own wall piece! Perfect when looking for what to do when bored, this macrame kit will keep you busy for two hours as you construct one of the largest embroidery pieces in our art and craft kits range!
Although this craft box is absolutely suitable for beginners to macrame, it's perfect for anyone who has a basic knowledge of knitting and embroidery and is looking at adding another string to their bow. Although the live stream attached to the macrame kit is an important part of the experience, if you can't make it, don't stress! Not only does the macrame kit contain instructions, but the live stream will be recorded and saved so you can catch up on any crucial information at a more convenient time for you!
Out of all of our DIY macrame kits, this little gem has to be one of the most inventive arts and craft kits we currently have on offer! Designed, built and presented by Gold Coast-based macrame maestro, Emilia Loren, her macrame kits and classes have been one of the most popular Queensland workshops ClassBento has had. Now, thanks to our new LiveBox feature, you can learn macrame from a true savant wherever you are!
With a craft box that includes all of the macrame essentials as well as a twelve-page instructional booklet so you can continue your macrame journey, Emilia will show you how to knot a beautiful two-metre plant hanger! Although the plant pot isn't included, you can get everything you need to attach it to your ceiling as an additional extra. If you want to get the most out of your DIY macrame kit, Emilia also offers instructions on how to make a DIY macrame owl!
This macrame kit is - once again - suitable for beginners, but is especially suited to individuals who already have a good grasp of some knitting and fabric theory basics. Not only is this macrame kit ideal when hunting down rainy day activities, but it's part of our very select range of arts and craft kits that combine crafting with gardening! A macrame plant hanger is a perfect accessory to a greenhouse, a bedroom, or even the patio! Although niche, this is one of our most versatile macrame kits for beginners!
Making the most of a macrame kit is one of the most unique things to do at home and perfect for both adults and kids! Without the use of knitting needles or stitching equipment, a DIY macrame kit is one of the safest rainy day activities for restless kids! So whether you're looking for what to do when you're bored, or you're chasing some home decoration ideas, our macrame kits for beginners are the perfect place for you to start.