When it comes to finding the best Mother's Day gift ideas in Perth, there's something to be said for looking a little further afield. Sure, another pair of pyjamas is a perfectly acceptable present, but if you're hoping to really 'wow' her with a gift that's thoughtful, authentic and unique, booking your mum into a local workshop in Perth is the way to go. Plus, when it comes to finding fun things to do in Perth for adults, you can't go wrong with a local experience.
Classes, courses and workshops are one of the ultimate Mother's Day gift ideas because they double as an opportunity to see some of Perth's best attractions. And of course, they're the perfect way for mum to soak up some more quality time with you!
Learn something new
Unlike a scented candle, a pair of socks or even a bunch of geraniums, learning a new skill truly is the Mother's Day gift that lasts a lifetime. So whether she's interested in learning how to throw clay, sculpt her own ceramic masterpiece, try her hand at watercolours or learn to cook fresh pasta at an Italian cooking class in Mount Hawthorn, there's a workshop in Perth that your mum is sure to love! Why not tag along and make your Mother's Day present that little bit more special?
Rediscover the magic of meeting new people
Like many of us, your mum might be suffering from a serious case of Zoom fatigue, which is why an in-person workshop or class is arguably the best Mother's Day gift in Perth! According to science, meeting someone face-to-face––rather than virtually––actually lights up different parts of our brains, helping us to connect on a deeper psychological level.
Why not light mum up with an authentic Japanese cooking class in Meadow Springs, a creative cocktail making class in Osborne Park or a super sweet chocolate making course near Fremantle? She'll learn to make delicious meals, sweet treats and beautiful beverages while she connects with other people from her local community in a friendly, supportive and intimate environment. Say 'happy Mother's Day' with a unique workshop in Perth that's bound to make her smile.
Support a local maker
Attending a local workshop is one of the best things to do in Perth, but it's also a great opportunity for you and your mum to support local makers, artists and small businesses. Our experienced group of experts, makers and creators absolutely love passing on their knowledge, wisdom and skills in a way that's engaging, interactive and fun. Plus, you'll get to know a whole range of people, including other local mums, families from the wider community and even interstate tourists who have sought out the best things to do in Perth!
If you're seeking out unique Mother's Day presents, nothing can beat the sense of satisfaction that mum will feel after she's gained a new skill. So whether you're taking her along to a pottery class in Applecross, a cooking class in Mount Hawthorn or a hands-on resin art workshop in Bassendean, you can rest assured that she'll love the Mother's Day gift you've given her.
Switch off and sink in
We're living in an increasingly digitalised world––and never before has technology played such a central role in our lives. Before we've even made ourselves that first pot of coffee or taken the time to butter our toast, many of us have already started scrolling through our newsfeeds and sifting through the latest messages that have landed in our inbox. When it comes to finding fun things to do in Perth that will allow mum to switch off for a day––and benefits her mental and emotional wellbeing––workshops are the way to go! This Mother's Day in Australia, give your mum a chance to cultivate a little calm, carve out some 'me' time and sink her hands into something new by booking her into a workshop in Perth. When it comes to seeking out the most unique Mother's Day presents that truly nourish from the inside-out, it pays to think outside the box! Sure, Mother's Day flowers are sweet, but nothing beats the sense of calm and accomplishment that comes from concentrating on the present moment. Discover more of the best Mother's Day gift ideas in Perth here.

Go behind the scenes
Is your mum the boss of the BBQ at home? Take her behind the scenes this Mother's Day in Australia with a sausage-making workshop! If she's got her grilling technique down to a fine art, then learning to make her very own sumptuous sausages at a cooking class in Mount Hawthorn might just be the natural next step.
If falafel is more her thing, or she's interested in smoking her own trout, then rest assured, there's a cooking class in Perth for that too. Whatever her niche, taking your mum along to a workshop that fuels her passion is arguably the best Mother's Day gift idea. And besides, who doesn't love a little sneak peek behind the scenes!
Nourish her mental health
It's no surprise that art and craft is good for our mental health. In fact, according to the BBC Arts Great British Creativity Test, which was conducted in 2018, regularly taking time out to get crafty and creative not only helps to reduce stress, but also promotes better self-esteem and supports productive problem solving.
So why not gift mum a candle making class in Dewars Pool to melt away her stressors, or consider taking her along to a knitting class in North Perth to soothe her soul?
Regardless of whether she's keen on a beginner's crochet class in Perth or fancies making herself a handmade blanket for the cooler months to come, there are plenty of workshops in Perth to explore that make for amazing Mother's Day presents.
Enable her to upskill
Following an online recipe isn't quite the same as learning to cook authentic gyoza at a Japanese cooking class in Meadow Springs, which is why workshops in Perth are the perfect place for your mum to upskill.
If she's keen to try her hand at a jewellery making course in Applecross, or she'd love to learn how to make a macrame plant hanger at a class in Coolbinia, a workshop in Perth is the ultimate Mother's Day gift idea!
Not only will she pick up insider tips and tricks, but she'll have the chance to ask questions and glean a deeper insight into the history of her favourite arts and crafts.
Find new local friends
In 2021, most of us know that the power of human connection is one of the most important aspects of our health and happiness––and in-person workshops in Perth are the perfect place for your mum to meet new friends who share similar interests.
Is she an espresso aficionado? Consider gifting her a latte art class in Myaree where she'll learn how to steam and pour the smoothest and silkiest coffees Perth has ever seen. After the class, encourage her to go out for a post-class coffee with her newfound friends––it's one of the best things to do in Perth!
If she's a wannabe bread-baker, book her in to join her fellow flour-lovers for a sourdough bread making class in the beautiful riverside suburb of Ardross, where she can chat all things fermentation with like-minded locals. This delightful and doughy workshop is one Perth attraction that's not to be missed!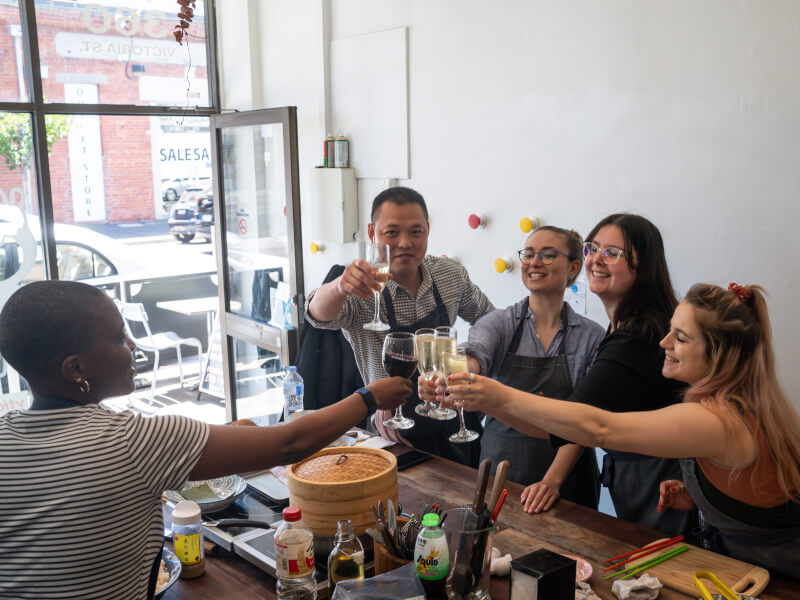 She'll soak up some quality time
If exploring the city is your thing, why not head to a photography class in Perth together? Our hands-on photography courses are perfect for tech-loving mums and make for a fun and interactive way to some of the best Perth attractions through the lens of your iPhone or DSLR.
You and mum could even attend a evening photography class in Fremantle, which is easily one of the most entertaining things to do in Perth at night! Plus, you'll uncover all of the photographic wisdom you need to finesse your Instagram feed.
Suggested workshops in Perth