Escape the tedium of self-isolation and get creative with these fun indoor activities for kids and inventive things to do in quarantine for teens! There are plenty of ways for teenagers to stay engaged with both themselves and the outside world when stuck indoors. With ClassBento's new live classes online, you'll have access to a growing number of live stream classes to help you and the teens get through this quarantine season.
Finding new and creative ways to stay mentally healthy is crucial at times like these, and ClassBento's focus on wellbeing and mindfulness has never been more relevant. Learning a new craft skill has been found to have such outstanding mental health benefits. Whether it's crafting macrame together as a family, building jewellery out of recycled materials or even growing your own little ecosystem, ClassBento's live classes online - complete with a ClassBento Box delivery- offer you everything you need to make the most out of your indoor activities for kids. We've compiled a small list of things to do in quarantine for teens to help you and the family avoid going stir crazy!

Fun indoor activities for kids: Bind your own hanging moss balls
Being stuck indoors can sometimes feel like swimming in a fishbowl. With only a limited amount of resources, it's important to keep the brain fresh so you don't absolutely lose your mind in isolation, and the teenagers are no different.
One of our most popular indoor activities for both teens and adults in our Kokedama workshop! Usually reserved for the workbench of an experienced florist, our new live classes online can bring the kokedama binding directly into your home. One of our most hands-on live classes online for teens and adults, you'll learn what it takes to build your very own indoor hanging plants!
All of your materials and resources needed to build your own little world will be delivered directly to your door in a ClassBento Box, so you and the little ones can work together to bind the soil and plant a little succulent inside. Not only is kokedama making a great way to pass the time, adding green space to your home purifies the air and has been found to reduce depression and anxiety by over 40 per cent in individuals, so it's also good for your mental health. Stuck in your own little world this quarantine season? Avoid losing your mind and make your indoor space as green as it can be.
Get your Kokedama ClassBento Box here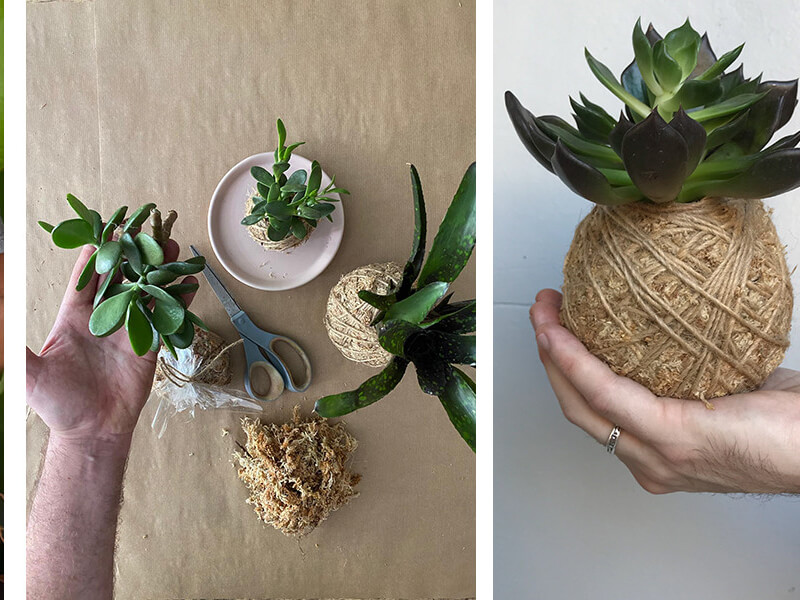 Fun indoor activities for kids: Punch needle embroidery
Similar to candle making, punch needle embroidery is one of the best indoor activities for kids as it offers you the opportunity to change up the visual feel of your home space! Often described as "painting with thread", this is one of the few live classes online that allows you to redecorate a space with the skills you've learnt!
Your workshop will guide you through specific punch needle techniques, a variety of visual styles and how to effectively blend and use colour, so you can have the freedom to create your own unique designs after the class is over. This workshop isn't just one of the best things to do in quarantine for teens, but it's also a fantastic skill to utilise if you're looking to give any pillowcases, quilts or even jumpers a new look, this quarantine season.
Get your punch needle embroidery ClassBento Box here
Fun indoor activities for kids: Learn what knot to do with with the younger ones
Keeping teenagers busy and interested can feel like a chore, particularly when you're chasing fun indoor activities for kids. With ClassBento's live classes online, however, you can all keep busy with our beginner's macrame classes, specifically designed for the younger ones.
Macrame is the perfect craft to get kids started on as it requires no sharp utensils - such as knitting needles - to complete. Instead, macrame is centred around a series of intricate knots and ties that are used in such a way as to create unique and quirky designs, patterns, and shapes. Unlike needle knitting or stitching, macrame is one of the safest crafts and makes for one of the most fantastic rainy day activities for kids. You and the little ones will design a couple of macrame pieces each for you to hang on the wall and attach to a keychain or bag. And, once you've received your ClassBento Box delivery, you'll have all the materials you need to follow along with the live stream, and the ability to keep designing long after the class is over!
Get your macrame ClassBento Box here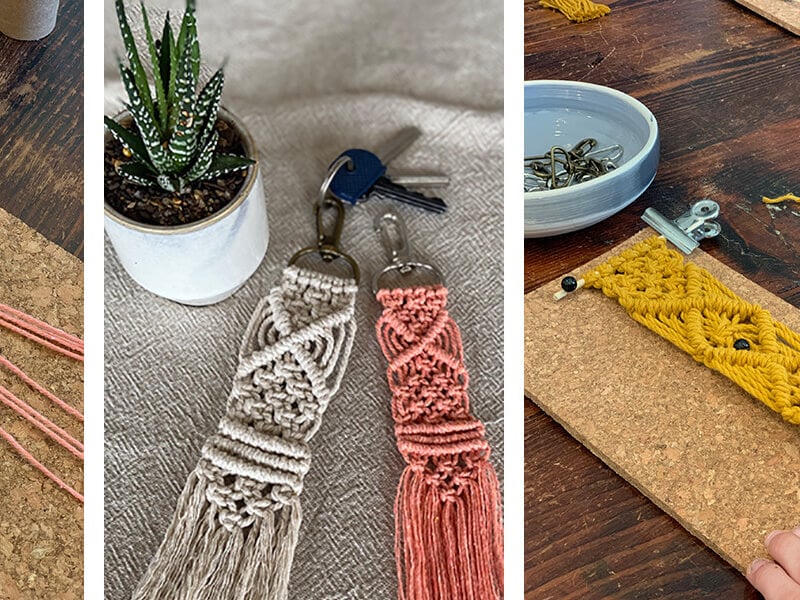 Fun indoor activities for kids: Mind your beeswax (wraps)
Online classes for teens and kids don't get much more eco-friendly than our beeswax wraps workshops! Initially, for adults, this is one of our live classes online that are perfect for the family to enjoy - and benefit from - together! With all the necessary tools delivered to you in our new ClassBento Box, you'll learn the methodology behind creating an environmentally-friendly replacement to glad wrap.
This workshop will teach you how to design and make fabrics that will help you store fruit, vegetables, and other perishable items for longer while reducing your carbon footprint. They don't take too much time to make, but they're fun to build and a great choice when looking for indoor activities for kids, that also help them lower their carbon footprint.
Get your beeswax wrap ClassBento Box here
Fun indoor activities for kids: Light up with candle making
If you and the kids are stuck inside, it's important to keep things interesting. If you're looking for things to do at home with kids that are both vintage and original, our candle making workshops are a perfect way to give your house an old school feel.
It's important to consider different methods when it comes to avoiding going stir crazy, but with this class, you can build a soy wax candle from scratch! Not only does this make for one of the most quirky things to do at home with teens, but it's also a great way to change up the vibe of your indoor space! Adding some natural candlelight in lieu of standard lightbulbs has been found to aid in establishing a healthy sleeping pattern, as the soft lighting relaxes the brain. Finding time to be calm when stuck at home is important, and this workshop is a great solution if you can already feel the tedium sets in.
Get your candle making ClassBento Box here