Searching for presents for Mum in Melbourne? it doesn't matter whether it's Mother's Day, her birthday, or just because you love her – Melbourne is teeming with gift experiences your mother can really enjoy on her special day, regardless of the occasion! If you're stuck for ideas, we're here to help you find the right birthday presents for Mum, regardless of what she's interested in. Whether it's arts, crafts, good food, great wine or just a really good time, we've got some of the best things to do in Melbourne to treat your mum the way she deserves.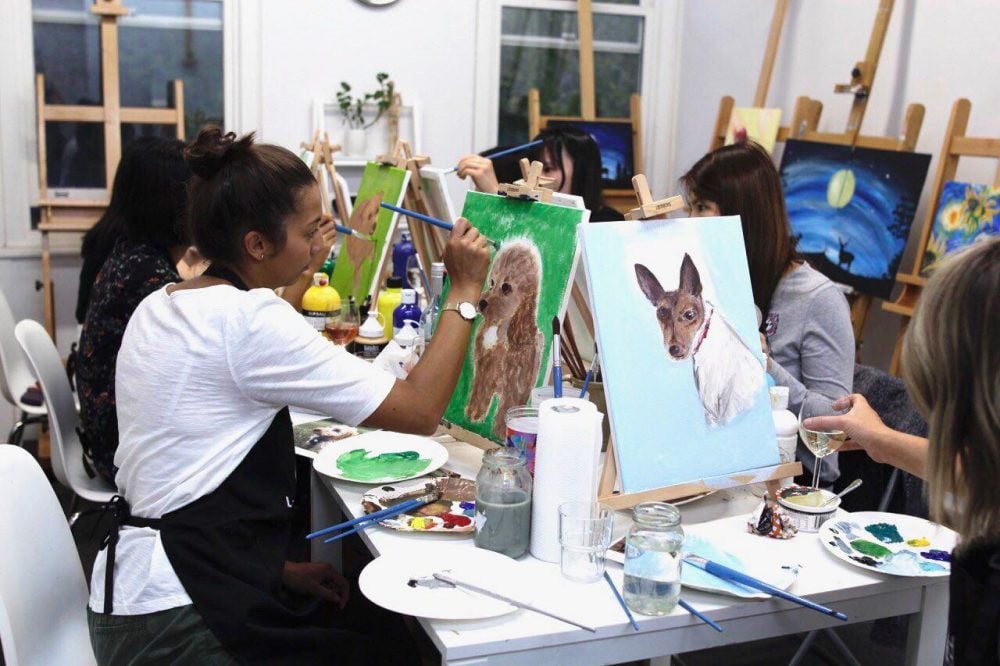 Let's face it, Mums love a few cheeky wines as much as anyone. Just because Mum's a little older doesn't mean you can't throw her a truly festive experience to celebrate whatever occasion you're celebrating. ClassBento has so many gifts for mum that can double as a birthday party, a Mother's Day surprise or even a Christmas present. The best part is not only will your mum love, it but you can invite all her closest friends and family members to enjoy it with her.
Melbourne has a plethora of cocktail workshops and mixology courses, but sometimes you don't want to organise going out. Luckily, the fine mixologists at The Cocktail Queen travel all over Melbourne to help people give their special occasions and celebrations a special touch! One of the best presents for mum, The Cocktail Queen will tailor her workshops to whatever celebration, so never hesitate to contact them ahead of time to make your time with them as unique as possible.
It's a bit of a classic, but a good paint and sip class is a real winner when it comes to things to do in Melbourne with Mum. Art and wine go together like Simon and Garfunkel, and paint and sip classes aren't just some of our most popular Melbourne workshops, they're easily among our most popular genre of classes, nationwide. Their success is a testament to how much fun they are to engage in, and they should be well at the top of your list when it comes to birthday present ideas for mum.
Being so full of incredibly talented artists, Melbourne is positively overflowing with wine and paint studios all offering your mum a good time. With a variety of mediums and styles to choose from, you really are spoilt for choice. If you're looking at presents for mum that get the whole family involved, Paint For Fun Melbourne run workshops specifically designed for the whole family to enjoy. Whether that's in-studio or even in your own home, Paint For Fun Melbourne offers some of the best gifts for mum that get everyone involved.
Looking for some of Melbourne's most unconventional Mother's Day activities? We've got you covered.

Gift experiences for the busy mum
So often, Mums will be running around thinking about everyone but themselves. It's very important that your Mother makes time for herself as well as her family, and a birthday is a perfect time to show her that. With so many gift experiences in Melbourne, you're spoiled for choice when it comes to birthday present ideas for mum that'll relax her.
Working with plants is one of the best things to do in Melbourne if you suffer from stress and anxiety. Engaging with a natural space and working those green thumbs has been found significantly reduce the production of cortisol in the brain, and having a green space in your work or home environment has actually found to boost mood, thereby improving interpersonal relationships. Looking for gifts for mum that'll help her relax? Our range of botanical classes can help her learn to enjoy her own time, while helping her destress.
The Plant Whisperer in Brunswick East runs one of the best gifts for mum that is both creative and relaxing. Their Beginner's Kokedama Workshop is a fantastic way for mum to unwind, get back in touch with nature, and also add some character to her garden. Kokedama - or moss ball hanging - is the Japanese botanical art of wrapping small plants in moss and twine, essentially creating a natural pot for the plant. It's incredibly beautiful and is perfect for decorating both indoors and outdoors. In this 90 minute workshop, your mum will discover how to build a kokedama from scratch, as well as picking up some insightful tips and tricks when it comes to soil composition, and how to keep plants fit and fighting!
Looking for things to do in Melbourne that have less to do with soil? It's hard to turn down a candle making class. One of our most popular birthday present ideas for mum, making your own soy wax candle is not as difficult as you may initially think. The process of candle making, however, is incredibly therapeutic.
Part chemistry, part aromatherapy, ClassBento can show you how to make your own soy wax candle in Albert Park or Fitzroy! Not only this, but if your gifts for mum are designed to be enjoyed at home, we can travel to you. Your Mum will learn all about the crucial techniques and temperatures required to craft, mould and scent her own soy wax candle. This workshop will also give your mother the tools and knowledge to continue making candles long after the class is over. This is one of the best birthday gift ideas for mum, and one of most unique experiences Melbourne has to offer if you're looking to change up the vibe of your house.
No matter what birthday present ideas for mum you currently have, ClassBento can help narrow down the best gift experiences in Melbourne for a mum you want to spoil. Whether it's candle making, cocktail shaking, or family painting, ClassBento can help you find the perfect gifts for mum, regardless of the occasion.
Suggested workshops in Melbourne