They say it takes a village to raise a child, so this Mother's Day, why not celebrate all of the special women in your life with these Mother's Day gift ideas? Instead of buying her something she doesn't need, check out these unique Mother's Day Brisbane activities and show her how much you really care.
From cocktail classes to floristry courses and so much more, you can't go wrong with this curated collection of things to do in Brisbane for Mother's Day 2021. Get your grandma learning the niche art of needle felting, or take your aunt to a paint and sip class to create memories and masterpieces! There are so many unique experiences to consider for Mother's Day gift ideas, so whether you're shopping for your mum, aunty, grandma or cousin, we've put together a list of just a few fun things to do in Brisbane to give you some inspiration.
Gift ideas for the mindful mum
With last year's lockdown, it seemed as though Mother's Day slipped through the cracks. Why not make it up to your mum this time around with an extra special gift experience to get her excited about trying something new.
Who doesn't love a pamper night with the girls? Here's a Mother's Day gift idea; have a mother-daughter girls night and take your mum out to create her own soap. In this class, your mum will learn all about the common ingredients to create her own homemade soap so she'll never have to buy it from the store again!
If you're anything like your mum and inherited her love of candles, then candle making classes might be a fantastic experience to do together this Mother's Day. Instead of spending too much time and money on store-bought candles, get your mum to learn a new skill and make your own candles from scratch using eco-friendly materials!
Looking for more hands-on Mother's Day experiences to try in 2021? If she's a creative and lively woman who loves to express herself through her style then a jewellery making workshop could be a great way to show your mum how well you know her. Not only will your mum create her own handmade jewellery, but she'll end up with pieces that she can wear every day too!
Gift experiences for the nifty nanna
Everyone knows there's no better place to go than to your grandma's house when you need a pair of freshly knitted socks from scratch! Notorious for having perfect their skills over a lifetime, maybe it's time you and your nanna tried something new for the first time together.
Knitting and crochet are both things our grandmas could do with their eyes closed! We wish we could be as skilled as they are, but why not introduce them to a different form of threadworks like macramé or needle felting. These classes are fun things to do in Brisbane if you're thinking of treating your nanna to an experience she'll never forget!
If your nan has a garden, then she's sure to have a green thumb! Whether she's mastered the art of a little vegetable garden or tending to her much loved flower beds, we have a range of fun floristry classes in Brisbane that are perfect for her.
Does your nanna have a well-groomed garden with beautiful flowers? Why not go one step further and gift her the opportunity to learn all about flower arrangements, or more specifically, Japanese floral arrangements. Your nanna will learn all there is to know about the mindful art of Ikebana and how to arrange flowers for certain rooms in her house. She could even use the flowers in her own garden to create beautiful arrangements for her home.
Apartment living can be dull if you don't have some greenery to liven up the place. If your nanna lives in an apartment that doesn't have a garden, why not give her the opportunity to make her own mini garden and learn how to build your own terrarium together!

Looking for more impressive Mother's Day presents? Check out these unique Mother's Day gift ideas for two-mum families!
Gift ideas for the artsy aunt
There's a reason the eccentric aunty stereotype exists. We all have one special woman in our lives who's known for her artsy, creative outlook on life. Whether or not your aunty is a mum, she has probably had some influence on the person you are today.
Why not show her how well you know her and gift your aunt with a paint and sip art class that you can enjoy together. Get your creative juices flowing in this class and start your journey to becoming a fabulous artist in this fun and relaxing workshop.
Gift ideas for the crafty cousin
Do you have a cousin that you'd love to treat this Mother's Day to a fun and relaxing experience? Sign her up for a night of mixology with a cocktail making class, it's a must-do in Brisbane! Your cousin can learn how to create all the classic cocktails from experienced mixologists at some of Brisbane's best bars. She might even get the chance to create her own signature cocktail too.
Or if your cousin is more into her ceramics collection than her glassware, take her to a pottery class or wheel throwing workshop for beginners in Brisbane! It's a great opportunity for her to get hands-on and create her own ceramic pieces from scratch. Not only will your cousin walk away with a new piece to add to her collection, but she'll also have a token to remember this experience by too!
Some people just love to cook, it's in their bones! If this sounds like your cousin then gifting her with cooking classes could be a unique Mother's Day gift for her. If she's an adventurous eater and looking to shake things up in the kitchen, then these cooking lessons in Brisbane are a fantastic way to help her learn different culinary techniques and dishes. Give her the opportunity to learn how to fold traditional dumplings in a dumpling cooking class, or create focaccia from scratch with guidance from professional chefs at an Italian cooking class. What more could a foodie ask for!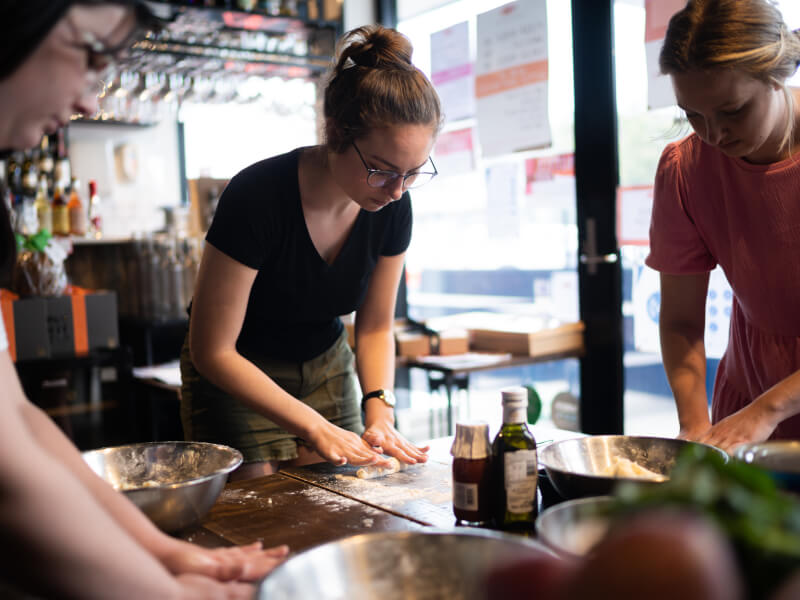 This year is the time to get creative with your gift ideas for Mothers Day and show the special women in your life how much you care. These gift experiences will be sure to leave your loved ones creatively fulfilled, excited to have gained new skills and ready to show off what they've learned and created. What more could you want for your loved ones, than to see them enjoying themselves this Mother's Day!
Suggested workshops in Brisbane