Mums are just the best, right? While two-mum families get to experience double the greatness every day of the year, Mother's Day is an extra special time. Even though not all two-mum families celebrate both mums on Mother's Day, our unique Mother's Day gift ideas in Brisbane will be perfect no matter how you choose to spend the day.
Mums are our daily superheroes, the ones who hold everything together – but that doesn't mean they don't need someone to help take care of them too. Our range of arts, crafts and cooking experiences in Brisbane are the perfect space for mum to unwind, pick up some new skills and take care of her mental wellbeing. What's more, it's the perfect opportunity to discover a new hobby (or two) that can help fill up her relaxation time (because mums need some of that too!).
Why not venture out in Brisbane for the day and surprise your mums with one of our inspiring workshops? They can tackle it solo or you can join in for some quality bonding time together. No matter what you choose, we've got something that will show both mums just how much you love them this Mother's Day in Brisbane.
Introduce mum to the colourful world of needle felting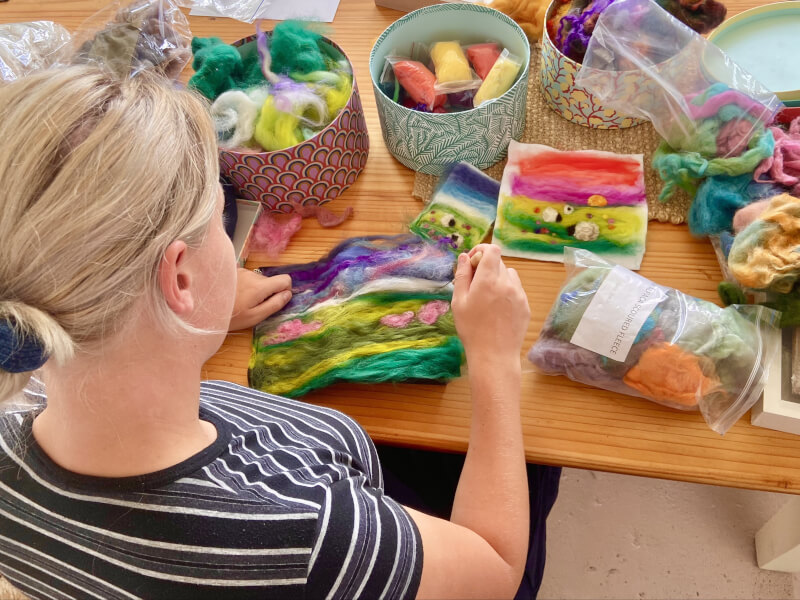 If mum is always jumping on the latest craft trend, a needle felting workshop may just be the perfect gift. Needle felting involves rolling up a small amount of wool and stabbing it with the needle, and while it might sound complicated, with just a few basic skills, anyone can make cute projects! In fact, needle felting is not only fun but seriously addictive. Once your mums get going it might be hard to stop!
Don't worry though, this re-emerging craft is addictive for the best of reasons. It's a great way to expand your creativity and reduce stress, and may even be helpful for people dealing with depression and anxiety. What's not to love? This Mother's Day in Brisbane, help both your mums create beautiful keepsakes that they can treasure for years to come. They'll no doubt love learning this new skill and you'll enjoy watching them discover something new, too! Looking for gift experiences for remote-working mums? Don't let the distance get you down!
Floristry classes for Mother's Day gift ideas in Brisbane
Mother's Day flowers are always a delight, but if you want to surprise your mums even more in 2021, take them out to a floristry class in Brisbane! The relaxing practice of flower arranging creates the perfect atmosphere to connect with family. Not only will everyone take home their very own arrangement, but you'll also reap the rewards of spending a few hours screen-free and enter a blissful state of meditative flow.
If you're after something a little more quirky for your mums, or if they've created floral bouquets in the past, spice things up with a teacup flower arrangement, dried floral wreath or traditional Ikebana flower arranging class. There are always new things to learn when it comes to flowers and it's impossible for your mums not to be stoked when they're surrounded by beautiful blooms!
Something for the mushroom-loving mum
Is mum intrigued by the wonderful world of fungi? Or are you searching for unique Mother's Day gift ideas that will 'wow' both mums? A mushroom growing masterclass is the perfect blend of fun and education and will truly make your Mother's Day 2021 gifts stand out.
Little Acre's mushroom workshops in Fortitude Valley will teach your mums how to take part in an age-old tradition of cultivating exotic mushrooms at home. They'll learn all about the science behind growing these delicious, nutrient-rich fungi and get hands-on experience with a variety of different species that can be grown indoors.
If they love the idea but aren't quite sure they have the green thumb for it, you can reassure them that they'll get plenty of educational resources to take with them! Along with the workshop itself, they'll also gain access to an exclusive student community and a range of on-demand video content.
The best part? You and your mums can enjoy your own homegrown gourmet mushrooms in as many meals as you please!
Savour a delightful BBQ smoking class together
You bought your mums the barbecue they both adore last Mother's Day, so what next? A BBQ cooking class, of course! Whether your mums are still BBQ newbies or they're up and coming pros, a smoking class will have you all cooking the most divine and mouth-watering meat in no time.
In the BBQ School's American smoking masterclass, your mums will learn all about cooking techniques from the four main barbecue regions in the United States: Texas, Memphis, Carolina and Kansas. There will be plenty of time to practice these new skills (and have a beer too!) so they're feeling super confident at the end of the three hours.
And if BBQ isn't mum's jam, an alternate cooking class may be just the thing. Brisbane is filled with plenty of wonderful restaurants, but if mum isn't much of a foodie yet, why not introduce her to some amazing new recipes instead? Every mum deserves to feel like a pro in the kitchen, and with our cooking classes in Brisbane, she'll be an absolute master chef in no time. From cake decoration to chocolate making, there is something for every mum's interest!
Add personalised pieces to both your mum's jewellery collection
Garance Dare once said, "jewellery is a very personal thing, it should tell a story about the person who's wearing it." So if you're searching for Mother's Day gift ideas or you're thinking about buying mum a new jewellery piece, let her create her own dream creation in a jewellery making class!
With Lazer Unicorn's DIY jewellery workshops in Brisbane, you and mum can create bright and bold earrings that will make the perfect statement piece for any outfit. From native flora and fauna-inspired jewellery to funky fruit earrings and fantasy-inspired pieces full of sparkles, there's something for everyone.
Show your mums how much they mean to you when you're looking for Mother's Day gift ideas in 2021 and let them enjoy Brisbane city in an entirely new way!
Suggested workshops in Brisbane