Finding the perfect Mothers Day gifts that sums up how much she means to you can be tricky, but there's one thing that you can always count on to make your mum happy: spending time with you! Mum. She brought you into this world. She raised, taught, and nurtured you. She's always been there for you, to guide, to support, and to love you. That's why Mothers Day gift experiences in Sydney are foolproof and unique Mothers Day gift ideas to impress mum in 2020.
While it may feel impossible to repay your mum for the endless amount of love she brings, a much-deserved treat on Mother's Day shows her just how much you appreciate everything. From terrarium building to cocktail making, there's something to suit every type of mum.
If you're stuck on gifts for mum or are just looking for unique Mothers Day gifts, try an experience in Sydney that you can share together. It will likely be one of her most memorable Mother's Days yet!
Customise a beautiful Mother's Day bouquet
Gifting flowers is always a success when you're looking for Mothers Day presents but creating your own tasteful arrangement with your loved ones is even better. Surround mum with the season's most exquisite blooms and let her pick her own to build a tasteful arrangement, under the guidance of a master florist.
She can make a gorgeous bouquet, create a beautiful flower crown or explore an elegant Japanese-style Ikebana arrangement, creating harmony with colours, textures and patterns. At the end of the workshop, she will not only walk away with her own stunning Mothers Day flowers but lots of great memories.
Your master florist will be there to guide you the whole way, but for the perfect floral arrangement on this special day remember that red carnations are the traditional Mothers Day flowers worldwide, Chrysanthemums (nicknamed 'mums') are classic Mothers Day flowers in Australia and red roses are always the perfect symbol of love and deep appreciation.
This relaxing experience will also provide mum with a well-deserved break from the hustle and bustle of life.

Learn the art of macaron making
Every mum loves a sweet treat and instead of taking her out for high tea to satisfy these cravings, why not learn to make your own desserts this Mother's Day! Whether your mum is a master in the kitchen or prefers to leave the cooking to the professionals, learning the fine art of macaron making with you by her side will be a fun and unique Mothers Day experience in Sydney.
At a Makmak macaron making class, you will learn to make these delicious French desserts and take home your own batch of cute macarons, with a secret recipe used by Sydney's finest macaron maker. You can enjoy munching on the pastel shells and irresistible ganaches throughout class too, as you perfect your skills.
As a bonus, mum will get a kit to continue her macaron making at home and perhaps you'll be the beneficiary of that! This class is therefore perfect if you're looking for Mothers Day presents as well as Mothers Day gift experiences in Sydney, because you and mum will take home a sweet goodie bag.
This class is also suitable for kids six years and older, perfect for mums wanting to spend some fun time with their littlies on Mother's Day.
If you're looking for more classes for you and mum to indulge your sweet tooth in Sydney, everything from chocolate truffle workshops to cake decorating classes are covered.
Create your own ceramics together
Give mum a meditative experience, where the journey is just as important (if not more so) than the end product. And why not take advantage of this time to switch off and get creative by joining her? Sharing a relaxing pottery experience with your mum will make for a really special Mother's Day gift because unlike the hype of a physical gift which fades quickly, the memories of this unique experience will last a lifetime.
These fun pottery classes in Sydney will give mum some time to play with a potter's wheel or make her very own teapot, perfect for your next tea time together. You will both appreciate the unique imperfections in your own ceramics every time you use them and be reminded of those memorable moments together.
If you're unsure of what ceramics class to pick for mum, try a beginner's wheel-thrown pottery class, Japanese kintsugi or have a crack at hand building pottery. Whatever your choice, some Mother's Day craft will leave mum smiling ear to ear.
Indoor plants brighten any space and there's no better gifts for mum than a personalised miniature garden to bring light into her own space. Terrariums are an entirely self-contained ecosystem that are incredibly easy to maintain, making them perfect for busy mums who are juggling lots but still want to bring a sense of lushness to their home.
Building this mini plant oasis in a terrarium making class in Sydney with your mum will give you both the opportunity to happily lose yourself in the world of nature. Unlike store-bought terrariums, mum will have the chance to completely customise her mini garden using her favourite plants and decorations, making this Mother's Day craft very well-loved!
You can even book a private terrarium making class for just you and mum, giving you the ultimate chance to get creative and make some lasting memories. Plus, pop open a bottle of wine while you get your hands dirty to celebrate Mother's Day!
Shake and sip cocktails
On previous Mother's Days, you may have indulged in cocktails and toasted to the most prominent woman in your life, but in 2020, why not shake things up a bit and learn to make your own customised cocktail creations while you celebrate this special occasion!
Cocktail making classes are a must-do in Sydney, making them perfect for anyone searching for Mother's Day gift ideas. You still get to do all the regular things (eat, drink and toast to mum) just with a fun twist. In these classes, you will learn how to create the perfect balance in a cocktail and polish up on your shaking, muddling and mixing.
If mum has a favourite cocktail you can request to make that one during the class, a pleasant surprise for her! With the drinks and nibbles flowing, mum is bound to feel extra special during this Mother's Day celebration. Besides, it doesn't get much better than cocktails when you're looking for unique Mother's Day ideas in Sydney!
If you haven't found the perfect gift yet or are looking for more Mother's Day ideas or unique Mother's Day gift experiences in Sydney, check out the rest of ClassBento's Sydney workshops.
Here's to a happy, creative and inspired mum!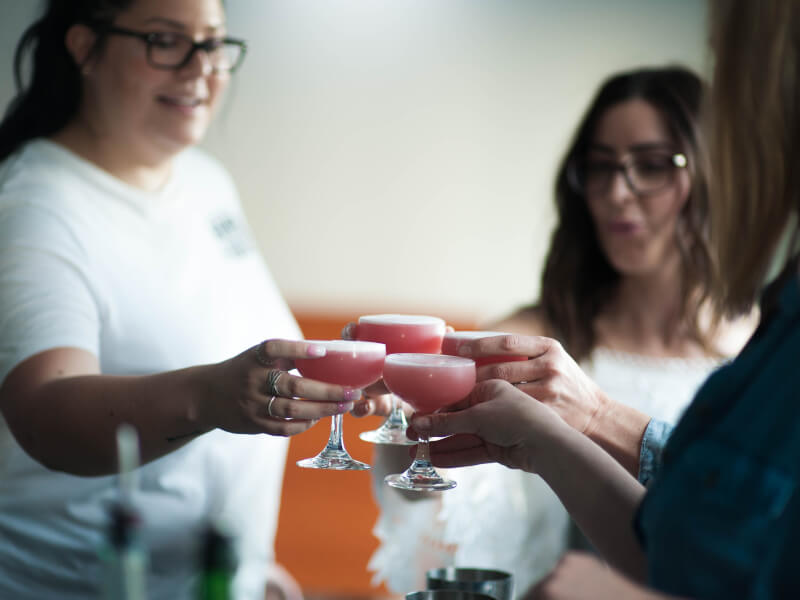 Suggested workshops in Sydney