Do you enjoy trying new things? If yes, head to local paint and sip classes in Brisbane to give painting a go and tap into your creative side! From acrylic paint pouring to using palette knives to paint a gorgeous Greek sunset, there are plenty of classes that you can choose from. The best part? They're all paired with a wine or drink of your choice.
Led by a team of passionate artists, these painting lessons are designed for complete beginners in a casual, friendly environment. Simply come to the class with your own drinks or be greeted with complimentary bubbly upon your arrival and start painting your own masterpiece! Perfect for date ideas, team building activities or experience gifts for wine lovers, there is something for everyone to enjoy.
Read on to discover seven unique paint and drink experiences that anyone looking for fun things to do in Brisbane will add to their list.
Discover the art of acrylic pour painting
Looking for a wine and paint experience but with a unique twist? Discover the art of acrylic pour painting with Wesley Taylor Art Studios. Whether you're in Fortitude Valley or Brisbane City, head to your local paint n sip studio and learn how to pour paint to create a beautiful artwork.
Pour painting or fluid art is a great way to make abstract designs, shapes and colours that look mesmerising and stunning on canvas. Plus, because of its abstract style, you can create a new piece of art that's completely unique to you, which are perfect gifts for her this year. With all materials and tools provided, all you need is BYO drinks and nibbles to get you into the painting flow!
Paint your pet in funky pop art
Celebrate your furry friend in this unique paint and drink experience and learn how to paint your pet on canvas. No matter what species your pet is, bring them along to this sip and paint your pet class at Logan's first paint and sip studio. Under the guidance of helpful artists, they teach you how to paint your pet in a colourful, pop art style. This style takes inspiration from artists like Andy Warhol and places emphasis on bold and funky colours, creativity and having fun!
This class is perfect for team building activities, where you can bring your pets and spend time painting, bonding and of course, being surrounded by cute animals! Is there anything better? So whether you're bringing a few friends along or gifting a class to that special someone, come and discover how to paint with a glass of wine in your hand today.
Enjoy watercolour painting and wine
Looking for fun things to do in Brisbane this weekend? Join a watercolour and wine workshop with Work-Shop and unwind with your loved ones. First, you'll start off with a glass of red or white wine as you mingle with friends (new and old), then you'll dive into the creating! Guided by Vanessa Wallace, she will teach you how to paint with watercolour for beginners in a supportive, hands-on environment. You can draw inspiration from the live plants in their sip n paint studio or from their curated gallery. At the end, you can take home gorgeous watercolour leaf paintings to frame and hang on the wall!
Whether you're looking for birthday party ideas or classy hens party activities, local Brisbane artists can host your next paint party with your friends!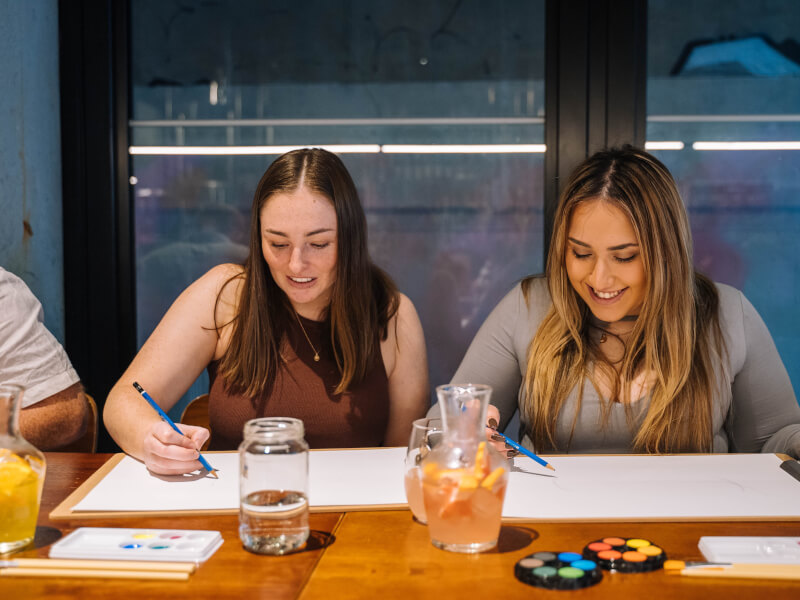 Paint your mate or date
Searching for cute date night ideas or some quality time with your friends? Look no further than these portrait wine and painting classes. In this hands-on workshop, you can bring your mate or date and learn how to paint a beautiful portrait of them. Whether you're a complete beginner or have some painting experience, your teacher will guide you through painting a portrait, how to capture the soul of your person and the painting style of the Romanticism period. As you create, sip on your favourite drinks and connect with your date or mateportrait model.
So gather your loved ones for fun paint and sip classes in Brisbane today as you sip on some fine wine and unleash your inner artist.
Learn how to paint street art
Ready to brush and sip your way through Brisbane paint and sip classes? Head to Montana Art Project and learn from a professional street artist. It doesn't matter if you have never painted before because at Montana Art Project, they believe "anyone can be creative." This street style is super easy to learn using their stencils, spray paint and paint pens so you can experiment and have fun! You can choose to paint whatever you desire, from a vibrant tiger to a stunning portrait of Frida Kahlo.
These Brisbane workshops are also great if you're thinking of hosting your own social event. Gather your work colleagues together for relaxing team bonding activities or catch-up with your favourite people over some wine and nibbles.
Enjoy wine and watercolour with Workshopit
Looking for some Friday night fun? Come along to this paint and drink experience in Deagon and enjoy a two-hour watercolour and wine workshop! Talented artist, Kari Steele takes you through the creative process of painting with watercolours. You can simply learn how to paint a masterpiece and enjoy your favourite drinks by your side!
Workshopit also provides all the tools and materials needed so you are free to have fun with your friends and make some great memories! If you're after unique hens party ideas, these hands-on Brisbane activities are sure to be the perfect place to unwind, get creative and spend quality time with your loved ones.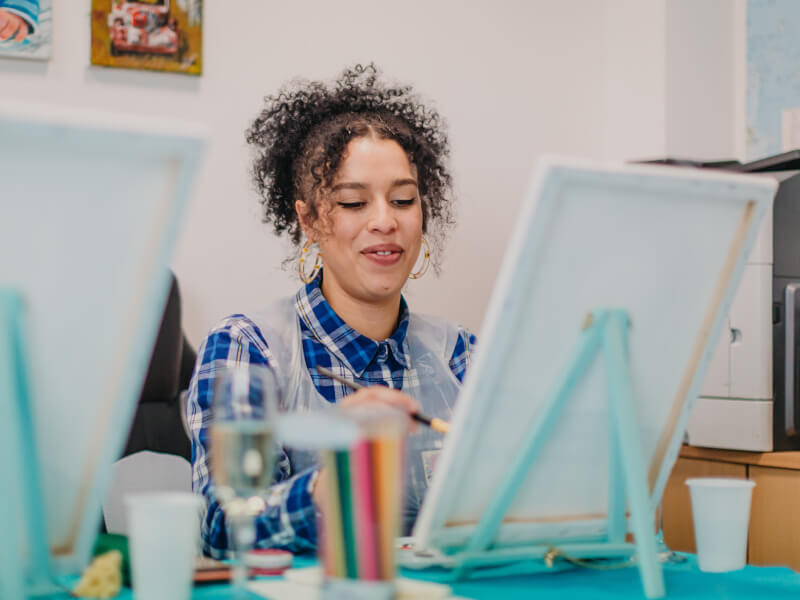 Paint a gorgeous Greek sunset
Whether you are going on a solo adventure in the city or want some mother and daughter bonding time, this paint and sip class will help you express creativity through art and socialise with people in a relaxed and comfortable setting. Spend your evening learning how to paint a gorgeous Greek sunset, where you'll be shown how to layer and blend acrylic paint into your colourful masterpiece. As you create, you get lost in the meditative rhythm of the paintbrush and become immersed in the creative process. Plus, enjoy a free drink with your loved ones at the beautiful Suburban Social Holland Park.
If you love trying new creative things, paint and sip classes in Brisbane are the perfect place to have a drink and paint at the same time!