Get a snapshot of the photography tips that separate the amateurs from the pros at photography classes in Brisbane. Whether you've been practising photography for a while or are just starting out, this is your chance to soak up years worth of tips, tidbits, and trade secrets directly from an experienced photographer. They're so excited to show you the way they see the world through their lens that you'll be inspired to pick up yours!
Get ready for your fun photography workshop by charging up the batteries on your DSLR camera or smartphone, lacing up your favourite walking shoes, and picking out a fresh new notebook to capture all the helpful hints you'll learn during class. You'll spend the afternoon following your enthusiastic instructor to some of the best places in Brisbane to take pictures. And, with your own camera in hand, you'll have plenty of time to take pictures and receive feedback on your shots.
Here's a glimpse into some of the photography tips you can expect to learn in photography workshops!
Turn off the auto settings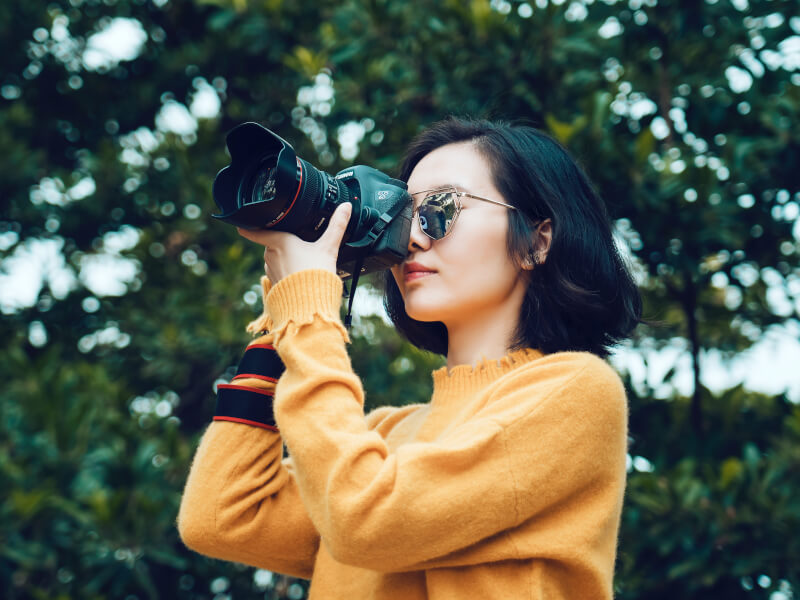 Don't get us wrong, auto settings can be a huge advantage in photography, especially if you're just starting out or are on the go without all the time in the world to play around with your settings.
If you're looking to build your skills as a photographer, though, switching off those auto settings is a great first step. In these interactive Brisbane workshops, your helpful instructor will help you navigate your camera's features so that you can have more control over your shots. With one-on-one guidance, you'll learn how your camera works so much faster than jumping back and forth between "how to use DSLR camera" videos online.
Get familiar with lighting
As any trained photographer will tell you, lighting is everything! But as a beginner, it can be tricky to know exactly what that means. Do you want as much light as you can get? How can you use your camera's flash without your subjects looking washed out? Whether you're looking forward to snapping pics at an upcoming hens party or you want to capture a gorgeous sunrise, familiarising yourself with proper lighting is absolutely essential.
Photography classes in Brisbane are offered throughout the day not only so that you can find a class to fit your schedule, but also so that you can get experience taking pictures in different lighting. Sign up for a morning, evening, or even night class to start getting more comfortable taking photos in all settings.
Move around
Sure, you could set up your tripod at one of the must see or must do Brisbane locations, like the Botanic Gardens or Story Bridge, and take pretty good pictures. But, one of the photography tips you'll learn early on is that the generic shots are often the most boring. In a walking photography class, you'll have the chance to see the city from different perspectives and capture unexpected moments. With an experienced instructor at your side, you'll even learn how to capture photos of the most popular landmarks from angles that you might not have considered.
The chance to move around while learning photography makes these classes unique and interesting date ideas. If your special someone is outdoorsy and active, they're going to love the chance to learn something new on foot. Not only will you have fond memories of your excursion, but you'll have fantastic pictures to look back on as well!
Don't shy away from making mistakes
Many photography tips translate to other parts of your life, but this one might be the most powerful! With digital photography, you can learn how to keep trying new things even if it means that some of your pictures come out blurry or off-centred. The beauty of DSLR photography is that you can keep snapping pics until you get it right.
The most important thing is that you get out there, keep your finger on the shutter button, and don't give up! Your knowledgeable instructor will be right there to point you in the right direction when you get stuck. And, with enough patience and practice, you'll see plenty of improvement to be proud of.
Find your community
If you've ever thought of photography as a solo hobby, these group Brisbane activities will quickly prove you wrong! Surrounded by other creative adventurers, you'll find that the photography community is welcoming and warm. Get supportive feedback and encouragement from other members of your group, or be inspired by the work of your fellow students.
The social aspect of these photography classes makes them ideal for team building with your corporate staff. Get your group out of the office so that they can learn something new and enjoy a creative outlet together.
Practice all the time
Photography isn't a skill that you're born with, it's a skill that you build! That's why one of the first tips you'll hear from experienced photographers is that you have to work at it as much as you can. The more you can look at the world through your lens, review your photos with an open mind, and keep learning from photographers you respect, your practice will improve with leaps and bounds.
So, whether you're taking the dog out for a walk, meeting up with friends for coffee, or simply running errands, make sure you take a few minutes out of your day to practice your new skill.
Share your work
Photography classes are a brilliant way to jumpstart your creativity and get you excited about your hobby. And while the skills and tips you learn in a class will stick with you, it's normal to experience a lag in motivation after the initial excitement has worn off.
A great way to keep your creative momentum is to share your work with others! Send postcards to loved ones, post your pics on social media, or give your prints to a special someone for their birthday. Of course, one of the best ways to stay active with your craft and learn more photography tips is to join photography classes!
Photography workshops in Brisbane