Become the artist you've always wanted to be and sink your hands into this sensual art form at pottery classes in Australia. During a ceramics class, not only will you master fiddly techniques for standout kitchenware and crockery, but you'll feel soothed after spending several hours in a warm workshop environment.
Whether you're searching for must-do Brisbane, Sydney or Melbourne activities, there's bound to be a ceramics class nearby to suit every occasion. Perhaps you want some time to yourself for meeting new friends who share your enthusiasm for wheel throwing or to spoil your loved ones to a meditative pottery experience gift? Whatever you choose, it's never been easier to nourish your imagination and cultivate a lasting well of calm in the heart of the city.
Pottery courses also make meaningful hen party ideas and birthday party ideas when you've exhausted the local attractions. Together, you'll create glazed pottery fit for the grandest palaces and relish each other's company in a technology-free setting.
Are you ready to dive into the wonderful world of pottery classes? Of course you are! Keep reading to discover why playing with clay is one of the most exciting things to do this weekend.
Beginners will love a step-by-step ceramics class
It doesn't matter if you've never slip trailed or bisque fired before, because every ceramics class is beginner-friendly, perfect for all skill levels. Under the guidance of a talented teacher, you'll get to grips with specialist equipment and materials while exploring several pottery making methods.
There's ample time to answer questions throughout the pottery course, and you'll receive plenty of personalised feedback. Thanks to this comprehensive tuition, you'll soon build the confidence to continue your calming mindfulness hobby at home.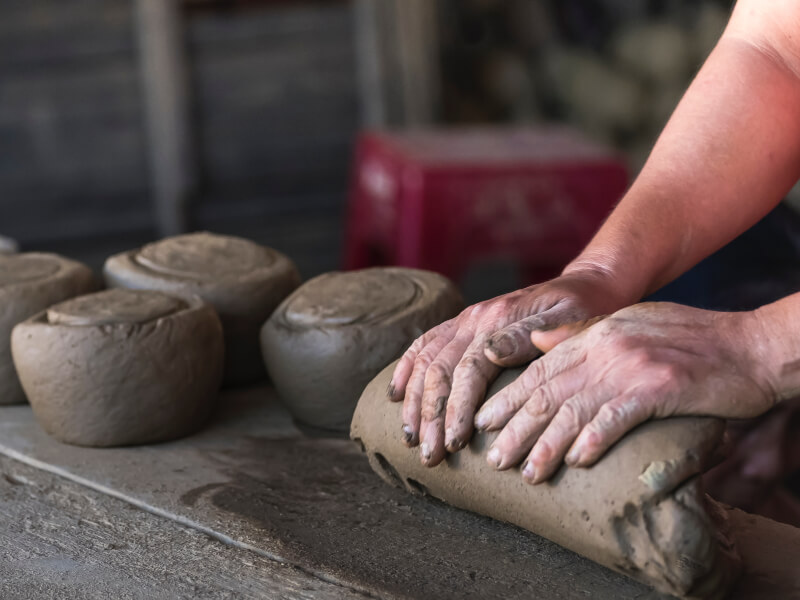 Feel your tension melt away as you manipulate clay
Squishing and moulding clay is a brilliantly therapeutic activity that shares similar benefits to popular ASMR videos on YouTube. Feeling the wet, slippery earth between your fingers can trigger the autonomous sensory meridian response – a tingly, sedative sensation that grounds your mind and triggers muscle relaxation. Plus, immersing yourself in a ceramics class brings you back to the present moment, preventing you from fretting about future tasks and goals.
Mood-boosting perks aside, pottery classes are like exercise for your brain. When you step outside your comfort zone and develop a unique skill set, you'll see improvements in your concentration, coordination and attention to detail. There's nothing more rewarding than nourishing new neural pathways while cocooned by grounding smells and textures.
Socialise and meet like-minded potters in your local area
If you need a dash of inspiration, heading to your local pottery studio is the perfect solution. You'll socialise and shape clay with other visionary minds, stopping to share tips for stunning ceramic pieces oozing with character. The collaborative atmosphere promises to put you at ease, and there are plenty of opportunities to swap phone numbers for future pottery making pursuits. Who knows? You might even make a few new friends to invite to your next art show in Adelaide, Perth or Canberra.
Wheel throwing is a romantic date night idea
Switch on "Unchained Melody" and reignite your passion for pottery and each other in a romantic ceramics class. Alongside ditching pointless social media scrolling for sculpting, you'll become one another's most enthusiastic cheerleaders. Who needs boring Netflix reruns when you can work towards becoming a more productive and artistic duo instead?
If you've been in a relationship for a long time, you might have gotten stuck in a date night idea rut. Thankfully, wheel throwing is the antidote, providing hours of unforgettable entertainment and forging memories that last a lifetime. You'll never forget the magical time you spent together turning bowls and plant pots, and you'll walk away with a cherished keepsake as a reminder of all the fun you had.
Add a ceramics class to your list of team-building activities
Are you searching for ways to motivate your tired colleagues or employees? If so, how about rewarding your coworkers with a stress-busting team-building activity with a twist? Pottery making beats sitting behind a desk all day because it sparks meaningful communication and teamwork. Your instructor will make sure everyone feels comfortable enough to get involved for a morale-boosting experience that breaks the ice and cements relationships.
Above all else, a ceramics class is easy to organise for busy professionals who don't have the time to browse venues and secure numbers – simply book, show up and smooth clay to your heart's content! You don't need to bring anything with you because the well-stocked studios have everything you need to kick-start your pottery making journey. If you work remotely, you could even party in the Zoom room and craft ceramics online with a jam-packed at home pottery kit.
Treat your loved ones to a pottery experience gift
From birthday party ideas to anniversary presents, pottery classes make thoughtful experience gift ideas for curious creatives. You could prompt Mum to start that long-awaited side business by investing in her wheel throwing skills or spoil your best pals to a one-of-a-kind hen party idea. To make it even more special, why not book a private ceramics class for your group? Your teacher will personalise the occasion, weaving in fun stories and anecdotes to delight the guests.
Boost your creativity with pottery workshops
Pottery workshops are the ultimate creative salve because they prioritise your inner need to express yourself openly. There's no such thing as a mistake because every piece is unique, and you'll relish letting your imagination lead using a gentle, laissez-faire approach.
If things don't go to plan, who cares! Your resident potter will show you how to think outside the box and form innovative workarounds for professional-looking ornaments. Under their protective wing, you'll feel empowered to experiment and try your best without getting caught up in the final result.