Handmade ceramics are all the rage and pottery classes in Australia are your chance to embrace this fun and fiddly trend. A quick "ceramics classes near me" search is all it takes to find a pottery studio in your local area. Before you know it, you'll be making beautiful, one-of-a-kind ceramics to show off at home or wrap up as gifts for loved ones.
Over the past few years, there's been a noticeable shift from mass-produced ceramics to unique, handmade wares. It's easy to see why, with an increasing number of Australians choosing to support homegrown small businesses over big corporations. Ceramics classes invite you to step into a local pottery studio and learn how to transform lumps of clay into boutique-worthy works of art.
There are loads of different pottery classes to choose from and with locations across Australia, from Canberra to Brisbane, it's easy to find workshops in your city. All classes are taught by professional ceramicists who'll take you from rookie to Rae Dunn in a matter of hours.
Whether you want to dive into wheel throwing at a pottery studio in Sydney, design your own planter pots in Perth or create a decorative vase in Adelaide, there's a ceramics class for you. To get you inspired, we've put together a list of some of our favourite pottery project ideas.
Planters and pots for your indoor jungle
Indoor plants are one of the best ways to boost your mood and brighten up your space. If you haven't heard of biophilic design, Google it! One thing's for sure - leaving your plants in the plastic containers they came in is a serious interior design faux pas. Instead, do your plant babies justice and learn to make decorative pots in a pottery class. Whether you're growing an indoor jungle or babying a single Monstera, handmade planters will give your space an Insta-worthy edge.
Plants not only purify the air but can boost productivity, improve concentration and ease anxiety. This makes pottery workshops ideal team building activities. Your colleagues will jump at the chance to connect in an environment that's laidback and social. Plus, everyone will leave with their own custom planter. For bigtime brownie points, gift everyone with an indoor plant to put in their new pot.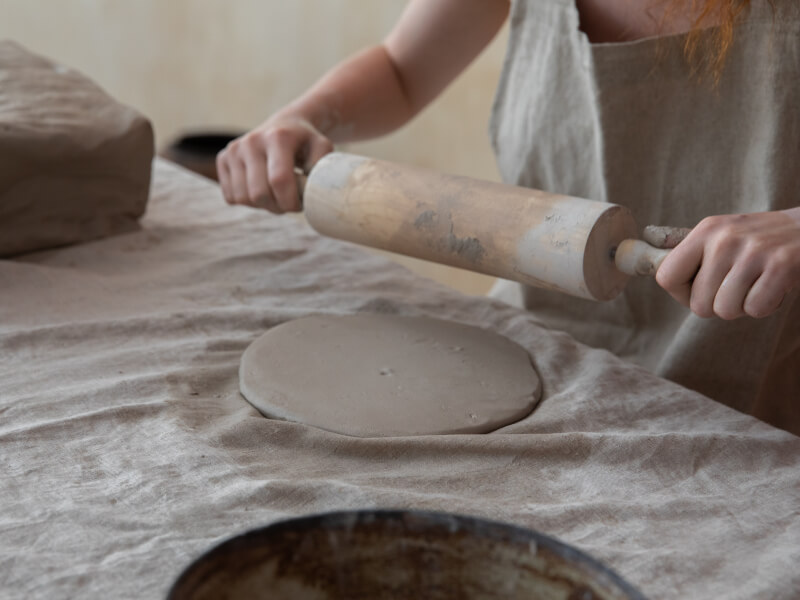 Country-inspired kitchen supplies
Ceramic kitchen tools have been used for centuries and are the perfect way to bring a touch of rustic charm into your home. Whether you're an accomplished chef or you're looking for inspiration to spend more time in the kitchen, handmade ceramic utensils and accessories are guaranteed to enhance your experience.
From colourful mixing bowls to custom butter dishes and wooden spoon rests, the possibilities are endless in beginner pottery classes. Keep your handmade homewares for yourself or give them away as gifts.
The perfect coffee cup
Australia is a nation of coffee lovers and let's face it, your favourite brew will taste better out of a handmade ceramic cup. Start your day right with your coffee of choice served in a beautiful mug made in your beginner pottery class. Whether you prefer a flat white or a chocolate-dusted cappuccino, you'll savour every sip you take from your handmade coffee cup.
Almost everyone loves hot drinks, making a coffee or tea-inspired pottery course an ideal gift for friends, family or colleagues. Your lucky recipient will love the chance to go behind the scenes of a local pottery studio and learn how to make ceramics from scratch.
Discover the top beginner pottery classes in Australia here.
Boutique-worthy dinnerware
If you've scoured Myer and David Jones for the perfect serving platter or fruit bowl and come up empty-handed, a ceramics class could be the answer. Step into the pottery studio and learn how to make homewares that would look right at home in a boutique homewares store on Chapel Street.
Throwing clay can be incredibly therapeutic, not to mention romantic. Just ask Patrick Swayze and Demi Moore. If you're looking for date night ideas that will get sparks flying, a clay-splattered session in the pottery studio could be just what you need.
Gold-dusted Kintsugi
When it comes to pottery, all that glitters really is gold. Kintsugi ceramics are stunning but there's more to these pottery classes than you might think. The ancient art of restoring ceramics with gold dust-infused lacquer is founded on the philosophy of celebrating imperfection and honouring inner beauty.
If you're on the search for hens party ideas that sparkle, a Kintsugi workshop will delight the bride to be. You'll love mastering this centuries-old Japanese technique alongside your best friends. You'll even find ceramics online Kintsugi classes – perfect for if your guest list includes interstate babes. Co-ordinating a date/time and sending out at home pottery kits is another great option for bachelorettes, birthday parties, team building days and any other occasion with virtual attendees.
Wearable art and jewellery
Handmade ceramics are a wonderful way to decorate your home, but did you know you can also create your own wearable art in the pottery studio? From hand-painted necklaces to Kintsugi earrings, you'll love expressing your creativity in the clay studio. You'll get to keep your jewellery and bask in the compliments, not to mention the sense of satisfaction you'll feel every time you admire your handmade jewels. Who knows, you could love your newfound hobby so much you set up your own Etsy store or become a mainstay at your local craft market.
Pottery and Pinot
While Victorian summers are gorgeous, winters can be a little gloomy. If you're looking for fun things to do on a rainy day in Melbourne, a clay and sip night could be just what you need to banish the blues. You'll love the chance to unleash your creative streak with a glass of your favourite Yarra Valley Pinot Noir in hand. If you're more of a Margaret River Shiraz aficionado, you'll love clay and sip workshops in Perth.
Whether you're looking for fun birthday party ideas, looking for new ways to practice mindfulness or simply want to explore a new hobby, pottery classes in Australia are incredibly rewarding.