Tell your stress, responsibilities and to-do list to take a hike with mindful art classes Adelaide residents turn to when they need to! If you've been trying to clear your mind and live in the present but have found that the meditation apps are not cutting it, then you're going to love an immersive experience that will keep you grounded in the here and now. And, because art classes promote creativity and expression, you'll walk away with a physical memento of your commitment to self-care.
You don't need any prior experience with art to enjoy mindful art classes. Whichever medium you try, your warm and welcoming instructor will be glad to start with the basics so that you can learn in your own time. And, to make things even easier, supplies will be provided for you so that all you have to do is show up with an open mind.
When the class is over, you'll walk away feeling relaxed and proud of your finished piece. And, you'll also have the skills to keep practising your new favourite hobby any time you want some inner peace!
Here are a few of the most popular mindful art classes Adelaide has to offer!
Doodle your way to bliss with mindful mandala classes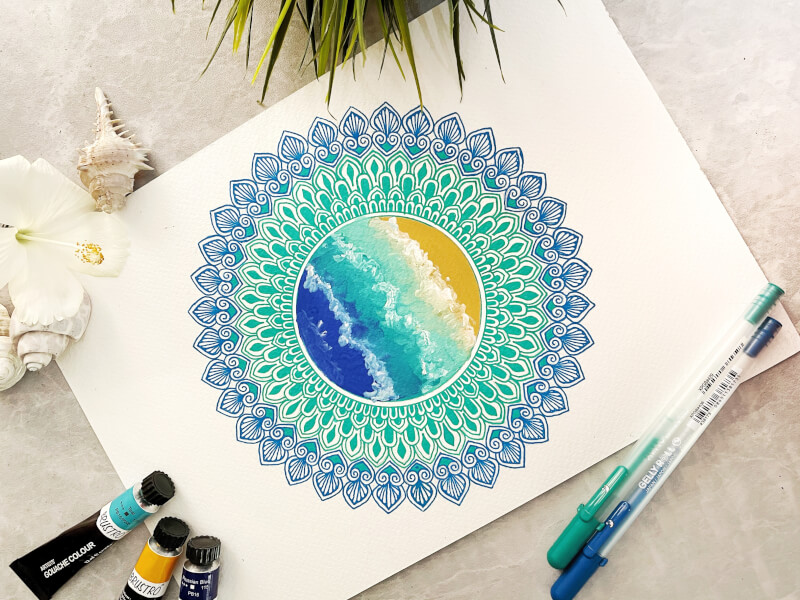 Mandalas are geometric drawings made up of concentric or intricately connected circles and shapes. Traditionally, these spiritual symbols have represented wholeness, while also aiding the meditation process in Eastern religions such as Buddhism and Hinduism.
So, if you're looking for Adelaide activities with mindfulness built-in, mandala drawing classes are a no-brainer! The moment you walk into a mandala art workshop, you'll instantly notice the relaxing and warm atmosphere created by your welcoming host. And, after learning about some of the history and symbolism behind this ancient practice, you'll have a chance to make your own beautiful works of art. Not only will you have a mandala to take home and enjoy, but you'll also have the skills to create new mandala drawings anytime you want to practice mindfulness.
Enjoy the relaxation of nature in a floral painting class
Studies show that connecting with nature is an effective way to reduce stress and improve your mental wellbeing. And, with relaxing watercolour classes or acrylic painting classes, you can celebrate the plants and flowers that you find most soothing.
Whether you find comfort in a favourite flower like lavender or enjoy some of Australia's unique native plants, floral painting classes are sure to get you interacting with nature in a whole new way. Once you have some practice drawing and painting plants and flowers from real-life examples, you might just find yourself spending more time in flower shops, plant stores, and botanical gardens—with a sketchbook in hand, of course!
Think Mum might enjoy painting a bouquet instead of receiving one for Mother's Day? Floral painting classes make touching gift ideas that you can enjoy together.
Go with the flow in a paint pouring class
Splash, spill, and spatter your way to relaxation in an acrylic paint pouring class. With a bit of paint and the help of gravity, you can transform a blank canvas into a chic abstract work of art that you'll be proud to hang on the wall.
Paint pouring is so soothing that you'll quickly find yourself in the zone during these hands-on art classes Adelaide crafters are raving about. Allow yourself to get caught up in this fluid artform as a way to take a break from your rigid schedule or day-to-day routine. These classes are all about following your intuition instead of planning out every detail!
Laugh it out with a hens party painting class
You might not have considered it, but spending time with your closest friends really is a chance to live mindfully. After all, there's no better way to enjoy the present moment than putting down the phone, leaving work at the office, and committing to spending quality time with friends.
And we can't think of a better time to ground yourself in the here and now than in the weeks or months before a wedding. If you really want to give the bride-to-be a break from the stressful to-do list, why not round up the crew and attend a fun hens night painting class together?
Now, these aren't your average art classes! Hens night paint and sip classes are specially designed to help the future bride let loose, laugh it up, and live in the moment with her very best friends. Not only will she enjoy some much-needed stress relief, but she'll walk away with a finished painting to remind her of this special night.
Simplify with a still life drawing class
You don't need the most expensive paints or equipment to enjoy some mindful art. You can build your drawing skills with nothing more than a pencil and a piece of paper! Sit down to a relaxing still life drawing session and learn why these art classes for adults are some of the most popular things to do in Adelaide. With step-by-step instruction, you'll learn how to quiet your thinking mind so that you can focus on the scene in front of you and the pencil in your hand. You'll be amazed at how easily drawing classes allow you to enter a relaxing flow state!
Once you have the skills to sketch out some common items included in a still life drawing, you can keep practising your new favourite hobby right at home. Anytime you think you could use some mindfulness, you can use household items like a fruit basket and coffee mug to relax into the present.
Art classes are a sure way to slow down and live in the moment
There are so many art classes Adelaide residents can choose from for some much-needed mindfulness and meditation. So, whether you sometimes struggle to calm your thoughts or would love a chance to reconnect with loved ones while learning something new, you can find art classes to slow down and ground yourself.
Painting workshops in Adelaide