Australia has made a name for itself in the international coffee community, and Melbourne is one of the cities leading the pack. There are endless amazing coffee shops, coffee festivals and expos, and plenty of fun barista courses in Melbourne to explore. In other words, if you're a coffee lover in Melbourne, you're in the right place. Now that the sustainability movement has hit Melbourne, we're all thinking about how to make our love for coffee more environmentally friendly. Some coffee shops are banning one-use cups. At home, baristas are ditching their high-waste k-cups in favour of reusable pods. And one that we're particularly excited about: finding creative uses for the leftover coffee grounds. Here's the latest ideas about how to give those leftover coffee grounds a new life.
Before we talk about reusing coffee grounds, where does the waste end up now?
Most of us don't think twice about throwing our coffee grounds into the bin or rinsing them down the sink. Unfortunately, there are negative environmental impacts that we should be considering. According to the Australian-based recycling organisation, Closed Loop, about 90 per cent of coffee grounds end up in landfills. What's more, an average cafe can produce around 60 kilograms of coffee grounds per week.
You might be asking yourself, "What's the big issue with coffee grounds ending up in a landfill? It's organic material right? Won't it just break down?" The big issue is that when coffee grounds end up in landfills, they produce methane, a greenhouse gas more damaging than carbon dioxide. Coffee grounds in landfills also contribute what are known as leachates, potentially toxic liquid runoff from landfills.
Another way to look at coffee grounds in landfills is as a wasted recourse. When coffee grounds are recycled effectively, they can be used to create energy-rich, diverse, and nutritious soil. By using coffee grounds that we already have at our disposal, we reduce our reliance on manufactured, mined, or imported fertiliser.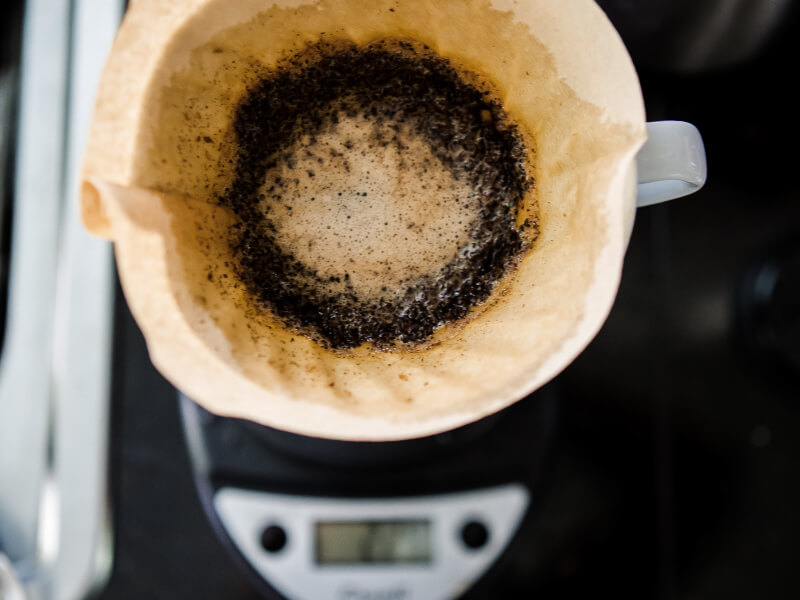 7 creative ways you can reuse your coffee grounds
Don't worry, no one is saying that we should stop drinking coffee altogether and switch to green tea. We can still enjoy our daily coffee and our barista training workshops and coffee flavoured ice cream, however, we can make a big impact when we make the choice to be more mindful about our coffee ground waste. Here are a few creative ideas that we can all incorporate into our normal coffee routines:
1. Compost it
Composting coffee grounds is a great use for old coffee grounds! As long as you don't overdo it (coffee has a lot of acid), the grounds can offer a good amount of nitrogen for your compost pile.
3. Sprinkle it around your property
Coffee grounds can ward off feral cats and they can also be used in your garden to keep out snails and slugs.
4. Introduce coffee grounds in your DIY projects
Coffee can create a beautiful, affordable wood stain for your next furniture project. It can also be used to give your furniture an antique look.
5. Use them as a deodoriser
When coffee grounds are dry, they do an excellent job absorbing odours around your home. You can mix coffee grounds with baking soda to make their odour-eliminating powers even stronger. Not only will your coffee grounds deodoriser cancel out bad smells, but you'll have that pleasant fresh coffee smell all-around your home. Some good places for a coffee ground deodoriser could be the back of the fridge, your bedroom, the bathroom, your shoe closet, or really anywhere else that could use a good freshening up. One thing to keep in mind is that you'll want to replace the coffee grounds about once a week for maximum effectiveness.
6. Clean with it and minimise elbow grease
You can use coffee grounds for caked-on grime, dirt and other residue in the kitchen and bathroom, coffee grounds can be helpful. Just like a scrubbing pad, coffee grounds can help you tackle the hardest-to-remove messes in your kitchen and bathroom.
7. Make a candle with them
Put those coffee grounds in a candle - ever tried making your own candles? You can make them even more tasty-smelling with recycled coffee grounds.
8. Make natural body products
Pamper yourself with a coffee ground face and body scrub - coffee grounds are wonderfully exfoliant and will make your skin feel amazing. Simply mix one cup of your leftover coffee grounds with a fourth of a cup of sugar, a spoonful of cinnamon, and a half cup of body oil (or coconut oil). You can also add a sprinkle of coffee grounds to your shampoo as a hair exfoliant, as well!
Still have leftover coffee grounds?
If you're still feeling guilty about the waste from your daily latte art habit, don't fret. Talk to people in your community to ask if anyone could use your leftover coffee grounds. Families who don't drink coffee might love the chance to get a boost of nitrogen in their compost pile.
Another alternative could be to have your coffee grounds and the coffee grounds of other families in your neighbourhood recycled by an organisation. There are a few recycling companies in Melbourne, like Reground, who specialise in coffee ground collection and composting. Although many companies focus on corporate recycling, now is the time to get active and start requesting options for individual coffee drinkers.
Start your own coffee ground upcycling business
If you're inspired to take your coffee ground recycling even further, you can find a list of some of the most interesting uses for coffee grounds so far from the Barista Institute in Helsinki. Everything from designer clothing and shoes to furniture, to coffee cups, and art, there are entrepreneurs, artists, and engineers looking for new ways to use coffee grounds. And there are already entrepreneurs doing this kind of work right here in Australia! Textura is a Melbourne-based furniture and lighting design store that stocks Spanish designer Raul Lauri's range of home decor made from recycled coffee grounds. They sell bowls, light fixtures, jewellery and candle holders that are as environmentally friendly as they are beautiful.
Not all of us are going to be turning our coffee grounds into tennis shoes, but hopefully, we can all start thinking about creative uses for our coffee waste!
References
1) baristainstitute.com
2) closedloop.com.au