When you've got kids, it's often hard to keep them entertained for the entire Sydney school holidays. ClassBento is here to help! If you're looking for fun kids indoor activities and exciting things to do with kids these school holidays, look no further than our Sydney workshops which cover everything from fun crafts for kids to painting for kids. Get a group of their friends together and sign them up for a short school holiday program that is super affordable and will keep them amused these school holidays.

Fun Indoor Activities For Kids
Keeping kids busy when they're stuck in the house is as important as keeping them fed, and ClassBento has some of the best indoor activities for kids available online! But there's honestly so much you can do when chasing things to do with kids at home. Whether you're looking after your own rascals or babysitting a family member's little ones, we've compiled a list of some of the best indoor activities for kids we could find!

1. Indoor activities that will have them in stitches
Although this may seem tedious at first, learning to stitch, sew and knit is a fun way to pass the time, and a particularly useful craft to learn when chasing fun things to do at home with kids. Although knitting is normally reserved for the older generation, there are plenty of ways to make knitting and stitching exciting for kids.
ClassBento live classes online offer you and your children a chance to master several different types of knitting styles. With a list of online classes for kids that's continually growing, your child can learn all the intricate knots and ties required to become a macrame master. This is perfect for the little ones as macrame requires no knitting needles, so you can ensure your craft session doesn't descend into an all-out sword fight.
If you're looking for things to do with kids at home that are slightly older, our punch needle embroidery workshop offers a little bit more of a challenge. Punch needle embroidery is much faster than standard knitting and has more flexibility when it comes to creating your own unique designs, colours and styles. Nearly every house has a sewing kit, but even if you don't, our ClassBento Box delivery will ensure that you'll have all the tools necessary for you and the children to master the craft of fibre art.
2. Blanket Fort
Yes, a blanket fort. You want to talk about indoor activities for kids that's both time-consuming and creative? Building the world's best blanket fort is a great place to start. All you have to do is assemble a collection of sheets, quilts and pillows, a few chairs, some bulldog clips and - if possible - a solid base structure such as a couch or sofa, and you're set.
Throw the quilt down as a base, and attach a sheet to the highest point possible and run it parallel to the sofa, holding it down with bulldog clips. Or however you like, really. There are no formal qualifications for becoming a blanket fort architect, making it one of the best activities for kids at home. Pro tip: Set it up in a way that allows you to watch TV from inside it.
What's that? You thought gardens were simply for outside? Well excuse me, you've got egg all over your face. Building a green space inside your house is a great way to help purify the air and had a bit of a decorative streak to the living room. If you've already got house plants, maybe rearrange them together to create some kind of mini-plant family. Alternatively, you can use seeds from fruit and vegetables in the fridge and replant them to grow your own.
Just be sure you rest them on a window sill so they get plenty of sunlight to blossom. If you were looking for more of a challenge, however, ClassBento's online classes for kids are a great way to introduce them to a bit of botany. Our terrarium workshops for beginners are a great option when you're looking for indoor family activities, but are also a little more difficult than some of the other live classes online we have available for children. But with some adult supervision, you can help your little one craft a world of their own.


4. Games Day
Although board games feel a little old-fashioned sometimes, utilising them for fun indoor activities is perfect for rainy weather, or whenever you're forced to stay inside. Organising up to five in a row is a fantastic way to chew through the tedium of a rainy day, and a great way to get the most out of your indoor family activities. To make the most out of your family games day, make sure that each game that follows on is slightly different from the one before it.
For example, if you're going to all enjoy a game of chess, make sure you follow up with something like twister or charades so everyone's brains days active and fresh. If you just do five straight board games in a row, you're going to tear each other's face off before you can even get to who is the hungriest hippo. Looking for things to do with kids at home doesn't have to be particularly difficult Palmer and a games day is a great way to mix up the tedium of self isolation season.

However you choose to spend your time, ClassBento's live classes online are a great Edition to your list of indoor family activities common next time you're all stuck inside for an extended period. Whether it's building a blanket fort or growing a garden to redecorate the living room, ClassBento's online classes for kids are a fantastic way of keeping them busy next time you're stuck indoors.
Fun Outdoor Activities For Kids
5. Skateboarding Classes
Does your child love skateboarding? SKATE NOW is a Skate School in Redfern that offers fun skateboarding classes for every age group. Skating is one of the best kids activities to get your child outside and active and the best part is SKATE NOW provides all the skate protective gear and they come to you.

6. Kids Chocolate Workshop (Private Groups) And Fun Chocolate Truffle Workshop
Can you think of anywhere your kid would rather spend these Sydney school holidays than a chocolate factory? Kimberley Chocolates offers a two-hour kids workshop, which includes a brief chocolate history lesson and a chocolate making session. If the private workshop isn't for you, spend some quality time together learning how to make chocolate truffles at a group workshop which is suitable for kids 10 years plus.




7. Recycled Plastic Bangles workshop
Getting your kids to think environmentally-friendly is super important, and with this fun online workshop, they can craft homemade jewellery using upcycled materials, delivered to them with our new ClassBento box delivery system! A perfect class if you're chasing indoor activities for kids who love to get creative!


8. Kids Holiday Art and Craft Workshops
If you're after art and craft classes for kids these school holidays, look no further than Helen Hunt's daily kids holiday program. Covering everything from fibre art to clay play, each day of this kids activities program is themed and your little ones will spend their mornings drawing and painting and the afternoons getting creative with different craft materials.

9. Beginner's Macrame Classes with ClassBento Live
Stuck at home these school holidays? ClassBento's new live feature allows the class to come to you, and there's no better class to do that than our Beginner's Macrame workshop! Perfect for little ones as it requires no knitting needles, macrame is the art of knot-tying to create a variety of intricate shapes and designs. With all the necessary materials and resources delivered to your door, it's a great way to make the most out of your indoor activities!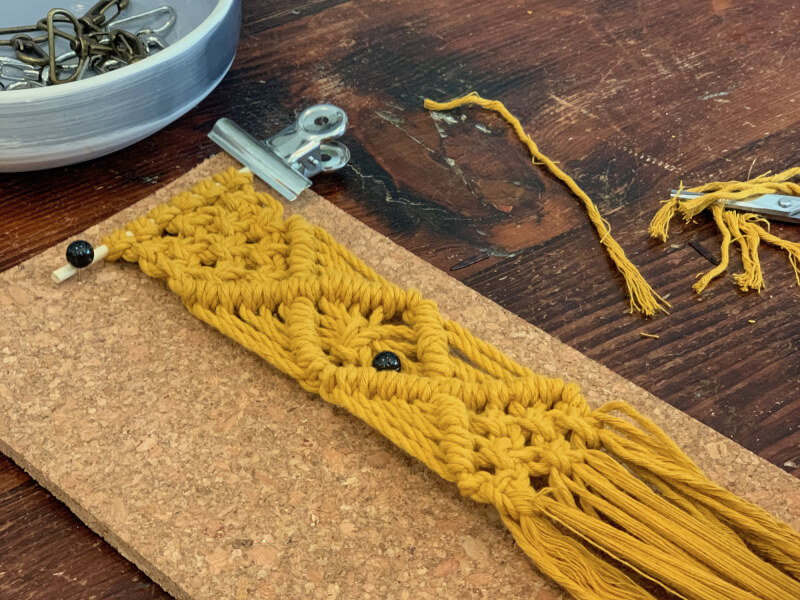 10. French Little Chef - Kids Cooking Class
There's two positives about booking your child in for a kids cooking class these school holidays: you avoid the mess in the kitchen, and they can have some fun and meet some new friends. Aleth Doat will teach your child to love hands-on cooking using French recipes and they'll leave with takeaway boxes of baguettes and madeleines.

11. Make your own pop-up cards from home!
If you're chasing fun activities for kids at home, our live classes online will help your little ones design and craft their own 3D pop-up card! This class is perfect for younger children wanting to let their imagination run rampant these school holidays! With all the necessary tools and paper delivered to your door with our ClassBento box delivery service, your little ones can create their own colourful hallmark moment from the living room!

12. Kids Fluid Art Workshop
The only things better than painting for kids is fluid art classes for kids. It requires almost no complicated techniques, almost always looks good, and is all about experimentation which means they can totally relax and get creative learning how to mix paint and make beautiful artworks.

13. Mobile Terrarium Making Workshop
For school holiday activities with a twist book in a group terrarium making workshop with your little ones and a group of friends. Fionna of Mulberry Tree will come to you with all the materials and in just an hour and a half, your child will get creative and build your own terrarium.

14. Fairy & Dinosaur Garden Workshop
Who needs a structured school holiday program when you can book your kids in for two hours of fairy or dinosaur garden making fun! Pamela Woods will teach how to grow plants and build tiny models in a terracotta pot. At the end of the workshop, the kids will have a living garden to take home and care for.


15. Natural Skincare Making School Holiday Workshop
If you have no idea what to do with your teenager these school holidays why not book them in for a natural skincare making workshop with Sage Cosmetic Coaching. They'll have some fun learning how to DIY their own skincare and leave with a clay mask, body scrub, lip balm, and moisturising cream


Suggested workshops in Sydney