Discover hens party ideas in Sydney for every bride-to-be with these 25 creative activities! Whether you're the maid-of-honour looking for something the hen will adore, or the bride-to-be herself searching for hens party activities that will make an unforgettable celebration, this article is packed full of inspiration to ensure everyone has the best hen weekend in Sydney!
Perfect for both intimate groups and bigger celebrations, our range of hands-on workshops can make for a classy and refined experience or a night of silly fun that allows you to let your hair down. All that's left to do is organise some fun hen party games, choose which hen party themes you'll go for and then pick up some hens party supplies.
Without further ado, here are 25 of the most creative hens night ideas in Sydney to help you organise an unforgettable celebration in 2023!
---
Top 5 hens party ideas in Sydney
Cocktail and Dumpling Making Class with Honkas Bar + Eats

Clay and Sip Wheel Throwing Pottery Class with Print Paint Pot

Tufting Class for Beginners: Make a Tufted Rug with TUTU Studio

Perfume Making Class: Make Your Own Signature Scent with Kiss Ready Lips

Beginner's Kintsugi Workshop with Kintsugi Australia
---
1. Flower arranging
Play with the season's freshest blooms and develop your style with a flower arranging class in Sydney. Head along to a local florist where you can discover the elegance and simplicity of Ikebana (the Japanese art of flower arranging), learn how to select and combine the right elements to create a more traditional bouquet, or mix it up by using Australian natives, which can last forever (just like the love of the bride and groom!). To truly embrace the wedding celebrations, why not head along to a flower crown making class and practice your hairstyle for the big day.
2. Paint and sip on some wine
Relax and unwind at paint and sip classes in Sydney and have fun learning how to paint with a local artist. There's no pressure at all in this beginner's class, as it's all about having fun and letting your imagination run wild! Indulge in a glass of wine (or two) while you paint your own masterpiece and get into the spirit for a classy hens night in Sydney! Creative hens party activities like this offer a relaxing atmosphere for loved ones to bond and most of all celebrate the bride's last hurrah in style!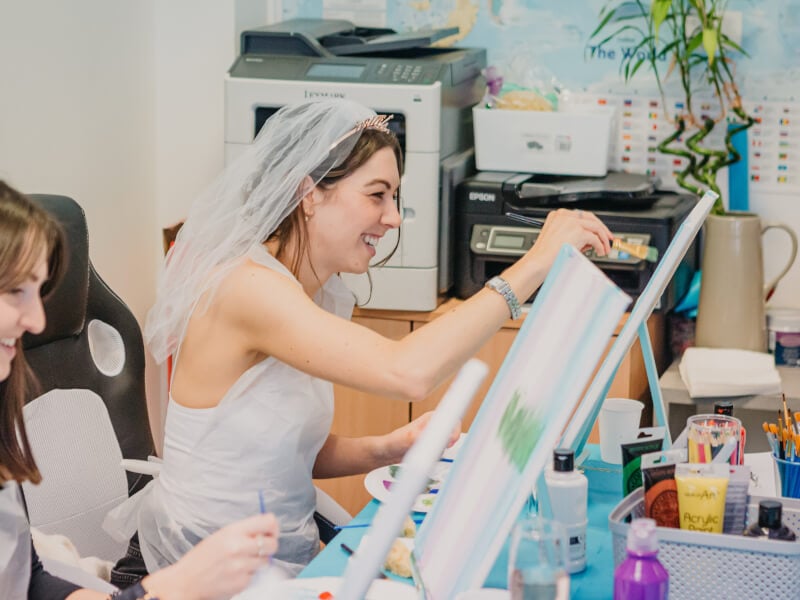 3. Learn how to make pottery
Chill out and enjoy learning how to use a pottery wheel in a unique pottery wheel throwing class in Sydney. Pottery classes are super popular for hens parties in Sydney because you'll pick up some impressive new skills and walk home with your own DIY creation. Learn how to make beautiful ceramics you can take home with you and continue your pottery journey by learning how to clay hand build next! These meditative classes are also a great opportunity for everyone to unwind at the hen weekend before the big day.
4. Build your own mini jungle
Make your own garden landscapes and let your creativity run wild with a popular terrarium making class in Sydney. Make open succulent terrariums, or try your hand at a gorgeous Jurassic-inspired leafy closed terrarium. Bring some wine or champagne and chill out at one of the best florists in Sydney. Encourage your bride-to-be to connect with nature and be present in the moment - because as well know, relaxation is crucial before the big day! Terrariums last for years with minimal maintenance, so they'll serve as a beautiful reminder of the lead up to the big day for years to come. They're also one of the best things to do in Sydney for green thumbs and new plant parents alike!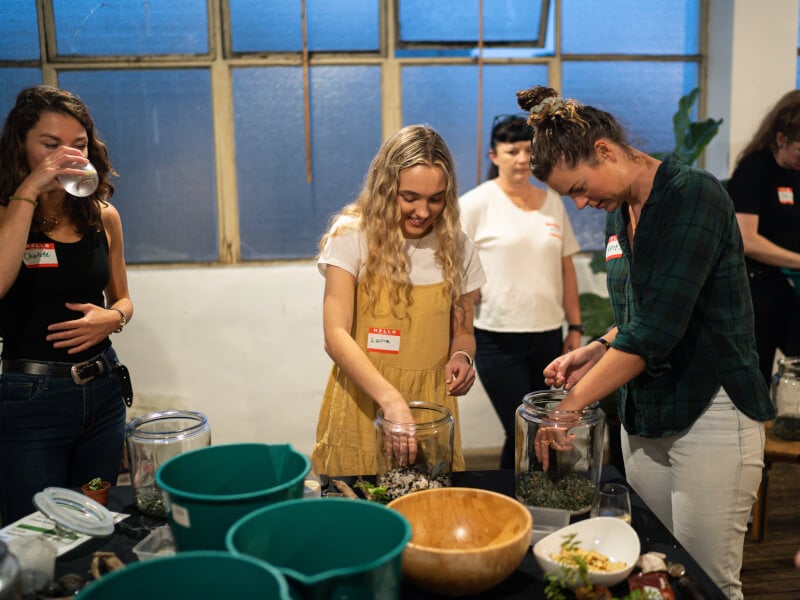 5. Make your own perfume
Let the bridal party indulge their senses by inventing their own perfumes, made with fragrances that are used by the world's top perfume houses in a unique perfume making class in Sydney. Mix and match your fragrances until you find the scent that perfectly tells your story in a fun-filled fragrance workshop with friends. And, of course, take home your special creations, perhaps to use on the special day itself. These hens party activities are a great way to indulge the bride before the big day.
6. Design and make your own DIY soy candles
Choose from almost 30 different scents, compliment them with your choice of colour and beautiful glass jars, and learn to make your own eco-friendly and vegan candles in a popular candle making class in Sydney. This newfound skill could come in handy on the big day and help to add a personal touch to the wedding decorations! Plus, who doesn't love a romantic candle-lit wedding dinner?
7. Never buy soap again
Learn how to make your own unique natural batch of soap using only the finest organic ingredients in a soap making class in Sydney. Customise your own soap and decorate it with exotic flower petals and buds. Whenever you use your homemade soap, we guarantee you'll be transported back to the memory of this wonderful time again and again. It truly is one of the more creative hens night ideas in Sydney.
8. Make your skin glow
Beauty-lovers, get ready to learn how to make your own skincare in a natural skincare class in Sydney. This is an awesome hens night idea in Sydney that's as practical as it is fun! Design your own bath salts, body scrubs, lip balms and more (with the best ingredients, of course) under the careful guidance of some of the best in the industry. The bride-to-be and her favourite people will finish the class feeling relaxed and rejuvenated, making it one of the most classy hens party ideas there is!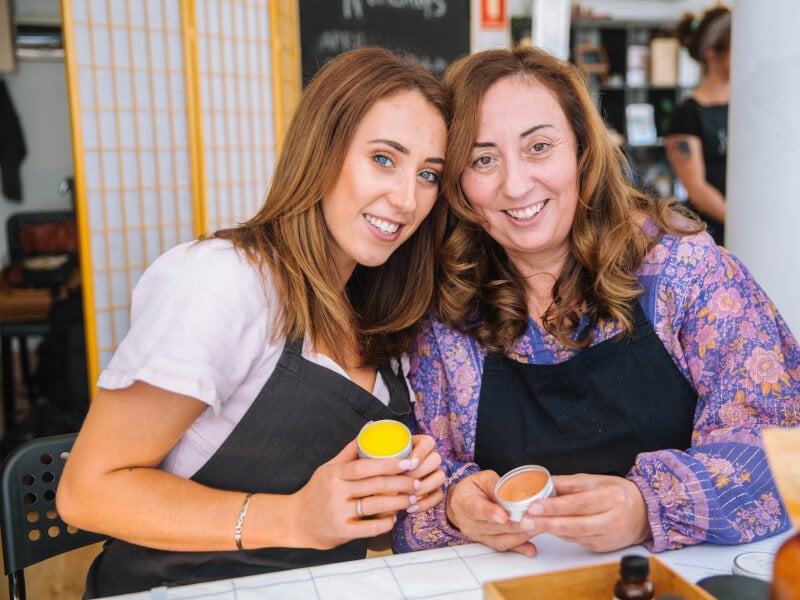 9. Indulge in chocolate making
Learn to make your own chocolates in a fun chocolate making class in Sydney. Experiment with flavours and shapes, and learn first-hand how chocolate is made in a real chocolate factory. Have some laughs and make sure to do plenty of sampling. You can even add some champagne, or finish off your experience with a Moet high tea in a lovely outdoor space.
10. Unwind with watercolour classes
Draw your cake and eat it too, in a playful watercolour class led by popular Instagram artist Blair Z. You'll be served some delicious desserts, while she teaches you how you can use watercolour to capture all those luscious swirls and to paint those decadent layers. After spending a good amount of time with the desserts as your muse, you're sure to have your mouth watering in no time. You'll have ample opportunity to taste your subject – it's all good, you've already captured it on paper after all!
11. Macarons in the making
Petite, colourful and sweet, macarons are a cute addition to any wedding, and to any hens. Learn to make your own with Sydney's macaron king, MakMak who were crowned for making the best macarons in Sydney, ahead of the usual suspects like Zumbo and Laduree. Although macaron making is pretty tough to master, MakMak will break it down and make it super simple for you to follow. You'll even get a kit to continue your macaron making journey at home!
12. Shake it at a cocktail making class
Cocktail making classes in Sydney may just be the perfect creative hens night idea. We have some of the best bars and mixologists here in Sydney who are ready to show up and show you all of the classic techniques you need to know. You'll be mixing, muddling and shaking-up Cosmos, Margaritas, Mojitos and more in their informal mixology workshops.
Fancy making a cocktail using natural Australian flora? Or perhaps a signature fairy floss martini? Go on a little journey of discovery and walk away with a deeper appreciation of your Friday night beverage, or flaunt your newfound knowledge at the wedding reception as an ice breaker with all those new people. Some of our venues will even let you have the whole bar (and the whole place, for that matter) for your exclusive use! How's that for a special hens night in Sydney? Or, if you've already got a venue reserved for the day, our mobile cocktail bar can come to you.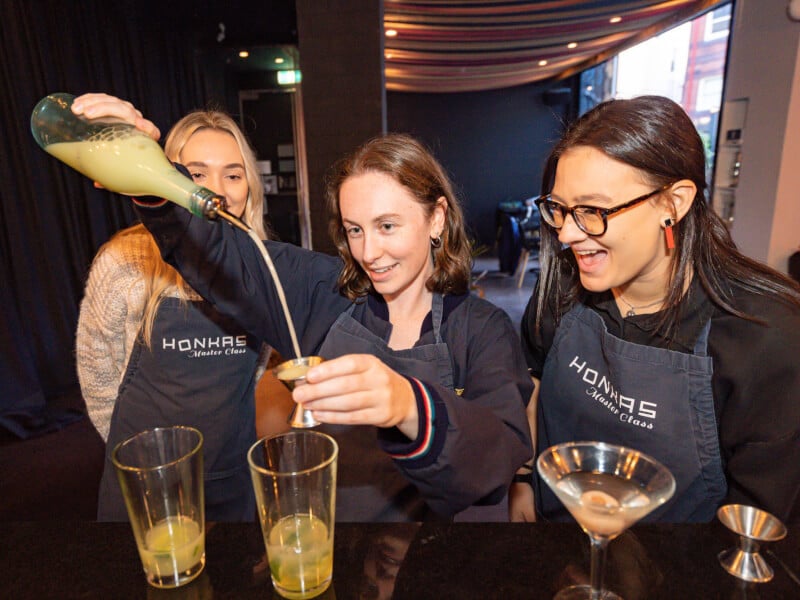 13. The perfect party keepsake
DIY jewellery is all the rage in 2023, so why not earn how to make your own stunning accessories at one of the best creative hens night ideas in Sydney! In these jewellery making classes, you'll twist, link and wire-wrap vintage and modern crystals, cameos, stones and brass filigree. While your final product may not make the cut as adornment for the bride on her special day, you'll no doubt leave the jewellery making class in Sydney with an artisan product superior in originality to the store-bought, mass-produced stuff.
14. Paint pebbles
Draw beautiful designs on pebbles from the Northern Beaches in Sydney. Discover the Japanese art of Zentangu from an experienced Japanese artist and develop the structure and discipline needed to make clear and intricate patterns. You may even be able to turn your pebbles into unique pendants.
15. Play with fire
Take a load off and try a new thrilling experience at one of the most creative hens night ideas in Sydney! Glassblowing classes are totally unique and will have everyone keen to learn how to work with fire to create beautiful pieces of art. The best bit? You get to take your creation home with you after the class.
16 Learn how to cook together
Cooking classes are some of the best hens night ideas in Sydney because they're a fun opportunity to discover new recipes and create restaurant-worthy dishes together under the guidance of a local expert chef. Learn new tips to perfect your favourite meals and enjoy a sit-down meal together at the end of the class – with wine, of course. This is a fantastic opportunity to create some quality memories with your gal pals and celebrate the bride-to-be.
17. Take a hens party life drawing class
Hens parties in Sydney and life drawing classes simply go hand in hand. Enjoy having a laugh and learn how to draw a nude model in one of the most classic hens night ideas around! A local artist will teach you all about perspective so that you bring the human form to life on paper. Use different types of mediums like pencil and charcoal and get comfortable with your own innate sense of creativity as you learn a brand new skill.
18. Laugh as much as possible
When looking for hens party ideas in Sydney, remember to make sure everyone will have fun and laugh as much as possible. An outdoor laughter wellness class in Sydney is just the trick to make sure you start the special day in the best way possible. This will help any people in your squad relax and bond quickly, especially if it's the first time they're meeting each other.
19. Make broken ceramics beautiful again
Enjoy an ancient Japanese art form and take your broken ceramics to the next level with a gorgeous kintsugi class in Sydney. This creative hens night idea in Sydney is a fantastic opportunity to get the whole party learning something new and exciting. And there's nothing more beautiful and unusual than learning how to mend broken ceramics with gold lacquer! Taught by a local kintsugi teacher, you'll learn loads about this ancient Japanese art form and walk away feeling as zen as can be.
20. De-stress and learn to make incense
Everyone knows how stressful organising a wedding can be, so why not opt for a mindful hens party and spoil the special lady? Let the stress simply fade away with an incense making class in Sydney and learn how to make handmade incense sticks. Make it a memorable day for everyone with this totally unique class that you'll be talking about long after the wedding is over
21. Print your own blocks
Design and make your own printing blocks, which you can use to print designs beautifully and effortlessly. Carving is a great way to focus and de-stress, and with your completed works, you'll have a great way to create original wedding invitation cards, or just a way for the bride and her pals to put their stamp on the wedding décor. Each guest can carve something that speaks to them, or you can each do your interpretation of a common object or theme, which could be the bride or groom's favourite food or pet, or anything else that's meaningful.
22. Origami competition
Make pretty little things out of ordinary paper, with just a little fold here, a little bend there, and a little flourish at the end, with an origami class in Sydney. Have a friendly competition as you see who folds the fastest and most precise crane, or keep it relaxed and play at a more leisurely pace. Your creations could make for great tabletop accessories on the big day. What a fun and creative hen party idea in Sydney!
23. Meditate and paint
Encourage everyone to take a breath and relax with a unique meditation and painting class in Sydney. You'll be guided to access your natural energy and clear your mind before you then learn the techniques necessary to create an abstract painting you'll be proud of.
24. Make mosaic magic
Colourful, creative and seriously beautiful – it's little wonder mosaics are trending in the DIY world! Head along to a mosaic making class and learn the art of traditional Turkish mosaic making at a workshop near you. Under the guidance of an experienced maker, you'll learn about geometric patterns and the historic techniques used for laying the tiles (tesserae), resulting in your very own traditional Turkish mosaic! Choose your colours and create something that compliments your space at home. When it comes to memorable hen's party ideas, it doesn't get any better than this.
25. Learn how to make a flower crown
Functional and fabulous, our flower crown workshops are one of the most popular hens night ideas on offer in 2023. Rather than paying top dollar for your wedding headwear, why not learn to make a DIY flower crown at one of our hands-on floristry classes? In a calming environment, you'll be guided through the flower crown making process and discover everything there is to know about floral design for weddings. You'll not only discover the technical aspects of flower crown making but also learn about selecting certain blooms and the seasonality of different floral varieties so that you can re-create something super special for the big day.
If you're hoping to plan a truly memorable hen's party, be sure to check out our curated collection of hands-on Sydney workshops. Many of our teachers create custom classes for bridal parties and large groups, so don't hesitate to check in with us while you're planning your upcoming hens party in Sydney! We know how important it is to celebrate life's most special moments, so we'd be more than happy to assist you in making this day an unforgettable one for the bride-to-be. While we've shared 25 of the best creative hen party ideas in Sydney, there are plenty more hen day activities to explore here!
Gift a unique experience
Pick a fun experience for them, or let them choose from our thousands of creative classes and kits.
Valid for 3 years.
card_giftcard Get a gift card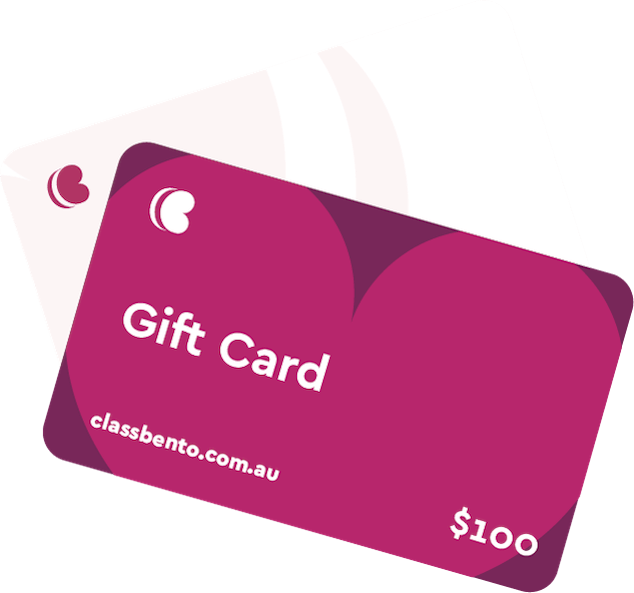 Flowers and Plants workshops in Sydney