Looking for creative things to do around your local neighbourhood? Come along to unique painting classes in Brisbane! Whether you have some artistic experience under your belt or are a first-time painter, these painting classes are sure to have you feeling playful, confident and expressing yourself through art!
In each interactive class, you'll get to explore a wide range of painting mediums, from watercolours to oil paints to impasto acrylic painting. No matter what you choose, you are bound to create a painting you are proud of on your wall.
Not to mention, these Brisbane workshops are the best way to get together with your friends and family. Whether you're on the hunt for hens party ideas, team building activities or gifts for her, painting classes are the perfect place to celebrate your next social event.
Read on to discover unique painting classes in Brisbane that you should try out in 2022.
Paint with alcohol inks and sip on some wine
Learn how to paint an alcohol ink artwork while sipping on your favourite drink with local Brisbane artist Kylie Beard. Alcohol ink art is a spontaneous and fun medium that you can play and experiment with, and at the end you will have created unique masterpieces. Whether you want plenty of hands-on guidance or if you want some freedom to explore, Kylie caters for all types of personalities so you can feel supported no matter what.
Painting classes in Brisbane are some of the best experience gifts for mum, where you can learn something new together and reconnect over a paint and sip class.
Dive into the creative freedom of abstract art
If you're looking for painting classes near me, head to an abstract painting class with Burnie Brae and unleash your inner creativity with your friends! With a unique twist, this creative paint and sip class will have you using gold leaf to paint an abstract artwork. Your teacher will help you apply the gold leaf onto the canvas, which gives a bright, glowing effect to your painting.
On the hunt for hens party ideas? Why not head to Burnie Brae and learn how to make gold leaf artworks for your home or living space together. It's a great way to socialise and celebrate the bride-to-be, as well as enjoying a complimentary wine and cheese platter on the side. Painting courses are a great way for allowing you to express your creativity in a safe and warm space.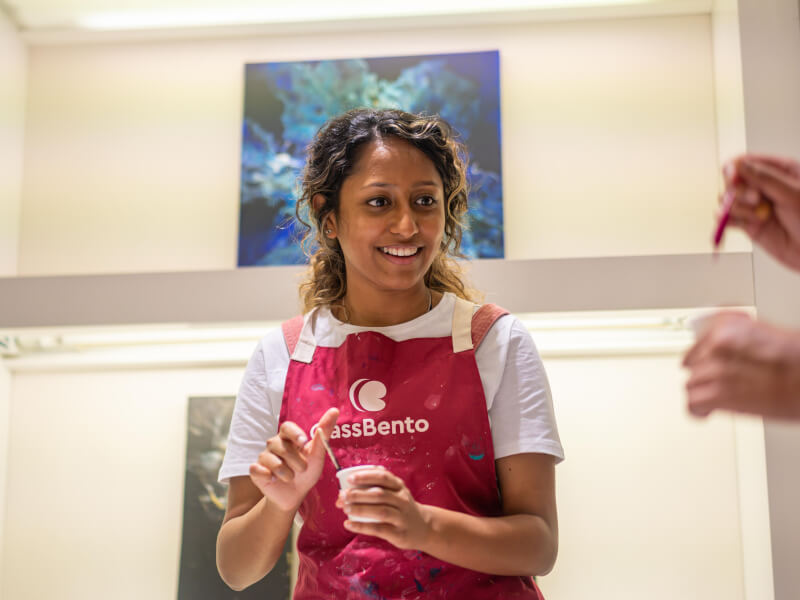 Get messy with paint in a splash room
Who says painting classes in Brisbane have to include easels? Join Queensland's first ever Splatter and Splash room and get messy with paint with your favourite people! Whether you're looking for date ideas or kids birthday party ideas, you are guaranteed to have a fun and crazy experience. Get messy with paint and throw paint-filled water bombs on your mates! Listen to some funky music, get groovy and make a colourful mess. By the end, your clothes might just be the artwork.
These Brisbane activities make it easy to learn painting in a unique way if you're never tried it before. Perfect for beginners, anyone can enjoy splatter painting if you're celebrating your birthday with your friends or connecting with your partner for a fun date night activity.
Join a boomerang painting workshop
If you're looking for creative things to do in Brisbane this weekend, join Koomurri for this boomerang painting workshop. Suitable for team building activities, you will learn how to paint Aboriginal symbols on your boomerang that align with your company's story. This is a great place to learn about Aboriginal culture, as well as bringing cultural awareness to your team in an accessible way.
First, Koomuri's Indigenous facilitator will listen to your team's story, how your company started and the kind of values you focus on. Then, they will help guide your team to paint their boomerang which in turn becomes a Dreamtime story. When you learn more about Aboriginal culture and how this relates to your company, you can appreciate your team more in your workplace.
Stop your search for art classes near me and book a private boomerang painting class for your next team bonding activity.
Paint masterpieces while speed dating
Have you ever wanted to try speed dating but want to avoid the awkward silence? Come along to this fun paint and sip class in Fortitude Valley, with a chance of meeting your soulmate. These unique painting classes are designed so you can speed date while you paint. Choose your first seat, enjoy your favourite drink and introduce yourself to your date while you paint a masterpiece.
Led by your friendly instructor, you'll get to paint a quadrant of the canvas and get to know your first date in a memorable way. Then it's time for you to change seats and meet other people until each artwork is completed. At the end of this class, they will unveil each painting that everyone has contributed to and you can take home your own unique group project!
These painting workshops make for great first date night ideas or sip and paint near me experiences where you can connect over a drink and enter a romantic space set to help the conversations flow.
Discover the art of palette knife painting
Join Dianne Kelly in her acrylic painting for beginners class and learn how to make an impasto acrylic painting. Guided by Dianne, she will teach you that impasto painting is about applying thickened acrylic paints to create your painting. Using palette knives, brushes and even your fingers, this will create large brushstrokes onto your canvas to reveal amazing textures like paint is almost coming out of the canvas. This can make your painting feel more real, like a foamy seascape or beautiful flowers in a vase.
Dianne's acrylic painting classes are suitable for beginners wanting to learn something new or those who want to take their painting skills to the next level.
Learn how to paint with watercolours
Take a trip to Brisbane CBD and learn how easy watercolour painting can be in this three-hour Japanese brushstroke painting class. Guided by a local artist, you will work with watercolour and watered acrylics on paper and canvas. Using watercolour achieves a loose and playful effect on the surface, whether you're painting landscapes, flowers or colourful creatures.
From watercolour classes to paint and sip classes, come and discover these unique painting classes in Brisbane this weekend.
Painting workshops in Brisbane