Discover the best anniversary gifts for men in Australia this year, so you won't be left wondering what to buy him ever again! Trying to find unique gifts for men can feel like a tricky process, especially if your man is the type who never needs anything. This year, give him something he'll love that you can either do together or on his own, with a unique gift experience.
Rather than getting a physical gift for him this year, why not consider a gift experience that will open up more value for the man in your life? Gift experiences for men are all about trying new things, getting him out of his comfort zone and bringing out his creative side.
When we use both the left and right sides of our brain, we tend to feel more balanced and happy. Bringing out our inner creative may even help those who are suffering from anxiety or depression, as it helps people to flourish when they might not be feeling themselves.
Instead of gifting him an anniversary present that he might not need, book him a gift experience that will also nourish his mental health and wellbeing. With thousands of art classes, cooking lessons and so much more, he'll not only meet like-minded people in our beginners classes, but also have the opportunity to relax and unwind. Under the guidance of local experts, your man will be equipped with the tools and skills he needs to be able to continue the class when he gets home. And you never know, this might just spark a newfound hobby or passion!
So, while you may have just been looking for anniversary gifts for him, you could end up helping him transform his life, embrace his creativity and learn new skills at one of our art classes in Australia. Ready to get gifting? Discover our guide to some of the best anniversary gifts for men in Australia, created to help inspire you to think creatively when buying your loved one an anniversary present in the future.
Try a mindful wheel throwing pottery class in Sydney
One of the most relaxing and rewarding art classes to try is a wheel throwing pottery class in Sydney. While your man might not be the arty type, you can gently encourage him to try new things with a fun pottery workshop in Sydney. Although he may have never thought about learning how to make pottery, it's a workshop loved by men all over Australia, thanks to its calming and relaxing benefits.
In this rewarding and meditative class, he'll learn absolutely everything there is to know about making pottery. Taught by a local expert, he'll learn how to create various ceramics including bowls, plates, mugs, cups, planters, candle holders and more. In a welcoming group setting, he'll be able to ask as many questions as he'd like and make the most out of a fun and engaging class whilst meeting other like-minded people. Why not could go together to learn new skills and create long-lasting memories? You never know, you could end up finding a new hobby to do together! Plus, you'll no doubt feel proud when you replace your old kitchenware with homemade pottery.

Enjoy a glassblowing class in Canberra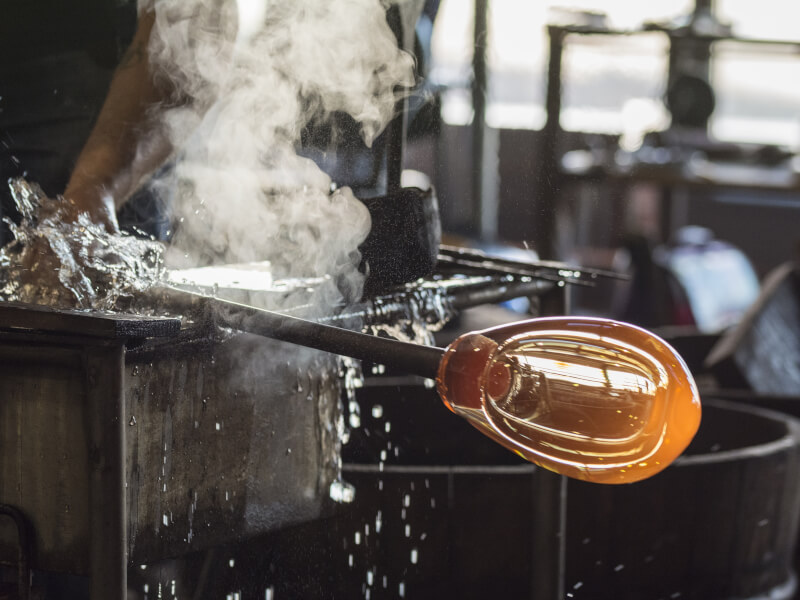 Explore the thrilling experience of a glassblowing class in Canberra! In this all-day gift experience in Canberra, your man will learn how to sculpt glass in a naked flame and discover the various materials and techniques for creating glass art. This is a fantastic beginners class for anyone who has trouble with focusing, as it will require him to stay connected and aligned during the class.
Guided by a local glass artist, expect to learn everything there is to know about glass blowing. As one of the best things to do in Canberra, you'll be able to ask plenty of questions to make the most of the experience. While a glassblowing class may not be your first choice when looking for anniversary gifts for men, it's sure to be a surprise and an exciting gift experience for him. You could join him to create long-lasting memories together, which might lead to you creating new traditions and hobbies. Why not try new art classes together on your anniversary each year? And if you're looking for 10 year anniversary gift ideas, we've got you covered.
Explore a BBQ Class in Brisbane
We know men are particular about their BBQ cooking skills, so a wonderful gift idea for him could be learning to cook the perfect steak in a BBQ cooking class in Brisbane. Many men let their ego get in the way of their cooking skills, but imagine how much he'll be able to impress his family and friends after he's completed a BBQ class. While he casually cooks up restaurant-worthy meats on the barbeque, your friends and family will wonder where he learned these newfound skills.
During the BBQ lesson, he'll be guided by a local chef who will teach him everything there is to know about how to cook steak on the BBQ. He'll discover where to buy the best charcoal and steak in Canberra and learn how to pick the perfect temperature every time he uses the barbeque. He'll also learn about how to marinate steak in the best way possible to bring out all of its amazing flavours. In fact, he'll probably wonder why he didn't take a BBQ class in Brisbane sooner!. This is a fantastic opportunity for your man to grow his confidence while learning new skills that he can put into practice every day.
While these are just a few examples of the many anniversary gifts for men in Australia, they also make for perfect wedding anniversary gifts, work anniversary gifts and so much more. With thousands of gifts for men to choose from all over Australia, be sure to consider the many benefits that could come from doing an art class together. One thing is certain: these art classes are sure to be more rewarding than any physical gift you could buy!