What better way to make the most of summer than with a virtual cocktail making class? Whether you crave the refreshing taste of a Mojito or prefer to sip on a classic gin and tonic, our online cocktail making classes will provide you with all the skills you need to host the perfect summer soiree or mix a post-work nightcap.
During these fun indoor activities, you'll discover cocktail recipes from around the world and learn how to mix impressive drinks that will wow even the most seasoned party-goers!
Learn to make the ultimate summer drinks like the strawberry mojito and the pina colada. Or, go on a culinary adventure with exotic recipes like the mint julep from Kentucky or a caipirinha from Brazil! Our expert mixologists will also share cool tips like which herbs to use in your drinks, how to chill glasses perfectly, or how to bruise your mint leaves for maximum flavour!
You'll also see why every bartender needs the right tools and accessories, like bar spoons, muddlers and strainers, and what each one is for. Plus, learn special tricks of the trade like shaving ice or rimming a glass with salt or sugar!
Most of our mixology courses come with curated cocktail making kits packed with everything you need for the class, such as shakers, jiggers and other accessories. Depending on the specific class you sign up for, you may also get a bottle of alcohol and mixers in your cocktail making kit. Watch out for our signature dehydrated lemon slices, which can turn any drink into something incredibly Instagrammable!
Since it all happens online, you can invite anyone from anywhere to make homemade cocktails together. Got remote co-workers scattered all over the world? Add mixology to your upcoming virtual team building activities! Your significant other can't make it home for your anniversary? Block your calendar for one of the best Zoom date ideas ever, and spend some quality time in a virtual cocktail making class!
Looking to expand your social circle instead? If meeting new friends is your goal, there's no better way than with an online mixology course. No one can stay a stranger when you're all laughing together and sharing things about yourselves while learning easy cocktails to make at home. To help everyone get comfortable, our mixologists will make sure everyone feels at ease to chat and joke around while having a good time. It's just the beginning of your friend-making adventure that might turn into a friendship for life!
You can even send them as experience gifts. Not only will the receiver feel loved, but they also get to taste the best cocktails to make at home!
Spice up your next date night with a virtual cocktail making class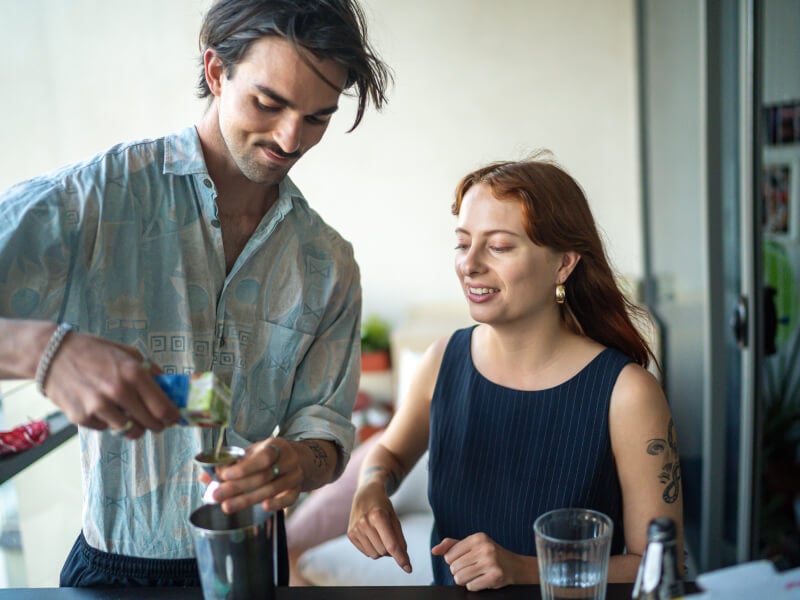 When it comes to romance, it doesn't hurt to up the ante now and then. Instead of hitting up the same old spots for your summer dates, why not swap it out with something new and exciting? You can thank us later when your boo becomes your permanent bartending partner in crime!
It's a creative alternative to the usual drinks at the bar or dinner and a movie. Sign up with your sweetheart or a new flame, and get to know each other better while crafting a colorful tequila sunrise or a classic old fashioned.
Hungry for more? We also offer cooking-and-cocktail class combos where you use a certain type of liquor to make both a cocktail and a dish. For instance, learn how to use prosecco to Italian drinks like the bellini and the Aperol spritz, and how a splash can elevate a rich risotto. How does that sound for date night? The only thing missing are the fancy outfits, but you and your partner can always dress up if you like!
Brighten up birthdays with an online cocktail making class
Birthdays are always a great excuse to celebrate and enjoy drinks with the people closest to you. But what if you can't travel due to the lockdown? Or are your friends scattered all over the globe? There is no need to celebrate alone or buy expensive plane tickets — we have one of the best Zoom party ideas for you!
Our virtual cocktail making classes will make you and your friends feel like you're all in one room, singing happy birthday to the celebrant and raising your glasses to their excellent health.
You can book an exclusive cocktail-making class for your group, and it's more intimate and personal than a party at the local pub! Under the guidance of our expert bartender, you and your pals will be sipping on delicious cocktails you made yourself. How's that for an unforgettable virtual party?
You'll all get detailed cocktail recipes, so when you all finally get to meet again, you can recreate the delicious beverages together!
When girlfriends get together, a party is often just around the corner. But sometimes, everyone's too busy to commit to a night out in the big smoke.
If you fancy getting a drink with the girls but you're not in the mood to go out, our cocktail-making Zoom activities are the best way to cure those boozy cravings! Let our professional bartender lead the way while you and your besties catch up, relax, and get tipsy without having to worry about getting home or blowing your budget on overpriced cocktails.
Aside from being awesome indoor and rainy day activities, these classes are also a unique option for hen dos. Surprise the bride with a bachelorette party for the ages!
And the best part is that everyone can join in, even if you've never tried making cocktails or don't consider yourself a big drinker. Mocktail versions of our drink recipes are also available for those who don't want to imbibe.
Join a virtual cocktail-making class today and drink to your friendship, celebrate your BFF's single days, or simply have an amazing ladies' night in. Cheers!
Are you ready to get your drink on? See you at our virtual bar this summer, with classes available all season long!
Cocktail workshops - Virtual with Kits