Do you tend to forget when Mother's Day in Australia is and play it safe by ordering the same old Mother's Day gifts, like a flower delivery or a scented candle? This year, try something different and surprise your mum with a flower arranging class that you can do together!
Instead of sending her another bunch of Mother's Day flowers, organise something different this year for Mother's Day and spend some quality time together creating fond memories at a flower arranging class. In a world where everyone is always hustling and bustling, it pays to take time out and try something new together while making this Mother's Day in Australia completely different from the rest.
With no previous experience required, step out of your comfort zone and enjoy learning how to arrange flowers like a pro with your Mum. She'll love this experience you can do together, where you'll learn brand new skills you can put into practice. Flowers bring a lot of joy to many, so imagine filling your home with bunches of flowers you've personally put together.
Whilst we aim to bring families closer together this Mother's Day by taking part in gift experiences, we hope it will spark a new tradition where you'll try new experiences each year together, or even on a regular basis. Enjoy spending quality time together and do more things you love, which will ultimately bring more happiness and improved overall wellness. You never know, you could end up starting a new hobby together!
With this in mind, let us introduce some of the most popular Mother's Day flower arranging classes in Australia.
For the minimalist: An Ikebana Flower arranging in Sydney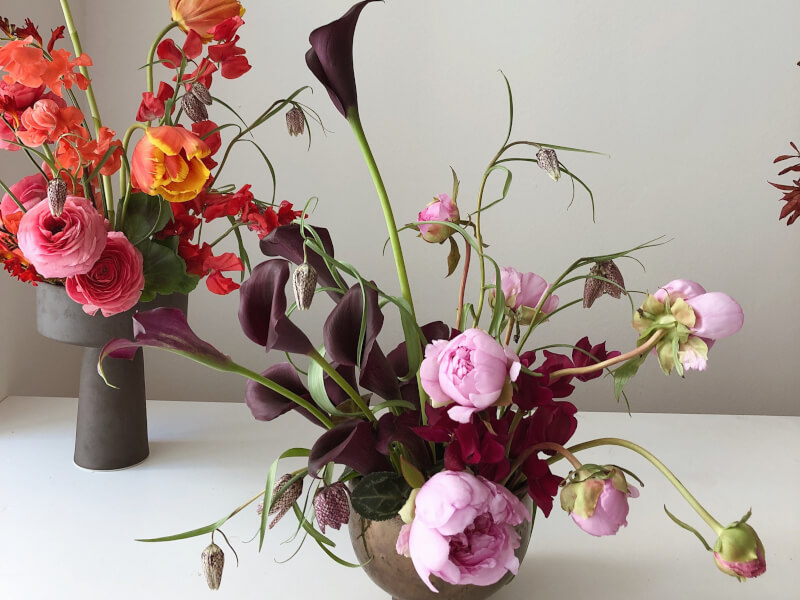 If your Mum is someone who doesn't like fuss and prefers clean lines and a more minimalistic look, then you absolutely must try a Japanese Ikebana flower arranging class in Sydney. Learn all about the classic Ikebana technique with Japanese flower arranging expert, Setsuko Yanagisawa.
You'll spend the first part of the class learning all about the history behind Ikebana as well as tips and tricks for perfecting this art form. Learn how to mix and match different types of flowers and how to secure their stems. You'll also find out where to buy the freshest cut of flowers in Sydney and discover how uplifting and transformative Ikebana can be in your home.
You'll then spend the second half of the Ikebana flower arranging class getting your hands dirty and putting everything you learnt into practice. Have fun with your Mum and create beautiful memories together in this engaging class. You'll be able to take your Ikebana home with you to display proudly in your home. What an amazing gift experience for Mum this Mother's Day you can both do together!
For the boho Mum: dried flower workshop in Melbourne
Discover new flower arranging classes in Melbourne with a dried flower workshop for Mother's Day this year! If your Mum is a beach vibe woman or loves a boho filled home, you can't go wrong with a beautiful dried flowers workshop in Melbourne. You'll learn absolutely everything there is to know about how to pair dried flowers together in this fun and engaging flower arranging class your Mum will love!
Spend the first part of the class learning all about how to create long-lasting flower arrangements, where to buy the best-dried flowers in Melbourne, and how to mix and match dried flowers together to create a beautiful arrangement you can bring your home to life with.
During the latter part of the class, you'll put into practice everything you learnt about flower arranging. When you've made your very own custom made flowers, you'll be taught how to expertly put them into different sized vases for maximum effect. At the end of the class, you'll have created beautiful memories with your Mum and could even take up more flower arranging workshops together.
For even more unique Mother's Day gift experiences check out our article here.
For the jungle Mum: terrarium making workshop in Gold Coast
If your Mum is a beginner green thumb, let her start slowly and learn how to build her own little jungle in a terrarium making class in Gold Coast. Whilst many people love the idea of keeping plants in their home, it can be a bit daunting on knowing what to do to keep them healthy and alive. Instead, start slowly and help your Mum build her confidence by learning how to make a terrarium instead.
Although a terrarium might look difficult to put together, with the right guidance, your Mum could become a terrarium expert after learning from local terrarium experts. Join the class with her and create long lasting memories as you learn new skills together. You'll be able to ask loads of questions as you learn invaluable tips and tricks for creating the most amazing terrarium you've ever seen. Bring your home to life with a terrarium you'll only need to water a few times a month to see it thrive.
Once you've learnt all about how to make a terrarium, you'll get stuck in and have a go at creating your custom made piece yourself. At the end of the fun and engaging class, you'll be able to take your proud terrarium home which will hold the fun memories you've created together.
Whilst there are plenty of different flower arranging classes to choose from, these are just a few examples of how you could spend Mother's Day in Australia, creating beautiful and long lasting memories with your Mum this year. Step out of your comfort zone and enjoy learning new skills together to help you bond more and enjoy spending quality time together.