If you'd love to learn how to emulate some of the finest painters that ever lived, why don't you sign up for some fun-filled painting classes in Australia? You'll have the chance to explore your creativity and learn easy watercolour painting for beginners.
Whether you'd love to be able to paint stunning floral images, tropical sunsets, a portrait of your beloved pet or even copy a famous work by the likes of van Gogh, there are so many hands-on watercolour classes available. Each workshop is taught by a talented local painter with plenty of skills and expertise to share, and all abilities are welcome, including complete beginners, so you needn't feel shy to put your name down if you've never wielded a brush before.
Another great thing about these painting courses is how accessible they are! It doesn't matter if you live in Canberra, Perth or on the Gold Coast, there is sure to be a class near you, where you can meet other like-minded art enthusiasts and start honing your watercolour skills!
Eager to get started? Read on to find out more about some of the many inspiring watercolour classes you can choose from and put your name down for your first session today!
Let your imagination whisk you away to an exotic paradise
If you have a bare patch of wall in your home that you'd like to fill with a vibrant painting of a lush tropical paradise, don't you think it would be fantastic if you were the one to paint it? With the help of one of our easy watercolour painting classes, now you can!
Workshops that teach you how to paint scenes of sun-kissed tropical beauty are highly popular as everyone wants to be able to escape to such a paradise, even if it's only in their imagination. Learning how to paint such stunning images also provides plenty of fun and stimulation, as you learn how to mix the right colours to conjure up a vivid island sunset or discover the ideal brushstrokes to render sun-dappled azure waves lapping on golden sands.
Painting classes across Australia are not just a wonderful way to develop your own skills as an artist, they're also great fun to share with special people in your life. If you have a friend or family member who just loves jetting off to exotic shores and digging their toes into the sand, why don't you bring them along for a mood-boosting session of tropical-inspired art?
Botanical inspired watercolour classes for nature enthusiasts
Whether you're a keen gardener or just someone who loves being surrounded by soul-soothing images of plants and flowers, signing up for botanical-themed painting classes is the perfect way to channel your passion. Some of the most famous artists in the world have used watercolours to expertly depict the fragile beauty of flowers, and now you can follow in their footsteps and create your own floral masterpiece.
It doesn't matter if you're a complete beginner, your skilled and enthusiastic teacher will guide you step by step through the process of painting and sketching your chosen plants. With their guidance and helpful tips, you'll soon have a stunning botanical artwork to take home and proudly display on the wall.
Discover Australia's top painting classes for adults here.
Paint your pet's portrait!
Australia is home to its fair share of animal lovers, and if you're one of them, perhaps you'd love to immortalise your precious dog or cat in a beautiful watercolour painting? Signing up to learn painting may give you a few nervous jitters at first, particularly if you lack confidence, but knowing that you'll be painting a subject that you love so dearly could give you that extra spark of enthusiasm. If you don't currently have a pet, you can bring along a photo of a beloved animal from your childhood and paint them instead!
Painting an animal is a great way to build up your watercolour skills, and because so many people have special creatures in their lives, these painting classes are highly popular. In fact, if you have some friends or family members who just adore their pampered pooches and cute kitties, you could arrange a pet portrait painting class for them as a special treat! These easy watercolour painting workshops make fantastic birthday party ideas for animal lovers.
Emulate your favourite watercolour artist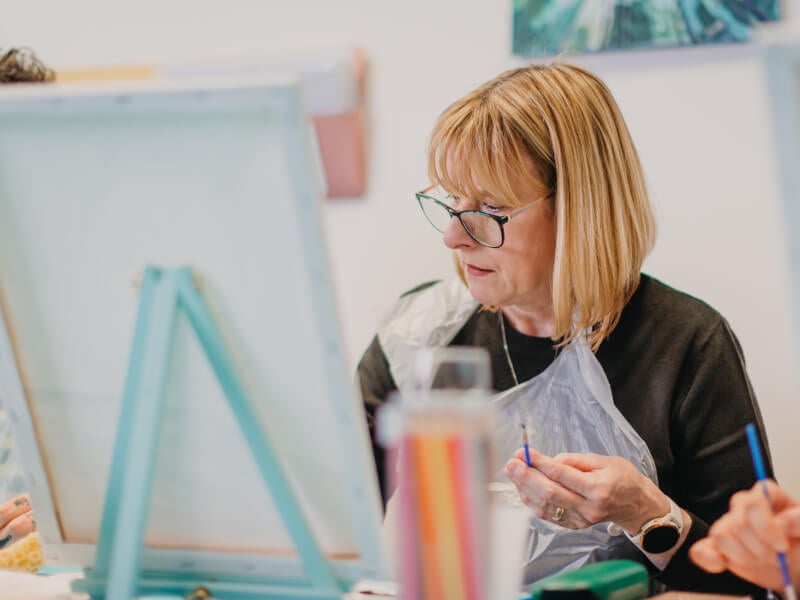 Some of the most iconic paintings in the world were created using watercolours. If you'd love to learn how to copy these awe-inspiring masterpieces, there are plenty of painting courses available which can teach you how to do just that. With the help of your expert teacher, it won't be long before you're recreating van Gogh's The Starry Night or Café Terrace at Night. Not only will these engaging watercolour classes give you an insight into what it takes to paint like a famous artist, but you'll also be able to savour a delicious sense of achievement as you recreate one of their most beloved works.
Paint and sip your way to watercolour success
Would you love to be able to master the fundamentals of easy watercolour painting while sipping a glass of wine and nibbling on some tasty light bites? If the answer to that question is a hearty 'yes', then a paint and sip class is sure to be just your cup of tea! These laidback and engaging painting classes offer a light-hearted introduction to watercolours and are an ideal option for beginners. During the class, you'll learn plenty of helpful painting tips and techniques, and you'll be able to enjoy glasses of wine or yummy cocktails – the perfect liquid inspiration!
These innovative workshops are highly popular across Australia, from Perth to Brisbane. Bring along some mates or two to enjoy a relaxing paint party, arrange a class as one of your upcoming team building activities or book a romantic couples workshop for you and your significant other. Paint and sip sessions make fabulous date night ideas and are guaranteed to reignite the spark, as you master your brushwork side by side.
Watercolour Painting workshops