Celebrate the special and beautiful connection between mother and daughter with these gift experiences for mum and get creative together! Whether you're looking for Mother's Day gift ideas or want to spoil Mum 'just because', these unique classes allow you to make precious memories with the lovely lady who raised you. We have a wide range of Australian craft classes from Perth to Brisbane – so wherever you're based, you're bound to find something you can enjoy together.
These workshops are an amazing way to catch up, get creative, and spend some quality time as a pair. Want a gift that will keep on giving? With our gift experiences for mum, you won't just gain new skills. You'll also gain wonderful memories that you can treasure for years to come.
Read on for our top picks for birthday gifts for mum from daughter, from experiences you'll never forget to classes where you'll create keepsakes that simply say, 'I love you'.
Unwind your worries at an Australian macrame class
Macrame is a textile craft that involves tying knots together to make DIY decorations. People have been practising macrame for thousands of years – and today, it's one of the most popular ways to create trendy items for your home.
Have you been feeling wound up recently? What better way to unwind your worries than by focusing on this mindful (and almost meditative) craft in the company of someone you love on their birthday. At our beginner-friendly macrame classes, you and your mum will learn how to make everything from a jar cover to a clutch bag – a stylish reminder of your special treat.
Whether you want to learn macrame in your local city or from the comfort of your home, there's a variety of in-person and online macrame classes available to explore. Whichever you choose, you'll receive a complete macrame kit that includes everything you need to make something beautiful for your home.
Make your own perfume at a beginner-friendly workshop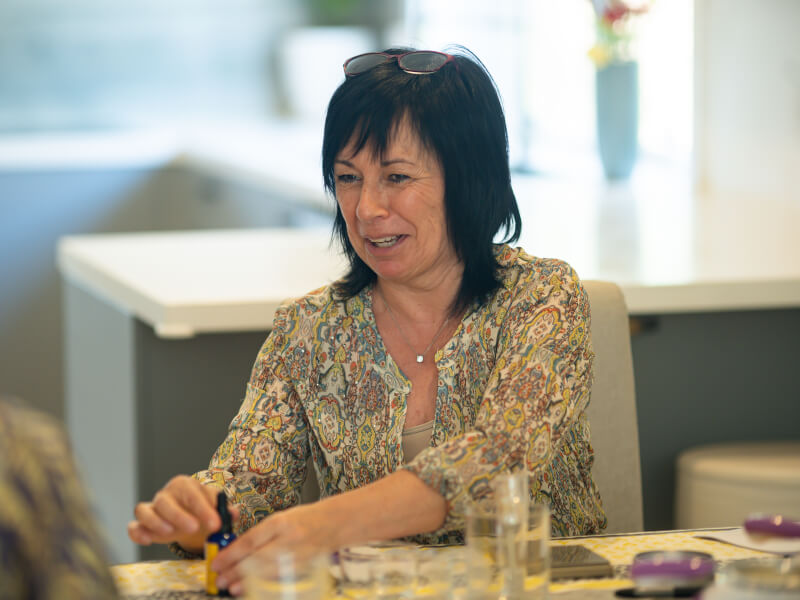 Does the smell of your mum's perfume always make you feel at home? Our sense of smell is closely entwined with our memories – so if you're looking for Mother's Day or birthday gifts for mum from daughter, a perfume making class is the perfect way to remember her special day.
With the help of passionate perfumers, you'll learn how to mix a signature scent that complements you beautifully. From lily of the valley to vanilla, choose your base note then create your very own bespoke blend, testing different combinations before bottling your finished fragrance.
Do you want to switch your current perfume for something more sustainable? Our hands-on workshops include all-natural products that love the planet as much as you do. Not only are our gift experiences for mum a real treat – but they also help take care of Mother Nature! This class is especially suitable for new mums looking to simplify their skincare routine when bub arrives. For more nourishing new mum gifts, click here.
Reconnect at a DIY flower crown class
Are you looking for ways to let your creativity bloom? Online or off, a DIY flower crown class is a wonderful way to slow down and smell the roses – or whatever else you choose to include!
These beginner-friendly classes are a beautiful twist on traditional floristry courses. Whether you're searching for birthday gifts for mum in Sydney, Brisbane, or beyond, you'll leave the class with a gorgeous flower crown that will make you look (and feel) like a queen.
Your friendly instructor will be on hand to offer tips and tricks, but you'll have complete control over your creative process. Love bold colour combinations? Go all-out with a dramatic flower crown that lets your personality shine. From seasonal fresh flowers to everlasting dried bouquets, our flower crown classes cater to every taste.
Love flowers but think they might clash with all your outfits? Have a go at making a flower wreath instead! In wreath making classes you and Mum will experience all the joys of playing with blooms, but instead of wearing them, you can display them on your dining table or on the walls of your home.
Make your own homemade skincare together
For many girls, their earliest memories of skincare and beauty come from raiding their mum's makeup bag. Nowadays, you and your mum probably have your own distinct styles, but that doesn't mean you can't bond over the shared experience of making homemade skincare.
At our all-natural skincare making classes, you'll be able to explore the world of sustainable beauty. Gain hands-on experience in the art and science of making skincare, from sugar scrubs to facial serums. Our skilled tutors will provide all of the ingredients and equipment you need, with a choice of products to suit every age, style and skin type. Can you think of any better Mother's Day gifts for mum?
Plus, you won't just leave with your new DIY beauty products. At some of our studios, you'll also be given a book of recipes to recreate your favourite natural skincare products at home. That means you can host your own skincare workshops from the comfort of your kitchen. Why not pop the kettle on, invite your mum over, and try a new kind of catch up?
Celebrate with our DIY candle kits
Candles are always an important part of a birthday. Not only are they the finishing touch on your birthday cake, but they're also a chance to make a birthday wish! If you're looking for birthday gifts for mum from daughter, make all of your mum's wishes come true by booking a shared candle making class to celebrate.
From super-realistic illusion candles ( that look like breakfast) to natural soy wax, our nf! candle making classes are sure to light up your life. The meditative process of mixing, melting, and moulding your design is an excellent way to escape the stresses of everyday life and focus on the task at hand.
Although your class will be packed with expert tips, contextual info, and hands-on experience, you and your mum will have plenty of time to enjoy each other's company on her special day. And, by learning a new skill together, you'll gain memories you can treasure for years to come – whether you're catching up over the phone or sharing a pot of tea.