From the sleepless nights to the joy of seeing your little one smile, becoming a mum can be an intense experience! If someone in your life has made the jump to motherhood, you may be looking for gifts experiences for mum that will nourish and support her in the months ahead. So, what are the best new mum gifts in Australia?
To say thanks to the leading ladies in our lives, we've put together the mother of all new mum gift lists. Whether you're buying for your best friend, sister, or colleague, these thoughtful gift experiences for mum will help her relax and take time for herself as she starts the next chapter in her life.
Spoil her with a natural soap making class
Soap products have always been popular gifts for mum in Australia, but if you really want to treat someone special, why not give them a more unique soap making gift experience? Whether she's based in Brisbane or Melbourne, Sydney or Perth, our friendly classes are a great way for new mums to embrace their creativity and enjoy some well-deserved me-time.
As a new parent, she's probably used to balancing bags of baby equipment whenever she leaves the house. But for our soap making classes, all she'll need to bring is herself. We'll provide everything from the specialist soda to the herbs and spices, using all-natural ingredients that her nose will love as much as her skin.
Our classes are some of the most fun things to do in Sydney and they make fabulous new mum gifts. Embrace the power of aromatherapy and learn how to make a nourishing, sustainable soap that will bring a handmade touch to her postpartum pamper sessions. Soap making is also a wonderful way to spend time with grandma!
Follow your nose to a perfume making class
Our sense of smell is intimately connected to our memories. So how better to mark the first precious months of motherhood than with a brand new fragrance?
Whether you're looking for Sydney tourist attractions or something outside the capital, follow your nose to a sensory perfume making class! The lucky recipient of this new mum gift experience will have the opportunity to make a bespoke fragrance or incense, all with the encouragement of their skilled instructor.
By choosing her own base note and blends, she'll be able to create a perfume that's tailored to her preferences – a wonderful way to slow down, chill out, and focus on herself. Not only will she learn how to make perfume and leave the class with a handmade fragrance, but she'll also get the chance to explore perfume's scent-sational history.
Let her confidence bloom at our floristry workshops
If you're looking for relaxing new mum gifts, what could be better than getting her out of the house and closer to nature? Discover a brilliant bouquet of floristry classes throughout Australia, all of which are perfect for encouraging a new mum to rediscover her roots.
From fresh flower crown workshops to dried dreamcatcher classes, we've got a class to suit every season. All of our floristry workshops are led by friendly, experienced tutors, who will share the secrets of flower arranging while helping you discover a style that's all your own. There are no rules here – simply roll up your sleeves, select your beautiful blooms, and start experimenting!
Whether you're buying a gift for a bona fide earth mama or simply want to help a friend unwind, our floristry classes are some of the best gifts for new mums.
Treat her to our candle making classes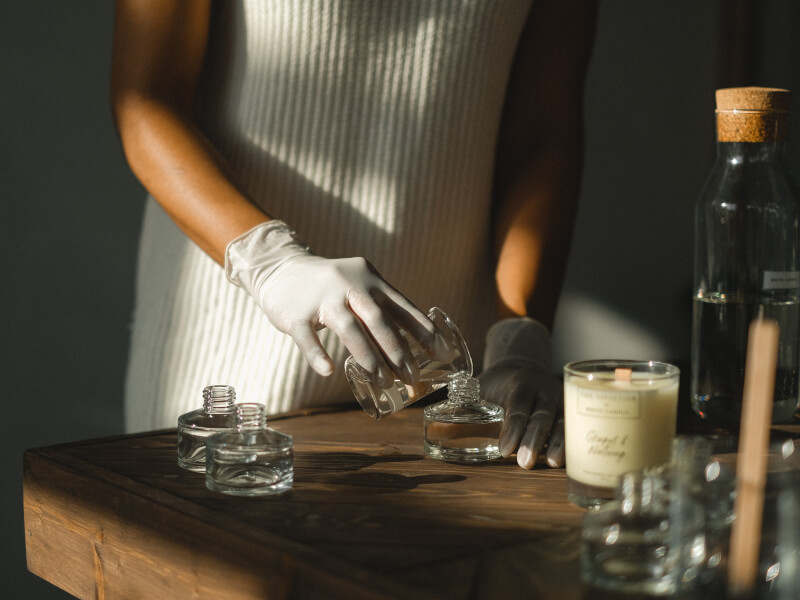 It can be hard to snatch five minutes for yourself as a new mum, so it's the little things that really add up. A beautiful candle will add a touch of luxury to a quick bath or takeaway dinner – and if it's a DIY candle that she's carefully made herself, it will be even more special.
From soy candle making in Sydney to beeswax workshops in Brisbane, we've got a variety of candle classes to suit every preference. All of our classes are ideal for beginners, making them the perfect place to embrace a new skill and melt your worries away. Our instructors provide all the candle making equipment you'll need and will be on hand to offer guidance and spark a life-long interest in this Australian craft.
With so many classes and cities to choose from, our candle making workshops make great new mum gifts whatever her preference. How about a candle making and dried flower arranging combo? Or she could even learn how to make a super-realistic breakfast candle that smells (and looks) good enough to eat!
Pamper her with a haircare and skincare workshop
A beauty routine is probably the last thing on most new mums' minds. But from an effortless updo to a quick natural cleanse, we're firm believers that spending a little time on yourself can boost your mood.
Wherever she's based in Australia, why not treat the new mum in your life to one of our specialist skincare classes or haircare workshops? Ideal for people with an interest in sustainable skincare, our friendly studios are a great place to explore the world of natural ingredients. Not only will she enjoy the calming process of making her own DIY beauty products, but she'll also get a brand-new batch of all-natural items. These will be perfect for bringing a new level of indulgence to her baths, massages, and showers – when she next has the time of course!
Alternatively, our beginner-friendly hairstyling courses make excellent new mum gifts, as well as being great indoor activities for mother-daughter days. She'll learn how to create everything from the perfect everyday bun to intricate fishtail braids, gaining skills that she can show off at your next brunch date or girls' night out. A word of warning, though, her newfound talent is bound to be in high demand!
Our Australian gift experiences are a wonderful way to support someone special as they embark on their new role in life. Whether you're looking for sustainable skincare classes in Sydney, perfume workshops in Perth, or the best gift experiences for mum in Melbourne, you're sure to find the perfect present for her.