to treat the special lady in your life to an unforgettable celebration and show how much she means to you? With Mother's Day fast approaching on May 8th, it's the perfect time to check out our selection of meaningful Mother's Day gift ideas.
Rather than just purchasing a generic gift or a bunch of store-wrapped flowers or chocolates, seek out gifts for mum that are as unique as they are meaningful. From dried flower wreath making to pottery wheel throwing, painting and perfume making, our hands-on Mother's Day craft workshops promise entertainment, education and inspiration.
Your mum will get to enjoy learning new skills, making happy memories and participating in the creation of her own Mother's Day presents. With the help of our fun-filled workshops, she could even discover a newfound passion that she never knew she had and add an enriching new hobby to give extra pleasure to her days.
Best of all, if you sign up for a class along with her, you and your much-loved mum will spend some memorable, quality time together, laughing, joking and learning something new side by side. Let's take a look at some fun Mother's Day gift ideas!
Brush up on your painting skills with a paint and sip session
Whether your mum is a budding artist or not, she's bound to appreciate a colourful paint and sip workshop as one of her Mother's Day gifts. These light-hearted and inclusive classes are the perfect introduction to painting, so even if your mum hasn't picked up a brush since her school days, she will quickly feel at ease in front of a canvas.
Taught by skilled local artists with a passion for all things art, these quirky gifts for mum teach the basics of painting, with the added inspiration of delicious glasses of wine or your favourite cocktails. With a bottle of good vino on hand, it won't be long before you and your mum are creating your own colourful masterpieces, which you can take home with you at the end of the session as vibrant mementoes of all the fun you had this Mother's Day! No matter if you're in Perth, Melbourne or the Gold Coast, there are paint and sip studios around Australia.
Soothe her soul with a restorative candle making workshop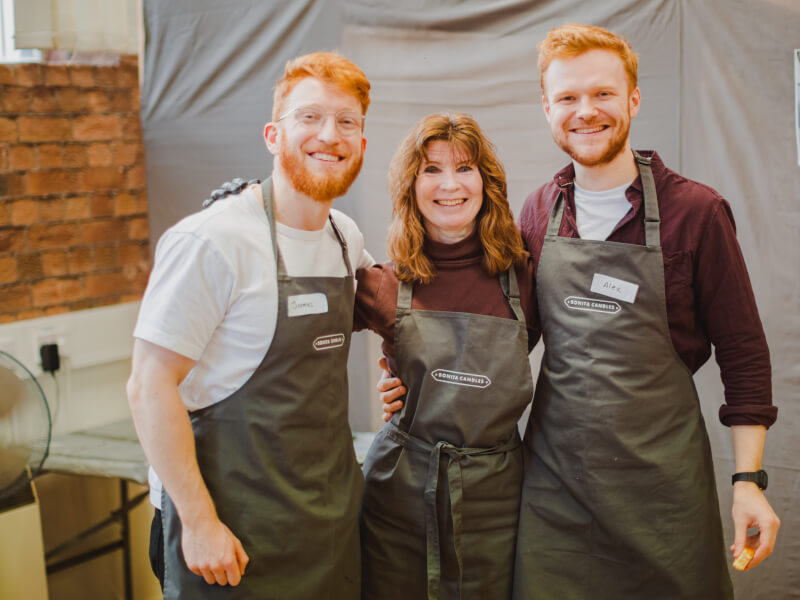 Mums are such busy, hard-working and selfless people, they deserve to be able to relax with a nice hot bubble bath, illuminated by sweetly scented candles at the end of a long day. With this in mind, why don't you put your mum's name down for a candle making class as one of her Mother's Day activities? These calming creative workshops make great gifts for mum and will teach her how to make candles from scratch, using eco-friendly ingredients. She'll also use her favourite fragrances to create personalised candles she will just love lighting up when she wants to unwind. Better yet, head along together, or check out these heartwarming Mother's Day ideas you can do together!
Help her creativity bloom with a fun-filled floristry class
Does your mum have a passion for plants and flowers? If so, then she's bound to relish the chance to try a local floristry course. Relaxing, creative and mood-boosting, these sessions are a wonderful way to unwind and get back to nature, making them one of our most popular gifts for mum. Whether she lives in Sydney, Perth, or Hobart, it won't be hard to find a hands-on workshop nearby, where she can discover some fascinating new floristry skills and mingle with other like-minded folks.
There are so many engaging workshops to choose from, so whether your mum has an interest in wreath making, flower arranging, terrarium making or discovering the Japanese art of kokedama, there's bound to be a class that satisfies her curiosity.
Pamper your mum with a skincare masterclass
Instead of buying some expensive beauty products as your gifts for Mum this year, why not go a step further and sign her up for a natural skincare class? Using the finest natural ingredients and fragrances, these fascinating workshops will not only show your mum how to make her own beauty products, but they will also teach her the best ways to care for her skin so she always looks and feels her best.
During these enjoyable Mother's Day beauty sessions, your mum will pick up plenty of top tips on making natural skincare items, including face and body scrubs, homemade bath salts, body butter, face masks and more. At the end of the session, she will get to take home everything that she has made and she will also have all the know-how she needs to make more enriching natural products whenever she needs them.
In fact, you'll probably be begging her for her homemade beauty lotions and potions at every opportunity, so it's not just your mum who will benefit from these insightful Mother's Day gift ideas!
Discover the ancient art of macrame
Looking for some relaxing Mother's Day craft workshops to put a big grin on your creative mum's face? How about treating her to a macrame class? Macrame is an ancient art that has undergone a major resurgence in popularity in recent years – unsurprisingly, as there are so many amazing things you can make!
From earrings, wall hangings and purses, to hanging planters and keyrings, there are plenty of ways to brighten up your life with macrame and if you have a crafty and creative mum, then she's bound to leap at the chance to learn how to make them. Working with macrame is also a great way to unwind and practice mindfulness, guaranteeing a happy Mother's Day experience as your mum knots her way to relaxation.
Sharpen her sketching skills with a Mother's Day drawing class
Learning how to sketch is a great way to help your mum channel her creativity and cultivate some calm in the midst of her busy schedule. We have a range of fascinating drawing workshops for her to choose from, so whether she is interested in taking up life drawing, creating colourful botanical sketches or even learning how to draw portraits of loved ones, you won't find it hard to find the perfect gift for mum.
Our talented drawing teachers will soon help your mum build up her confidence and discover where her artistic inclinations lie. You never know, a sketching session could be the start of a rewarding new hobby that brings her joy for many years to come – now that's definitely a magical Mother's Day present!