Keen to brush up on your creative skills at painting classes in Melbourne? Well, you're in luck! There is a wide variety of painting classes available across the city, where you can learn acrylic painting for beginners, head to a fun paint and sip class with your friends or try your hand at street art painting.
No matter what Melbourne workshops you choose, you are guaranteed to enter a welcoming and inviting environment ready to learn how to paint for beginners. Guided by some of the best, passionate artists that Melbourne has to offer, you will learn everything from how to pick up a paintbrush to putting the finishing touches on your masterpiece! During each class, you will be guided through the step-by-step process of painting your artwork, as well as given the creative freedom to explore your own artistic style too.
So what are you waiting for? Read on to discover these fun, beginner-friendly classes in Melbourne.
Discover the endless possibilities of acrylic paint
Has it been a while since you picked up a paintbrush or are you a first time painter? No matter your age or skill set, you can learn acrylic painting for beginners! Acrylic paint is one of the most versatile mediums, where you can add water to make it behave like watercolour or add acrylic gels to create certain textures.
There are so many acrylic painting classes in Melbourne that are perfect for beginners, like this one. Learn painting natural landscapes and scenery in this relaxing class with Amelia Phangez. She can teach you all about perspective, composition and acrylic painting techniques to create a beautiful landscape artwork. From picturesque mountains to a field of sunflowers, there's a gorgeous landscape to match everyone's personality.
Play and experiment with abstract art
Is abstract painting more your style? Well, if you're keen to break free of realism restrictions and discover a new side to your creativity, come along to painting classes in Melbourne and discover the endless possibilities of abstract art! Get messy with paint and let your paintbrush guide you, as you create a one-of-a-kind artwork that reflects you and your personality.
If this sounds one of the best things to do in Melbourne to you, head along to this abstract painting workshop in Melbourne CBD and learn from an experienced and visual artist, Andrea Hughes. You will be introduced to abstract painting techniques like blending or adding textures and how to achieve different effects using an array of art tools. Play and experiment with different colours, shapes and designs and you might be surprised by what you'll end up with! Plus, the great thing about abstract art is that you get the opportunity to create your own, one-of-a-kind piece of art, which means it's totally unique to you!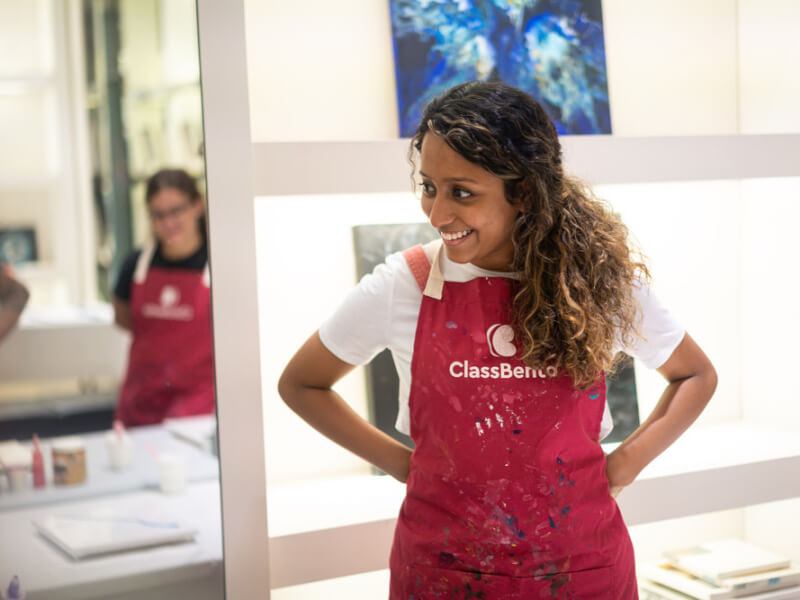 Paint and sip the night away
With no painting experience required, paint and sip classes are the perfect place for beginners. Simply come to any sip and paint class with your favourite nibbles and drinks and start painting your own masterpiece. Led by a friendly artist, they will teach you how to create beautiful paintings with ease. From the stunning landscape of Japan's cherry blossoms to Van Gogh's sunflowers, you can paint whatever you desire and keep coming back for more!
Held in an intimate, comfortable setting, listen to funky tunes and unwind with a glass of wine in your hand. Paint and sip classes make it easy to learn painting for the first time and with some drinks on the side, they are sure to keep the conversation flowing with your loved ones.
Stop searching for sip and paint near me and head to your local painting courses in Melbourne today!
Appreciate the beauty of oil painting
Never heard of oil painting? Sound intimidating? Brush your worries away with beginner-friendly Melbourne painting classes! Oil painting can be just as easy as acrylic paint, with a few handy tips and tricks from a pro. Your experienced teacher will take you step-by-step through the process of creating an oil painting from scratch. You'll get a chance to learn how to mix paint, blend colours and even take care of your brushes!
You will soon learn that oil painting is a fun and accessible medium for beginners and that anyone can start their painting journey in a supportive, hands-on environment.\
Bring the kids along for some creative fun!
Kids don't have to miss out on the fun too! Explore a wide range of painting courses for kids this year and let them express their creativity through painting. Like our art class in Mornington, kids can create their own masterpiece while developing new skills along the way. Painting is great for growing their confidence and self-esteem and they can even start painting as their new hobby too!
Or if you want to find creative Melbourne activities for tweens, come along to this painting course hosted at Prahran Community Learning Centre. Kids get to take on a variety of projects each week and can experiment with different painting mediums. No two classes are the same at this fun course for tweens!
Learn the relaxing art of mandala painting
Searching for relaxing things to do in Melbourne or art classes near me? Look no further than a mindful mandala painting class. Unwind and get lost in the process as your hands do the work. Used in religions like Hinduism and Buddhism, mandala painting is a therapeutic art that helps you reduce stress and improve focus. The result is a totally unique design and pattern! At the end, you can take home a gorgeous artwork ready to hang and frame on the wall.
If you're looking for unique team building activities, head to a mandala painting class and learn the art of mandala and the healing benefits it can offer you. It's a great option to boost not only team bonding but workplace wellbeing too.
Try your hand at street art
Melbourne is famously known for its street art, so what better place than to pick up some spray paint and learn for yourself! Join this unique freehand street art class with Blender Studios and learn how to spray paint cool and quirky artworks. In West Melbourne, you'll get an opportunity to learn from a professional street artist and the best insider tips of street art painting.
First, this workshop will start with a hands-on demonstration and talk from the artist. They will work with you to practice spray painting and how to sketch and design your piece. Then it's time for you to go outside and start creating your vibrant street artwork. It's freehand so anything is possible with just your imagination and some spray paint!
Intrigued? Come along to painting classes in Melbourne and try your hand at street art today!
Explore watercolour painting
Explore a whole new watery world and learn easy watercolour painting for beginners. Watercolour painting can be a tricky medium to master but with guidance from your friendly teacher, you can relax and feel supported every step of the way through the painting process. These watercolour classes are designed to introduce beginners to watercolour paint, different brush techniques and how to mix colours in a warm and friendly environment.
If you keep scrolling through painting classes near me and don't know which one to choose, our hands-on workshops make it easy for you to try something new, from watercolour painting or abstract art. At the end, you'll come away feeling refreshed, as well as bringing home some beautiful paintings too.
Painting workshops in Melbourne