You know you need to be a bit more creative when looking for virtual work Christmas party ideas this 2020. Not only is it a head spin trying to understand 2020 is nearly over, but this year has also been hard for everyone. Coming up with remote team building activities when you're facing Christmas in lockdown or working from home can be a bit tricky. But, you know you need to pull it out of the bag and come up with some of the best virtual Christmas party games for your team.
Your colleagues have done an exceptional job keeping the company afloat whilst working in lockdown, and you know this year's virtual work Christmas party needs to be better than ever. So how do you spend minimal time organising the best online Christmas party when your team could be based all over Australia? Fear not, you'll be able to plan some amazing Christmas party activities with our online classes and DIY craft boxes.
Not sure where to start? Let's break it down with how you could spend your virtual work Christmas party this year. Depending on how much time you can allocate for the party, you could potentially hold a few remote team building activities. We'll start with some of the more crafty things to do at home first which also make fantastic virtual family Christmas ideas too.
Learn how to make a Christmas wreath at home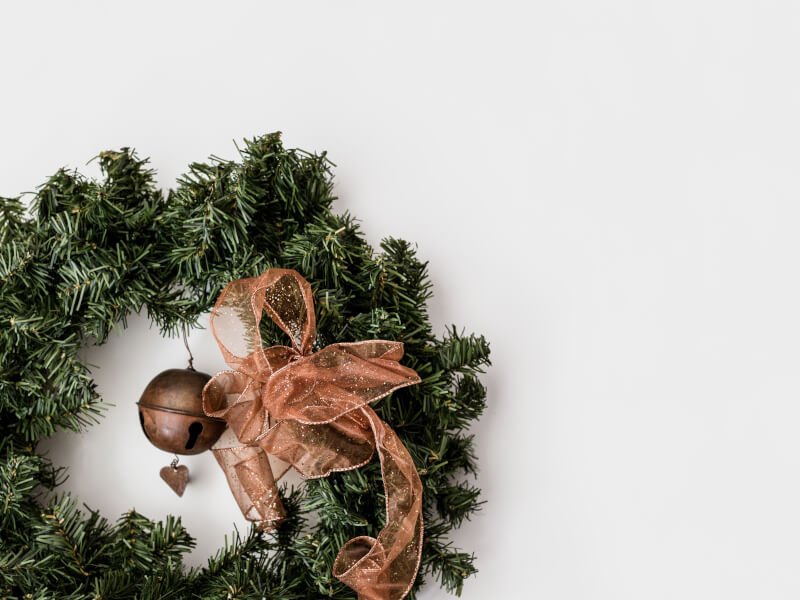 Start your work Christmas party with an online Christmas wreath making workshop. Most people have probably never made a wreath before, so it's a great team building activity to bring everyone out of their comfort zones. It will also bring everyone together as they learn how to make a beautiful Christmas wreath they can hang proudly on their door. Not only is it more of a unique Christmas party idea, but you'll also surprise everyone that they'll be doing more than doing their best fancy dress and drinking the night away.
Or organise an online Christmas flower workshop
If you'd prefer to mix things up with your virtual work Xmas party, we recommend checking out our beautiful virtual Christmas flower workshops. Your team will learn how to make stunning floral designs for the Christmas table, and bring their home to life with beautiful flower arrangements.
Flower arranging is such a fantastic and inexpensive way to bring your home to life, which will give your teammates the skills to continue on after the online Christmas workshop. If they are spending a lot of time at home, they'll want to make sure they are living in a space they truly love.
DIY personalised Christmas baubles
Looking for more crafty virtual Christmas party ideas? Whilst most people fill their home with sentimental Christmas decorations, start your remote team building activities with a DIY online Christmas bauble class. As your team learn to make their own Christmas baubles at home, they'll pick up the skills to make more for their family and friends. This fun online workshop will get the party started as everyone gets into the Christmas spirit.
Ah… eating as much as possible including Christmas cake is something we all look forward to. Whether you personally prefer a pav over a cake, it doesn't really matter because hosting a Christmas cake decorating workshop offers up a unique way to get your work Christmas party started.
Don't worry if your team aren't bakers, it's supposed to be a fun online team building class to bring everyone together. Imagine how proud you'll feel when your family taste your exceptional cake after the online class?
Host an online Christmas cooking class
Once you've completed a crafty Christmas activity, we recommend moving onto a Christmas online cooking lesson. In this class, your team will come together and learn to cook a restaurant-worthy meal together. Whilst it might be a bit different from working together virtually in the kitchen, at the end of the class, you'll sit together virtually to eat the finished meal. Add some drinks in to get the party started and make it more fun!
End the virtual team building Christmas party with an online cocktail class
A virtual work Christmas party wouldn't be complete without their being drinks involved. You know, it's the time of the year your team need to let their hair down and have fun. When they learn how to make easy cocktails at home, they'll just need to convince everyone how they have made the best cocktail of the day. When the cocktail making class has finished, continue the party on with more drinks and make it one of the more memorable online Christmas activities this 2020.
Or end it with an online paint and sip class
If you'd prefer to end the work Xmas party with more of a combined drinking and fun activity, then we recommend hosting an online paint and sip class. This is a great alternative for those who might not be into drinking. It will give everyone something completely fun and out of their comfort zone to get stuck into.
Paint and sip classes are hugely popular virtual Christmas party games because most people have never done it before. In the class, you'll all learn how to paint a modern masterpiece you'll be able to hang proudly in your home. Plus, it's all about having fun and not taking it too seriously. After the class has finished, you could continue the party on with more drinks and end 2020 on a high you all deserve!
How do our online classes work?
Not sure how our online classes work? All you need to do is choose which classes you want your team to take part in, and we'll do the rest.
Everyone will receive a lovingly made craft box, delivered straight to their front doors before the virtual Christmas party begins. Inside you'll find a DIY kit which will include all of the tools and materials you would have been given if you attended the class in person. Everyone will then have enough time to get set up at home before the class begins. When you log on via Zoom, you'll be able to see everyone as well as our expert local Australian teachers ready to teach an engaging and fun work Christmas event!
Whether you're based in Sydney, Melbourne, Brisbane or anywhere in regional Australia, our team building online classes are the perfect way to celebrate your remote Christmas party this year.