Whilst your team might usually be pumped for the work Christmas party, you know you need to make an extra effort when finding unique ways to bond with your team with virtual Christmas party ideas in Australia.
Christmas is usually the time of the year everyone at work looks forward to. Whilst many could easily spend the whole of December talking about what everyone is going to wear to the work party, this year will probably be totally different. If the team are working from home in Sydney or anywhere in Australia, and you're unsure how to bring everyone together before the year is over, we can help you with our many online team building activities.
You know how important it is to organise fun team building events. Whilst the team have worked really hard during a difficult year, there's no better way to reward them for their efforts than at Christmas. Although you might usually have your team building events organised, this time you know you need to dedicate extra time to organise something a bit more special. How do you find things to do when you're all working for home? Fear, not we're here to help you get organised with your remote team building events this Christmas, which also make the perfect indoor activities.
Our online art classes offer more than various ways to bring the team together. Whilst you could easily organise an online class every day before the year is over, we'll show you some of the most unique ways to throw unforgettable virtual Christmas party ideas. Plus, you won't actually need to do much organising to pull off some excellent online team building games. If you're looking for Christmas party ideas at home, you could combine a few of our ideas below.
Get everyone into the Christmas spirit with an online Christmas wreath making class
Get the team building activities started with a Christmas wreath making class. The chances of everyone having made a Christmas wreath before are probably pretty slim. This means everyone will be feeling a little out of their comfort zone, and they'll bond much more easily.
As you'll be learning from our expert local Aussie teachers, you'll be able to hang your very own custom made Christmas wreath proudly on your front door. Because you'll be using dried flowers, you'll be able to use this Christmas decoration every year going forward.
If you're unsure how the virtual Christmas wreath making class works, we'll send everyone a beautiful craft box to their front doors before the class starts. Inside they'll find a beautiful DIY Christmas making kit which will include all of the tools and materials they would have been given if they attended the class in person. Then you'll need to log onto Zoom to find everyone ready for the class to begin. Our local Australian teacher will be on hand to teach you the basics of how to make your very own Christmas wreath in this fun and engaging class.
Host an alternative Christmas lunch with a virtual cooking class
Whilst you might not be able to go to your usual team Christmas lunch this year, you can still host a virtual cooking class to bring everyone together. Cooking classes are renowned for being a fantastic team building activity because everyone has to work together for the reward at the end. Plus you could potentially improve your colleagues' health by introducing them to cooking more in the kitchen.
We're all guilty of wanting to cook quick and easy meals when we finish work. Whilst many people don't allocate enough time to prepare their meals, our online cooking classes will not only get your team spending more time in the kitchen, but it will also give them the confidence to start cooking more healthy meals. When you're cooking your meals from scratch, you're more likely to choose healthier options when eating out and cook more homemade meals. When you're eating right, you'll have more energy and be able to concentrate and focus better. Now just imagine what that will do for work productivity?
Our huge range of online cooking classes is here to inspire you to bring your team together, cook a meal and sit down virtually for your Christmas team lunch. All you need to do is pick which live streaming cooking class you'd like to take part in, and we'll do the rest. We'll send out a beautiful craft box made lovingly from our local Australian teachers and makers straight to your front door before the class starts. Inside your team will find a DIY cooking class kit so they can set everything up in their kitchens in time. When you log onto Zoom, you'll be able to see the team with our local expert chef ready to teach you all how to make a restaurant-worthy meal.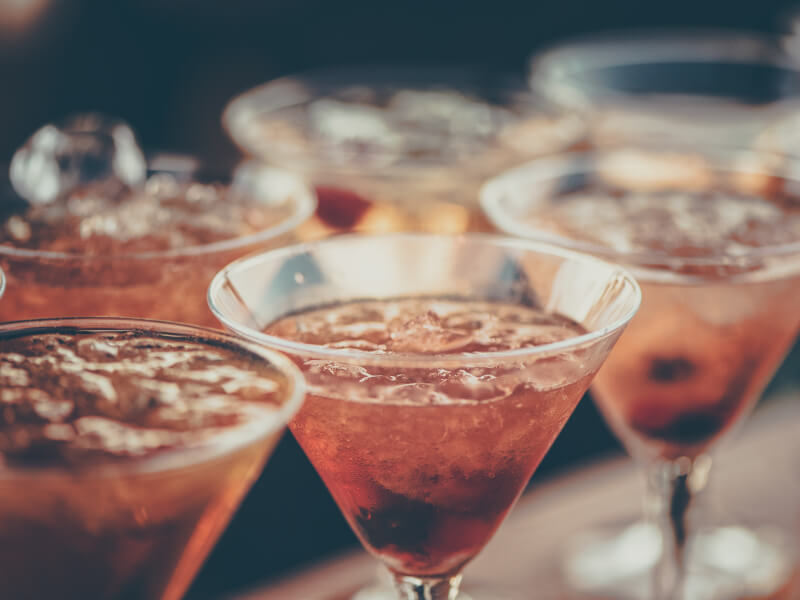 If your work Christmas party is revolving around alcohol, get everyone in the spirit with an online cocktail making class. This popular virtual team building activity is a fantastic way to get everyone to unwind after work and have some fun together.
Whilst cocktails might be usually saved for a special occasion, your team will learn easy cocktails to make at home with guidance from our local cocktail making expert. Whilst we have loads of online cocktail classes to choose from, your team will learn how to make at least three cocktails, to drink themselves during the work party.
After the class has finished, continue the party on with more drinks! The only thing everyone will need to do is to convince each other how they have personally made the best cocktail of the night! Throw in a fancy dress theme to get everyone pumped for the work party and you'll be onto a winning new way to celebrate the team Christmas party remotely.
Whilst we have plenty of online team building activities, these three ideas are to show you how easy it is to organise a virtual Christmas work party for your team. Whilst all you need to do is choose the event, you can be rest assured in knowing that we will everything else to make sure it is a success!
Suggested workshops in Online