Finding online experience gifts for couples is so much easier than you think! Whilst you might be a pro at finding the best unique gifts, this year you might feel a bit overwhelmed with knowing how to buy appropriate gifts for couples, they'll actually love.
This year has been difficult for many people, and there's no better time than to cheer up your loved ones with the perfect online experience gifts for couples. It's been a testing time for many couples, having to spend so much more time together at home than they might be used to.
When your routine has been thrown out of the window and you're having to do absolutely everything at home, it's a testing time for everyone. From working at home to socialising at home, and of course, if you have kids thrown into the mix, you've suddenly become a teacher as well.
We understand many couples just need a break from the new daily life struggles because it's been a tough time. Even if you are looking for quarantine gifts, or just indoors activities for couples, you've come to the right place.
Our online experience gifts for couples are more than present ideas! Our experience gift ideas could do much more for your loved ones than you think. Whilst our online classes and DIY art kits are designed to bring people closer together, we aim to ignite a creative spark that may have been lost over time.
When you take just an hour out of your day to do something you really love doing, such as an online art class, we hope it may kick start a new passion or hobby within. And, when you take time out of life to do something for you, it will make you feel much happier and improve your overall wellbeing.
So, our online classes are more than just anniversary gift ideas for couples or present ideas for couples. Here are some of our most popular online experience gifts for couples to choose from.
Lift the mood at home with our online soy candle making class
Our online soy candle making classes are the perfect way to banish any tension at home. Whilst your loved ones might be doing everything at home at the moment, there's no better way to banish the daytime stress which comes with working from home by lighting homemade candles to bring warmth and calming energy for the evening ahead.
Our online candle making classes are designed to bring couples together as they learn a brand new skill whilst possibly being out of their comfort zone. Many store-bought candles include many toxins, so we only use soy candles which are specifically better for the environment because they don't release any carcinogens. They actually burn brighter and last longer, which is a win all round too.
Update your homewares with homemade pottery
Our online pottery making classes have become popular online gift experiences for couples not only because it's a meditative and calming hobby, but there's also something which makes people feel very proud of having used their homemade pieces. Think about how you could literally replace all of your crockery at home for your very own pottery instead.
As we're all becoming more environmentally conscious as time goes on, we all trying to do our bit to save the planet. This goes for the same at home. Many people are bringing more natural fibres and materials into their homes, and the earthy and natural feel of eating and drinking from kitchenware you have personally made is a very satisfying feeling.
We have a whole range of online pottery making classes are available to choose from. Even if you'd prefer to opt for gift cards instead so the lovely couple can choose which online pottery class will them, then that option is available too.
Discover couples in-person experiences here.
Bring more plants into your home with an online terrarium class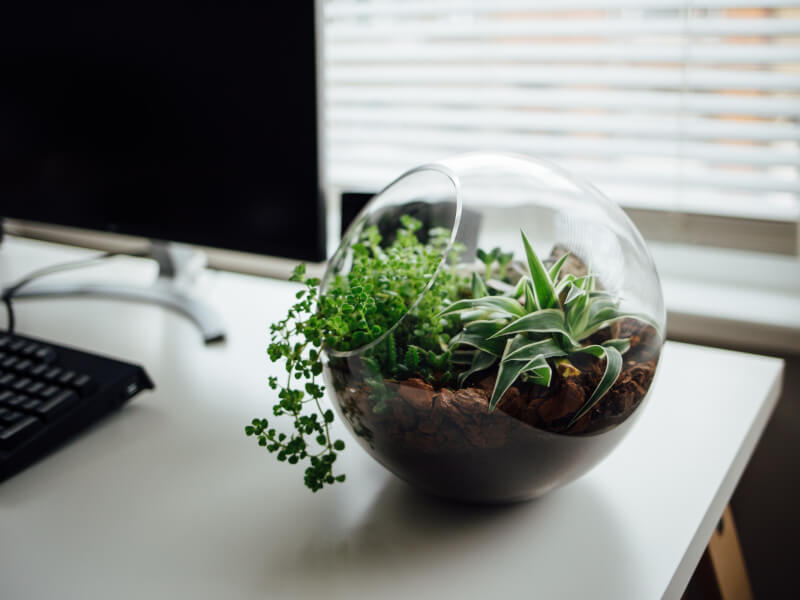 It's proven that having more plants in your home brings more happiness for many people. The sense of having life all around you gives you the responsibility in knowing you need to take care of each plant.
We know many people feel like they aren't the best at looking after plants and always kill them. It can be confusing not knowing when to water them or whether they need to be in the shade or outdoors. The beauty about making a terrarium at home is that they actually don't require very much attention at all and only need watering once or twice a month.
We've all wondered how terrariums are made, and although they look confusing, with the right guidance from an expert, you could learn how to make them in no time!
Our online terrarium classes and DIY craft kits make the perfect online experience gifts for couples, they could end up making many more terrariums for friends and family after they've finished the class!
How our online classes and DIY craft kits work
If you're wondering how our online classes and DIY craft kits work, it's actually really easy to organise. All you need to do is purchase an online gift experience or gift card, and we'll do the rest. When the online art class has been chosen, we'll send out a beautiful craft box, delivered straight to the couple's front door. Inside they'll find a DIY craft kit which will include all of the materials and supplies they would have been given if they attended the class in person.
Once the couple has set up their DIY craft kit, they'll just need to log on via Zoom which is where they'll be able to find our local Australian expert teacher ready to teach them everything they need to know about the class. It's as simple as that!
We hope these few ideas have helped you find some fantastic online experience gifts for couples. You can check out our full range of online classes and craft boxes for more inspiration!