If you're feeling a little bored and uninspired during the Australia lockdown in 2021, it's time to give paint and sip at home a try! Getting into online paint and sip classes while you're stuck at home isn't just a great way to pass the time. It also allows you to decompress and relax, which is definitely something we all need more of as we wait out the lockdown.
Painting, in particular, has tremendous benefits for the heart and mind. For example, as you start painting, you may feel your heart rate and breathing slow down as you focus on your brush strokes. The act of painting also stimulates several parts of the brain at once, lowering blood pressure and easing anxiety.
Additionally, it can also give you a sense of accomplishment to see your vision come to life. There's something about creating something with your own hands, especially something as beautiful as a painting.
That's why if you've never painted or joined a paint and sip online class before, you're in for a real treat! And with a nice glass of wine or a refreshing cocktail in hand, it's hard not to have a fantastic time!
So, add paint and sip online to your line-up of rainy day activities or your upcoming bonding session with your besties or family, and spice up your lockdown with a new hobby!
What are online paint and sip classes?
Online paint and sip classes are a fun way to unwind at the end of a long day without leaving home. These indoor activities are usually held in local studios, but we've adapted them as Zoom activities due to lockdown and restrictions. This way, anyone can join no matter where they are in Australia!
Expert painters and artists lead our paint and sip at home classes. All of them are passionate about their craft and love sharing their expertise with others. Expect a welcoming atmosphere where you can relax and mingle with like-minded people. You'll also receive step-by-step instructions from your instructor, making it easy to follow along as you paint at home.
We encourage everyone to enjoy a glass of wine while painting along (or pop open their beer or cider) during the activity. It doesn't have to be alcoholic, though: you can drink coffee, tea, or hot chocolate. Bring whatever drink you enjoy!
Furthermore, our online paint and sip classes are perfect for just about any situation. Birthdays, hen's nights, date night, virtual team building activities, or just a girls' night in — you name it! You can even bring your friends and family to share the experience with you. If you don't have any artistic buddies, you can join a paint and sip class by yourself and make new friends!
Finally, we strive to make our paint and sip classes as hassle-free as possible. That's why you don't need to buy art materials to join a class. Instead, we'll send you painting kits for adults and simply wait for them to arrive just in time for your scheduled session. However, you can also bring your own art supplies if you'd like to.
Paint and sip at home is a therapeutic hobby
Online paint and sip classes aren't just fun things to do during lockdown, but they're incredibly therapeutic, too. Specifically, painting encourages you to be mindful, focus on the here and now, and detach from your worries while setting your creative self free.
Painting also allows you to express emotions that may be hard to put into words. Whether it be through the use of shapes, colours, or texture, it's a great way to relieve stress. Your household chores and work deadlines can wait for a few hours while you enter a colourful world where there are no expectations.
Instead, sip your favourite drink, get your palette ready, and let your creative juices flow! You'll be surprised at how calming art can be for the soul.
Painting engages your thinking skills and improves your dexterity
Paint and sip at home isn't just an artistic hobby — it's a great way to challenge your mind.Different types of paintings require different techniques. For example, watercolours need a delicate touch, while painting sceneries require a heavier hand. You have to think about blending colours to get that perfect shade of blue for the sky. Engaging both the logical and creative parts of your brain gives your mind a great workout, which can improve your mental health.
Painting also strengthens your hands because of the precise brush strokes needed for details. This is good for improving dexterity, especially if you take up the hobby as one of your regular indoor activities in Sydney! Pretty soon, you'll find yourself making masterpieces like you've been doing it your whole life!
Online paint and sip classes can help you appreciate art on a whole new level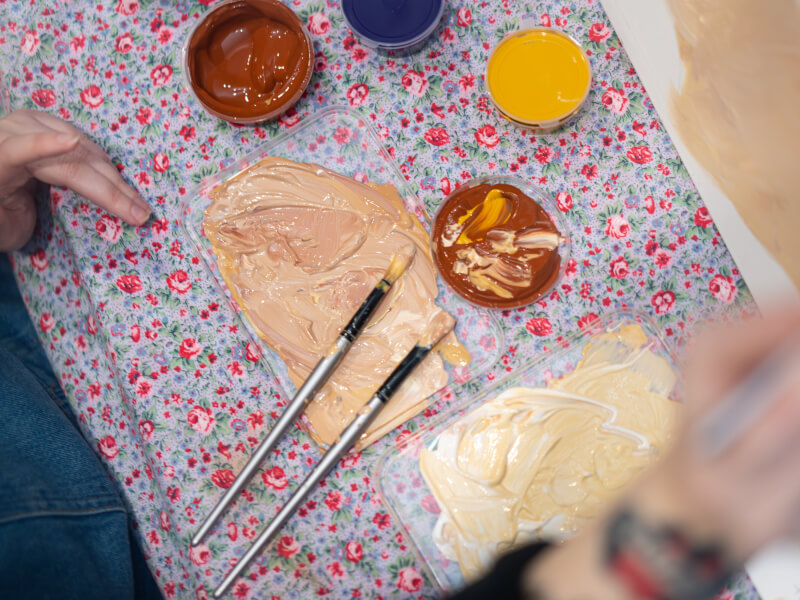 Finally, paint and sip at home can help you develop a deeper appreciation for the arts. You get a closer look at the process that goes into creating a masterpiece – the feeling of swirling a brush in thick paint, how a specific shade of orange can add drama to a sunset, or how a streak of white can add tension to a mountain.
When you look at art in a museum, you only see the finished image. But when you're the one creating it, you'll gain a new perspective about what goes into every stroke. You'll suddenly see how Van Gogh's short, firm lines make the stars move in Starry Night and how you can almost hear the leaves rustle in Monet's paintings. It's a whole new way of looking at the world, and it can be an addictive feeling!
Say hello to your new hobby – lockdown or not, paint and sip at home will add colour to your days! Aside from being a fantastic activity for your me-time, it's also a great experience gift or activity to share with the special people in your life.
Paint and Sip workshops - Virtual with Kits