If you've always wanted to learn to cook, there's no better time than right now! There are so many fun-filled cooking classes in Australia to try from Perth to Canberra and Adelaide to Hobart, so what are you waiting for? It's time to roll up your sleeves, don your chef's hat and prepare for a delicious journey of discovery!
Once you've taken the plunge and decided to learn cooking, you'll find a world full of mouth-watering flavours awaits you, which you can sample with the help of sushi making sessions, Italian cooking classes and workshops dedicated to teaching you tantalising Thai delicacies.
As well as helping you learn to cook with flavour and confidence, cooking lessons are also a thrilling experience to share with the special people in your life. Looking for things to do on a rainy day to keep your kids occupied? Why not sign them up for cooking classes for teens? Racking your brain trying to come up with some unique hens party ideas for your bestie bride-to-be? Why not treat her and the other hens to an exotic Japanese cooking class?
Cooking lessons even make fantastic team building activities, providing a relaxed and inspiring environment where you and your co-workers can unwind, reconnect and pick up some slick new slicing and dicing skills at the same time!
Intrigued? Read on to discover 9 reasons why you should definitely learn cooking.
1. Cooking lessons will bring you independence
Whether you're a young adult just starting out on your independent path or someone who's just never really been very interested in all things culinary, learning how to cook will bring a whole new level of independence to your life. You won't have to rely on your mum's home cooking anymore – as delicious as that might be – nor will you have to depend on take-out and ready meals, which aren't very good for you anyway.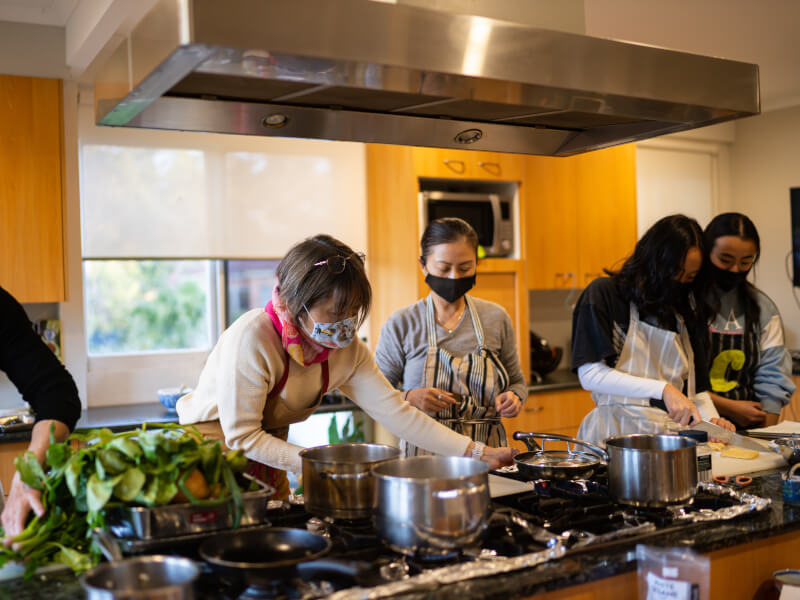 2. Taking cooking classes is great for your health!
If you've been living off too many Pot Noodles and frozen pizzas, signing up for a few classes to learn cooking will not only empower you, but it will also bring some significant health benefits too. Once you have a firm foundation of culinary knowledge, you'll be able to prepare flavourful and healthy dishes that nourish your body and bring a smile to your face.
As you learn to cook with the help of a talented local chef, you can also ask for advice and find tasty recipes that fit your lifestyle and your unique requirements. For example, if you're a vegan who's not sure how to cook vegan meals that are both healthy and delicious, taking some vegan cooking classes will give you plenty of inspiration!
3. Learn cooking and enjoy a plumper wallet
While you may have to shell out a few dollars to pay for cooking classes initially, taking some time to learn to cook will actually save you a lot of money in the long run. For one thing, you won't have to pay for meal delivery services, take-out or microwave meals anymore. Instead, you'll know how to concoct all kinds of mouth-watering morsels using fresh, good-quality but affordable ingredients.
Interested in learning how to cook like a pro? Discover Australia's top culinary schools.
4. Enjoy a tasty cooking experience packed with global flavours
Once you check out some of the fun-filled cooking lessons available across Australia, you will soon see what a rainbow of flavours there are to discover. If you thought putting your name down for a cooking experience would be dull, think again! There are so many different classes to choose from, just waiting to introduce you to sumptuous delicacies from across the globe – from Thailand to Taiwan, and Fiji to France.
5. Couples cooking classes make fun date night ideas
As well as teaching you how to rock that wok and bake up a storm, cooking classes for beginners can also shake up your date nights! That's right, bringing your partner along for a cooking experience is one of the cutest and quirky date night ideas you could come up with. It's also the perfect way to strengthen your bond while learning something new. Think of it this way – now both of you will be able to cook each other romantic meals from scratch with your newfound knowledge!
6. Get your kids involved with cooking classes for teens
If you have older kids at home who will soon be flying the nest, why not prepare them for their exciting new life of independence by booking them onto cooking classes tailored to their age range? These engaging hands-on workshops offer a laidback and encouraging space where your teens can stretch their culinary wings and pick up plenty of helpful tips and easy recipes they can make once they leave home.
7. Learn to cook and you'll also unleash your creativity
Cooking isn't just about nourishing your body, it's also about feeding your soul. Learning how to prepare mouth-watering meals with a variety of fresh ingredients, spices and sauces is a creative activity, just like painting or pottery. With the help of your friendly and knowledgeable culinary instructors, you will soon discover how fun it can be to experiment with different flavours and find the ones you love the best.
8. Show your family you love them by cooking special meals
One of the simplest but most profound ways to show people you love them is by cooking them a delicious meal. Once you learn to cook, you can regularly express your devotion to your family by preparing their favourite meals and maybe even making them birthday cakes from scratch!
9. Try out time-saving meal prep and save yourself some stress
When you learn to cook, you are laying down a foundation of culinary know-how that will help you in all kinds of ways – one of which is meal prep. Preparing a batch of meals at the start of the week will save you lots of time and stress, as all you'll need to do after a long day at work is heat them up again. See what we mean? When you know how to cook, life instantly becomes so much easier!