Want to impress your friends and family by whipping up restaurant-quality dishes at the drop of a hat? Put your name down for cooking classes in Australia! With the help of some of the most talented chefs at the finest culinary schools across the country, you'll soon be chopping, stirring, whisking and frying like a professional.
It doesn't matter if you're more familiar with your toaster and microwave than a roasting pan or a wok, these cooking classes for beginners will soon build your confidence in the kitchen. In fact, taking cooking classes is the perfect way to step out of your comfort zone and learn something new in an exciting but laidback environment, whereas much emphasis is placed on having fun as mastering the recipes.
Best of all, investing in cooking lessons will open up a whole new world of culinary possibilities for you. Not only will these hands-on workshops improve your confidence, they will also introduce you to all kinds of mouth-watering flavours you may never have encountered before. From Italian cooking classes to sushi making sessions and even vegan cooking classes, there are so many delicious options to choose from! Read on to find out more.
Master some of your favourite comfort foods with Italian cooking classes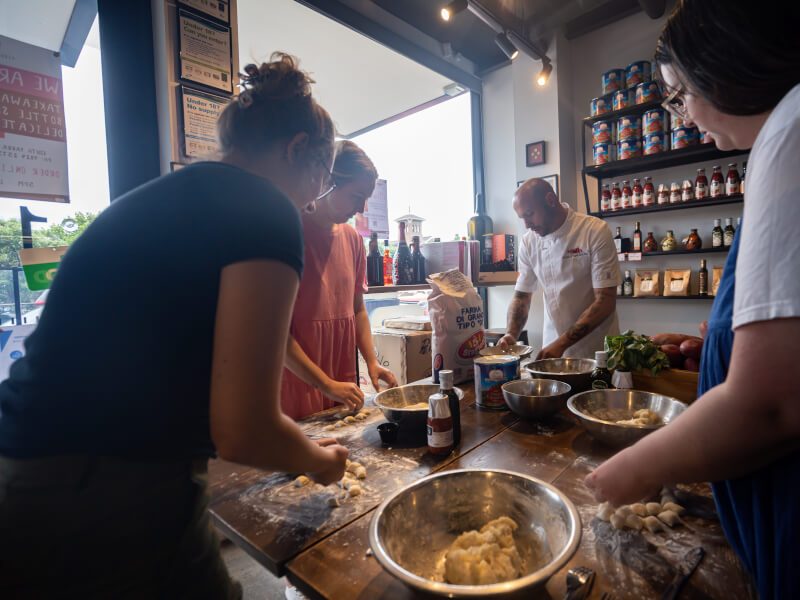 If you love nothing more than tucking into a hearty bowl of pasta, or feasting on slices of pizza fresh from the oven, then you should definitely put your name down for a few Italian cooking classes and learn to cook the traditional way. Whether you live in Sydney, Perth, or Adelaide, there is sure to be a workshop within easy reach, where you can tie your apron, don your chef's hat and prepare to make some carb-ilicious concoctions!
Sign up for a pasta making class to pick up some top tips and learn to cook the perfect spaghetti Bolognese or fettuccini alfredo. Your expert teacher will guide you step by step through the pasta prepping process, as well as demonstrate how to flavour your handmade pasta for the tastiest results. You'll also learn to create rich sauces from scratch using the freshest herbs and ingredients.
On the other hand, you may like to opt for a pizza making class, which will teach you how to make the perfect base! It won't be long before you are kneading, stretching and tossing your own handcrafted pizza dough and then layering it with fresh sauce and your favourite toppings. Once it's ready, your pizza will go into the oven to bake and at the end of the workshop, you and your fellow classmates will get to sit down to a delicious feast you prepared yourselves. Now that beats a frozen pizza any day!
Savour the exotic flavours of the East
There are plenty of fantastic Asian restaurants dotted around Australia, serving up all kinds of flavourful delights from the likes of China, Thailand, and Vietnam. But wouldn't it be great if you knew how to prepare some of those tantalising delicacies yourself, in the comfort of your own kitchen? That's why you should sign up for one of our Asian cooking classes and learn to cook authentic cuisine from some of your favourite places!
Do you just love Thai food? If so, then put your name down for a Thai cooking class, and you will soon be well on your way to mastering some of Thailand's most mouth-watering dishes. An experienced and enthusiastic chef will patiently guide you through the preparation of sumptuous recipes.
They will talk you through the ingredients and explain the principles of Thai cooking, which relies on a carefully orchestrated balance of flavours – whether sweet, salty, sour or spicy. Soon, you'll be able to whip up a fresh Som Tam salad or a creamy and coconutty Tom Kha soup that will have your friends begging you for the recipe.
On the other hand, if sushi is your Asian delicacy of choice, then why don't you enrol on a Japanese cooking class and pick up some expert sushi making techniques! Whether you have a fondness for nigiri or spicy tuna rolls, you are sure to relish the opportunity to learn how to prepare sushi from scratch.
Bake some sweetness into your life
If you've never made a cake or a loaf of bread by hand before, then you won't know just how therapeutic baking can be. This creative and soul-soothing activity is the perfect way to relax and unwind after a busy week. Plus, you'll get to enjoy the decadent fruits of your labours once they are baked, of course!
Discover how fun baking can be with a class run by one of the finest culinary schools in Australia. Whether you're interested in whipping up a batch of seasonal cookies, baking and decorating your own cakes, or summoning up the perfect loaf of sourdough bread, there is sure to be a baking class that takes your fancy.
Share your culinary masterclasses with someone special!
Taking some time to learn cooking is a fun-filled and enriching activity that is guaranteed to transform your life. But you don't have to do it alone! Having someone to go to cooking classes with and share the experience is bound to make it even more enjoyable.
Why not sign up one of your best friends for some cooking lessons and go together? Whether you're interested in trying out a Thai cooking class, or perhaps even some vegan cooking classes, there's a workshop to suit every taste from Melbourne to Perth. On the other hand, maybe your partner would love to go with you? Cooking lessons make fantastic date night ideas, and they'll definitely give you plenty of inspiration for romantic meals to cook for each other in the future.
If you're a busy mum or dad, you could even bring your kids along. Alternatively, book them some classes of their own if they're keen to learn some professional chef skills. There are plenty of fun-filled cooking classes for teens to choose from, where they can have an amazing time, learn to cook and be inspired by new recipes and delicious flavours. What's not to love?
If you're a travel lover, read on for the best cooking classes in Australia for you!