Looking for fun pottery classes in Sydney this winter? Well, you're definitely not alone. Learning pottery is one of the most popular things to do in Sydney, and out of all of our art classes for adults, ceramics are among our most booked classes.
And there's a good reason for it, too. Pottery is an exceptionally expressive art form, and one of the oldest in existence. With its combination of engaging your creativity and fine motor skills, enjoying a ceramic studio is an effective form of mindful movement meditation and can help you detox from the stresses of everyday life. We've compiled a few of our pottery classes that are perfect for relaxing and destressing, whilst also expanding your crafting skills!

Kintsugi art
If you haven't heard of kintsugi pottery, you're behind the eight-ball! Kintsugi - or "golden joinery" - is the Japanese art of repairing broken ceramics using a gold lacquer. Kintsugi is a time-honoured tradition in Japan and holds a strong philosophical meaning. Instead of disposing of broken pottery, Kintsugi embraces the imperfections of the ceramic, repairing them using a bold, golden filling. This represents the history and flaws of the piece, as opposed to simply casting it aside once it's broken. It is an artistic representation of the Japanese philosophy of "mushin" which encompasses the concepts of non-attachment and acceptance of change.
As meditative as it is beautiful, Sydney hosts a range of kintsugi classes that are perfect for you to learn a traditional Japanese art form that promotes mental wellbeing and is also highly enjoyable to engage in. Of all the unique experiences Sydney has to offer, Kintsugi is one of our art classes for adults that'll leave a lasting impact on you. Thankfully, Sydney is home to Kintsugi Australia, which hosts a wide variety of pottery classes, workshop intensives and kintsugi courses for all ages and interests. Whether it's a one-off workshop for you to get a taste of the ceramics class, or a two-day intensive covering all of the intricacies that kintsugi pottery offers, artisan Jun Morooka can show you how to create beautiful ceramic bowls and vases using his trademark kintsugi technique.
Jun's partner Hitomi also teaches a kintsugi accessories workshop, which brings her knowledge of kintsugi pottery and shows you how to utilise it to create unique and colourful jewelry pieces! Not only does Kintsugi Australia have all your Japanese pottery needs, but they also offer a workshop in making your own mini zen garden that's perfect for bringing a real sense of calm to any living space.
Pottery classes for beginners
Maker's Loft in Cammeray has transformed art classes for adults into an art form itself. Offering a varied array of craft classes, workshops and experiences, pottery classes are just one feather in a very impressive cap. The pottery classes are a true standout, however, and the wide variety of ceramics workshops are a testament to their expertise.
A little bit on the cheekier side, this is one of our favourite pottery classes! Popular among hens nights and parties, you and the group will be learning to sculpt using a live model for guidance! Complete with BYO, this is one of our most festive art classes for adults and one of the best things to do in Sydney if you're looking for something artsy and playful!

Hand Building Pottery Workshop
Hand building is the art of making pottery without the assistance of a pottery wheel. It's fun, crafty, and gives you a creative freedom a pottery wheel doesn't offer. Not only will this class show you the fundamentals of how to make ceramic bowls, vases and trinkets with your hands, they also are open to helping you work on any personal pottery projects you had in mind! This is one of the best things to do in Sydney when it comes to organising a small group of friends looking for something a little bit different.

Learn Wheel Throwing For Beginners
Looking to create ceramic art the fashionable way? This workshop in St Peters is a fantastic entry point into the beautiful art of wheel throwing. Using time-honoured techniques, you'll be shown how to throw gorgeous vases and bowls in a state-of-the-art pottery studio. You'll be guided on how to bring your own flair to your pottery pieces, and you'll walk away with two pieces, fired in the kiln.

Silky Shapes is a fantastic pottery studio, and can show you everything you need to know about creating and colouring ceramic art! With one of the most comprehensive pottery classes for beginners in Sydney, you'll learn wheel throwing techniques, hand building tips and some glazing essentials to craft an array of ceramic bowls, vases and even candle holders. This workshop runs over three sessions, so it's perfect if you're looking for a pottery workshop that equips you with the essential skills, and gives you a little bit more time to discover your own ceramic art style.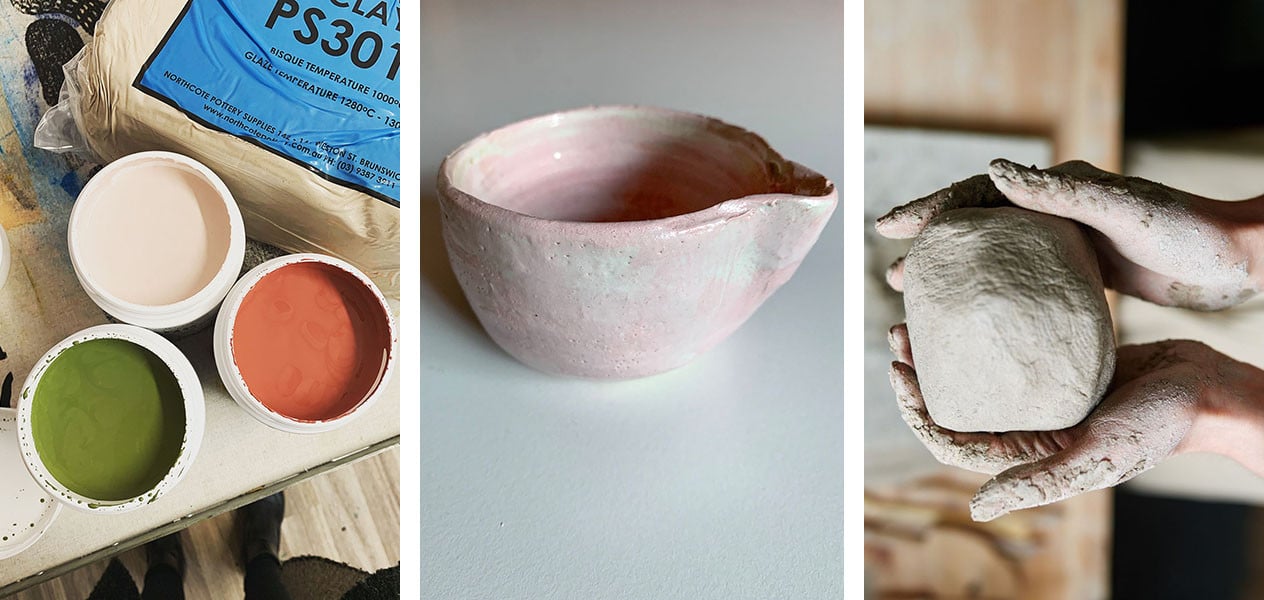 Virtual pottery classes
ClassBento's LiveBox feature specialises in online workshops and experiences that you can indulge on at home. With our artisans on a live stream and a craft box containing everything you need to be delivered directly to your door, these pottery classes are perfect if you're stuck at home. Maker's Loft organises one of the best ceramic art classes for children, with their Pinch Pots For Kids virtual workshop. Your little ones will learn some hand building pottery essentials, all in the comfort of their own home. If you're looking for virtual pottery classes for big kids, local ceramic artist Irina Bosnjak runs her DIY Clay hand Building workshop, where you'll discover how to build ceramic art of all different shapes and sizes.
No matter what you choose, ClassBento offers the best ceramic art workshops and pottery classes Sydney has to offer.