If someone you love has just had a baby, you may be wondering what to get her. Well, we believe we have one of the best gift experiences for Mum in Australia – some well-deserved me-time! Becoming a parent is one of the most exciting times in anyone's life, but it's also one of the most exhausting. From Kokedama to calligraphy, we've put together some of our most popular new mum gifts for you to browse. These fun classes will give her the chance to embrace her creativity, learn something new and relax in our friendly studios. Keep reading to discover our best gifts for new mums today.
Help her unwind at a Kokedama workshop
Kokedama – literally translated as 'moss ball' – is an ancient Japanese art that involves encasing a plant's roots in a decorative ball of moss, soil and string. Not only are these so-called 'string gardens' a beautiful way to brighten up your home, but the process of making them is also a wonderful way to slow down, refocus and get creative.
Our beginner-friendly Kokedama workshops are available from Sydney to Melbourne, Brisbane to the Gold Coast. That means wherever you are, you're bound to find the perfect Australian craft class at a studio near you. Choose a Kokedama class to help the new mum in your life unwind and enjoy some uninterrupted me-time.
Treat her to a terrarium workshop
We all need time and space to relax, but time and space can be tricky to come by when you're a new parent! If you're looking for new mum gifts that will make a world of difference, why not book her a spot at a DIY terrarium class? Led by friendly local makers, our terrarium workshops will introduce you to the wonders of making a terrarium – including choosing, arranging and caring for your plants.
Unlike a new baby, terrariums are low-hassle and fuss-free! These beautiful arrangements, sometimes known as glass gardens, are a fantastic alternative to conventional pot plants (especially for parents who won't have a lot of spare time to tend them). That means our green-fingered classes are some of the best gifts for new mums, whether you're looking for fun things to do in Sydney, Adelaide, or Perth.
Watch her creativity bloom at a floristry class
Flowers are some of the most popular gifts for mum in Australia. But if you're looking for the best new mum gifts, why not switch the classic bouquet for a floristry course? Not only will it last longer (she'll learn new skills that will stay with her forever), but she'll also get the chance to spend time in our friendly studios. It's a fantastic way to give the gift of me-time and get her out of the house for a while.
From DIY flower crowns to traditional Ikebana flower arranging, our classes cover a range of floral activities. Our students leave our workshops with their very own handmade floral arrangement – but that's not all. They also leave with a sense of accomplishment and calm. Working with flowers is a wonderful way to engage your senses, create something beautiful and forget the pressures of everyday life.
Go with the flow at a fluid art class
Conventional painting not your style? For the ultimate freedom of expression, our fluid art classes are the ideal choice. Whether you treat her to a resin jewellery making workshop or an acrylic paint pouring class, these courses are some of the best gifts for new mums who want to make something they can treasure forever. Whichever class you pick, your lucky recipient will take home a handcrafted item that will always remind her of this special time in her life. It's a unique way to celebrate her new bundle of joy!
Do you know a new mum who needs some me-time closer to home? We also offer a handpicked selection of online fluid art classes. Complete with a craft box that contains all the tools, materials and equipment she'll need, our online courses are streamed direct from our friendly studios. That means she can enjoy our beginner-friendly gift experiences wherever she is in Australia, all from the comfort of her home.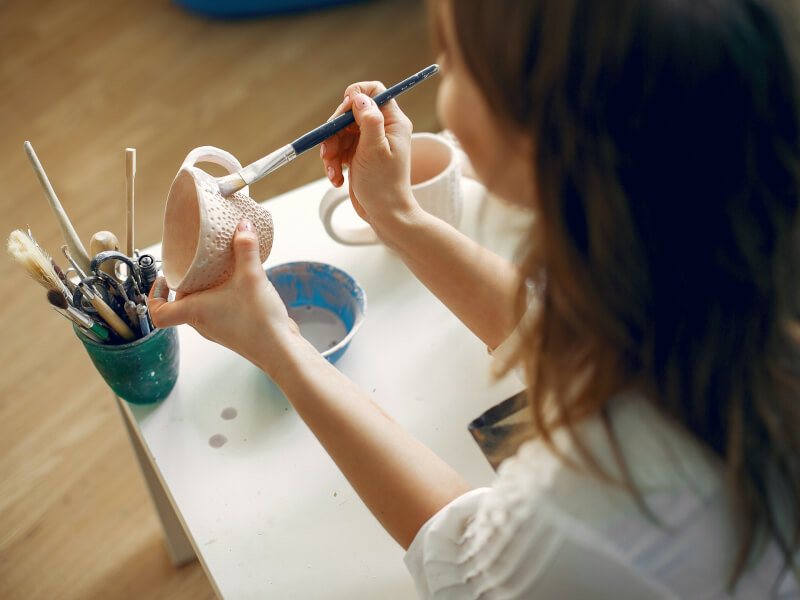 Pencil in some me-time at a calligraphy course
Today, most of us rely on our phones and laptops – but if you want to help a new mum swap her screen time for something more worthwhile, what could be better than a calligraphy course? Fun, informative and open to beginners, our calligraphy classes are the perfect place to dip your pen into the world of brush lettering.
From traditional Chinese calligraphy to modern hand-lettered Christmas baubles, discover our A-Z of Australian craft classes today. You're sure to find something that will spell success, whether you're looking for fun things to do in Sydney or an online class to stream at home.
Find a new rhythm at a wheel throwing class
If you want to find unique gifts for mums in Australia, our wheel throwing classes are the perfect present with a twist – literally! Spin, trim and glaze your own pots at our supportive workshops. From planters to pet food dishes, candle holders to cups, our skilled instructors will explain how to make a variety of different ceramics. Alternatively, your new mum can let her imagination run wild and create an item that's utterly unique.
There's something meditative about the process of making pottery on a wheel. The rhythm of the wheel, feel of the clay and satisfaction of moulding your bespoke pieces make it easy to focus on the here and now. What's more, research has shown that making items by hand can be an excellent way to lower your stress levels and boost your mental wellbeing. If you're looking for the best gifts for new mums, that means our wheel throwing classes are the ideal way to treat her to a bit of me-time.
Searching for new mum gifts that will support her wellbeing? Give the gift of me-time with our selection of beginner-friendly craft classes.