If you want to express your gratitude for a seriously spectacular lady, browse this extensive collection of gift experiences for her! Whether you're spoiling your sister for always being there or saying thank you to an extra-special colleague, friend or teacher, these are some unique present ideas to suit every personality and occasion.
Boring bouquets and boxes of chocolates can't compete with exciting experience gifts for her – why bother with inanimate objects when you could help her create memories that last a lifetime? What's more, every Wonka-esque workshop promises a treasure chest of mindfulness benefits for always on the go ladies who deserve a little TLC!
Treat busy mums with green thumbs to a macrame class, where she'll craft an adorable woven home for indoor foliage. Not only will she leave with a standout boho furnishing, but the rhythm of knot tying is akin to meditation. Perhaps, your best gal pal needs a pick-me-up? We suggest the ancient Japanese art of Kintsugi because it teaches students to embrace flaws and imperfections.
If you're ready to make her smile from ear to ear, keep reading as we highlight some of Australia's most thoughtful ways to show your appreciation.
Gifts for her in Sydney
Head to the picturesque Hunter Valley for a beer and wine tour
There's no better way to express your gratitude than by sending the lucky lady to Australia's oldest wine-growing region. In this beer and wine tour, she'll escape to the Hunter Valley and sample handcrafted beverages while also drinking in the region's stunning natural beauty!
Surrounded by vineyards known for semillon and shiraz, she'll peek behind the scenes at two craft breweries and boutique wineries. Alongside witnessing the brewing process firsthand, there's ample time to enjoy subtle notes and a delicious meal bursting with local produce. Looking for Christmas gifts for women who don't have a wishlist? We've got you covered!
Nothing's beyond repair with Kintsugi
A beginner's kintsugi workshop is a wonderful way to boost her self-esteem because it reveals the resilience and uniqueness of broken things. If she can transform cracks into exquisite detail, she'll feel more empowered to heal old scars.
Under the guidance of an expert teacher, she'll mend fractured pottery using epoxy glue, putty and lacquer laced with gold, platinum or silver. As well as creating standout centrepieces, the method also promotes sustainability by giving students skills to repair objects at home.
Gifts for her in Melbourne
Master the mindful art of Japanese flower arranging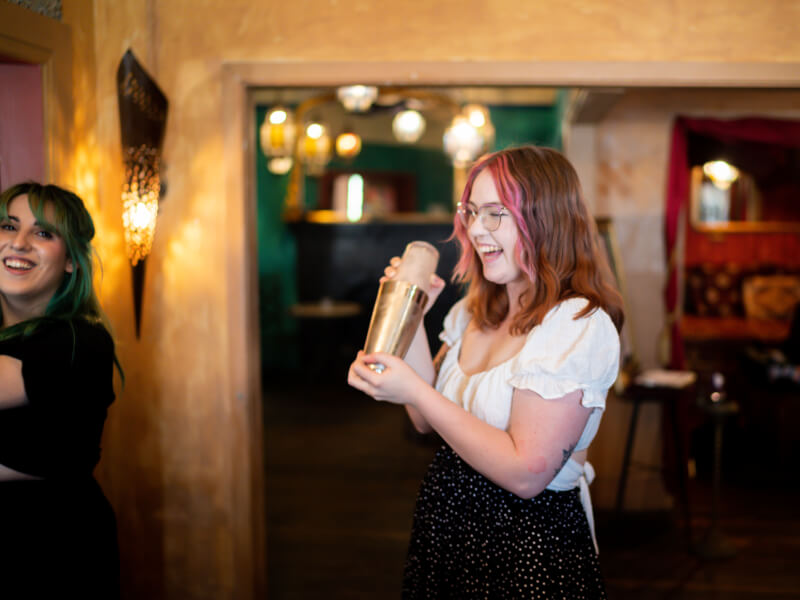 If she's fanatical about flower arranging, how about a floristry class? She'll unleash her creativity on a bunch of blooms and learn about the Japanese floral philosophy of Ikebana.
Ikebana means "living flowers", and it emphasises fresh branches, leaves, grasses, and blossoms. The composition is equally important as the materials with bouquets boasting asymmetrical lines and minimalism (think less is more).
Ethos aside, crafting a masterpiece is hungry work! Luckily, there's a smorgasbord of tasty nibbles nearby to keep energy levels high.
Weave a macrame plant hanger for houseplants
During a marvellous macrame workshop, stressed-out women can unwind by knotting locally spun rope into a gorgeous plant hanger.
Macrame enhances emotional wellbeing and mental aptitude by occupying nimble fingers. It's impossible to fret about to-dos and deadlines when the mind's wholly absorbed in gorgeous patterns and macrame knots, and these craft classes encourage complete self-expression. The ultimate goal isn't perfection but to form something meaningful.
For added inspiration, she's free to bring refreshments – nothing unlocks imagination like a tipple or two!
Gifts for her in Brisbane
Tantalise taste buds with continental desserts and pastries
Gifts for her are even sweeter with a decadent baking and desserts class! Over the three-hour session, she'll dabble in choux pastry, continental delicacies, chocolate art and intricate sugar webs!
It's a fantastic chance for passionate beginner pâtissiers to refine their culinary techniques with help from an accomplished instructor. She'll prepare a delectable feast showcasing Europe's most iconic gooey goodies, including fruit pies, honeycomb, croquembouche and more.
The cherry on top? She'll gain impressive knowledge to turn her side hustle into a success (if you're lucky, she might need a guinea pig for all her new recipes).
Head to Spain and learn how to cook mouth-watering tapas dishes
Spanish cuisine is celebrated for fresh and colourful ingredients coated in lip-smacking seasonings like garlic and cayenne. This cooking class focuses on one speciality in particular – tapas!
As heady aromas permeate the air, she'll prepare several small dishes that are sure to impress the most discerning dinner guests. From pork belly served on paprika puree to custard tarts infused with vanilla and flaming orange brandy, there's a flavour combination to appease sweet teeth and spice lovers.
We just hope she's bought her appetite! Once the hard work's complete, she'll tuck in with gusto while socialising with like-minded foodie friends.
Gifts for her in Perth
Discover Perth's artistic underbelly while sipping cocktails
An innovative cocktail masterclass and street art tour is the perfect excuse for her to let her hair down! She'll traverse the diverse art district in Perth, relishing tales of local and international talent, before diving into the city's vibrant nightlife scene.
If that wasn't enough, the experience ends at a sophisticated cocktail bar where she'll mix a signature drink from scratch! Once she's settled on shaken or stirred, she'll savour her creation from a sky-high rooftop bar.
Prepare melting and moreish French macarons
Whoever you're buying for, you can't go wrong with a French macaron making class! With assistance from a Michelin-star chef, she'll whip up multi-coloured morsels using the finest meringue.
Each class in the award-winning kitchen is bursting with incredible food and lots of fun, laughter and learning. Best of all, classes are limited to seven students, so there's plenty of space and time to receive personalised tuition.
Say thank you to extraordinary women with these gifts for her
It's time to show her you care with these exceptional gift experiences for her. Whether you're saying thank you to friends, family or an extra-special colleague, these classes won't disappoint.
From baking and desserts to floristry workshops, there's something to please every personality. Australia's best teachers endeavour to make the occasion one to remember, and she'll walk away empowered by their wealth of knowledge.
Flowers and Plants workshops