It's a drizzly Autumn day and I'm headed to LazyBones Lounge in Marrickville, an eclectic music venue occupying a street corner on Gadigal and Wangal Country.
I'm nervous about going inside—I'm not sure what to expect and I want to be respectful. Is it okay for me to be joining a Dot Art Circle workshop?
A moody red glow warms the space and it's cosy inside. It's here—beneath a glittering disco ball and kitsch chandeliers—that I settle in for a few hours with artist and proud Ngemba woman, Kabushka Ngemba, excited to learn more about the world's oldest living culture.

A warm welcome
"Yaama", says Kabushka. It's a greeting of the Ngemba people. "Yaama," we repeat back.
"I'm going to test you on that after class," she says with a laugh. "Now you know an Aboriginal word, use it the next time you see one of our brothers or sisters."
I commit the phrase to memory.
Reflect on your own journey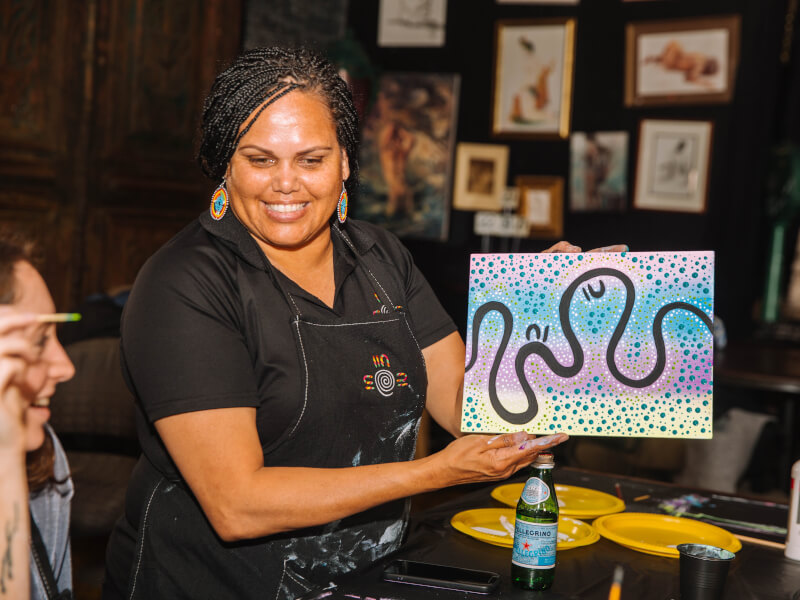 As we're perched at the bar table, Kabushka shares her 'Journey Painting' with the group. Rich with colourful dots and a snaking black line, the artwork tells a beautiful story of her life.
"I want to use this [Journey Painting] as a guide for people because everyone has their own journey and their own experiences in life," says Kabushka.
She then tells us to think about our own history and the people who have impacted us along the way. Now, with Kabushka's painting as our guide, it's time to reflect and create our own.
Connect through storytelling
I recognise the deep sounds of a didgeridoo coming through the speakers and let myself be drawn into the meditative experience of painting. I make my journey widen here, snake backwards and forwards there—telling my own story with nothing more than a paintbrush and a curving black line.
For generations, art and symbolism have been used by First Nations peoples for knowledge sharing, survival and storytelling between language groups. At the time of the British invasion, there were over 250 Aboriginal languages spoken across the country. Today, only 120 First Languages are still spoken.
As I paint, Kabushka helps to guide my brush where needed and I feel the universal power of storytelling dissolving any boundaries between the group. I am so humbled that Kabushka is sharing this experience with us.
Getting lost in the dots
We're all lost in our own journeys, each so different from the other. Kabushka breaks the silent concentration of the group to share the final technique of the class: dot painting.
"All dots represent that a journey has happened," she says.
We pick up our dotting tools, tap the end in white paint and begin to dot with intention. I reflect on what Kabushka has shared— that these dots have meaning, that each and every mark is rich with history and emotion. Again, I am overwhelmed by gratitude. How lucky we are that Kabushka has chosen to share this knowledge with us.
"Most people get really lost in the therapy, especially when it gets to the dot section, which is very cool to witness," she says.
At one point, I pause. Kabushka notices and asks why. "I think I want to switch to green here," I muse. "Ah, that's your ancestors," she shares. I listen and wash the white paint off the end of my dotting tool.

A journey you'll remember
I leave the Dot Art Circle workshop without any of the anxiety I had going into the experience. With me, I take a changed perspective, an even greater respect for Ngemba culture, and my own journey painting. It sits on display in my bedroom, and every time I look at it I'm not only reminded of my life journey, but of the 65,000+ years of storytelling and culture that came before us.
"For me, the culture—and our art in the culture—is too beautiful to be kept hidden. It should be shared with people and that's what I hope to do," says Kabushka.
Thank you Kabushka, thank you for sharing so much with us.
References
Commonground.org.au

National Museum of Australia