When it comes to finding fun team building activities in Brisbane, it pays to think outside the box. While cringe-worthy group activities like icebreakers and team competitions are common, there are far better ways to promote connection between coworkers. In fact, traditional team exercises are often awkward, ineffective and even demotivating. The best team building exercises consider different personalities, interests, personal preferences, and of course, different relationships within the organisation. For example, coming up with corporate team building activities for a group of 20 extroverts will look very different to the team building ideas best suited to a small group of people with introverted tendencies. What's more, practical limitations need to be considered, especially if your team is working from home.

With lockdowns happening all over the country, many employees are feeling flat and frazzled. Working remotely has lost its novelty, Zoom catch-ups are becoming a burden and a deep sense of fatigue is setting it in. In fact, there's a good chance that your team is on the brink of burnout, which is why it's essential to find the right team building activities in Brisbane (nf!or virtual team activities) for your hardworking crew. These unique team building exercises in Brisbane will enable your team to reconnect, unwind and enjoy a moment of lighthearted fun with their colleagues. Ready to see your team smile again? Let's take a look at some of the best group activities in Brisbane.

1. Go back to basics with drawing
When first introducing your crew to the idea of drawing classes as a fun team outing, you might notice that a few members assume that they're not artistic enough to try. But the fact is, everyone can learn how to draw, regardless of previous experience! In the right environment and with the right instructor, your team members will be able to reap the calming effects of drawing for themselves. Drawing is a great practice in mindfulness and focus, which means that your colleagues will be able to put all their stress and responsibilities on hold in favour of a little creative exploration. As they alternate between friendly chatting and drawing practice, they'll build strong relationships with their coworkers simply by engaging in genuine and authentic conversation with one another.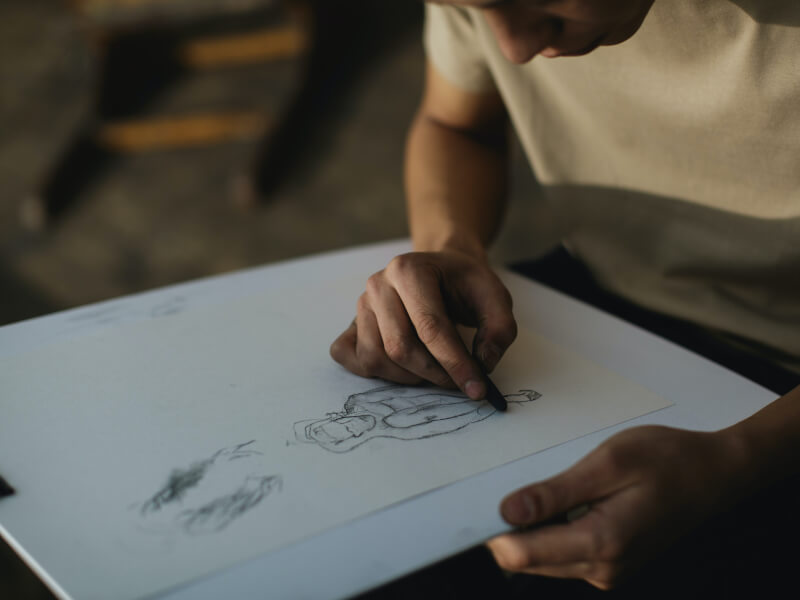 2. Behold beauty at a floristry class
Floral arrangements have an interesting history: they were initially used to symbolise death and mourning, before becoming a way for people to celebrate life. The fact that flowers can have such a mood-boosting impact on the people around them makes floristry workshops the perfect group activity in Brisbane. By learning how to arrange flowers in a vase, your team members will start to appreciate the beauty of their environment and admire each individual petal, bud and blossom. Even if they don't think of themselves as flower-lovers, they'll love the opportunity to switch off and spend some time surrounded by beautiful blooms. This is a wonderful team building activity for stressed-out groups who need a bit of grounding. Plus, who wouldn't want to learn floral arrangement techniques from a seasoned pro?

Discover more fun corporate team building activities in Brisbane here.

3. Promote a calm mind with calligraphy
One of the best group activities in Brisbane for introverted teams, calligraphy classes are like a form of moving meditation. As they focus on their hands and the shapes on the page, your team feel freer to chat and converse without the pressure of making small talk. Many of our Brisbane calligraphy classes are tranquil and calming, meaning there's no need to fill the silence with meaningless chatter. Under the guidance of an experienced teacher, your team members will learn how to use a nib pen and ink to create beautiful swirls, loops and hoops. They'll also learn about different styles of cursive scripts from around the world and develop their own unique style. As they gain confidence with each stroke, they'll feel less stressed, more focused, and more in tune with their breath.

4. Munch on authentic Italian pizza
One of the greatest things about cooking pizza? You don't need prior experience! With the right equipment, a time-honoured recipe and some hands-on guidance from an experienced chef, your team members will be able to make authentic woodfired pizza like a pro. Cooking is one of the best team building activities in Brisbane because it's the ultimate combination of focus and fun, making it a great way for your team to step away from stressful thoughts and regain some balance. The simple act of prepping the dough with your hands will also help you feel more connected to the task in front of you (and less inclined to think about work worries) while also promoting a sense of achievement when you see what you're capable of creating. Pizza making classes are one of the most popular group activities in Brisbane as they're perfect for larger teams looking to have a good time together. Plus, you'll finish the workshop with a veritable feast set out in front of you – fresh from the wood fire oven! Pizza making classes are available in-person in Brisbane or online for teams working from home.

5. Unwind at a paint and sip class
Last but not least: paint and sip classes! One of the most popular team building activities in Brisbane, paint and sip classes (otherwise known as wine and paint classes) are perfect for people who don't consider themselves artists. Relaxed, fun and colourful, these Brisbane painting classes are perfect for teams with a mix of different personalities and interests. Make it as serious and educational as you want, or simply let go and have a good time. As your group members step into the studio, all they'll be required to do is relax with a glass of wine (or two) and let their creative juices flow onto the canvas. With instruction from skilled local artists and plenty of support from their coworkers, they'll quickly learn how to create a work of art that reflects their unique style. You never know – you might leave the workshop with some new office décor to hang in the common area! Virtual paint and sip classes are also available for remote teams.

If you're looking for more amazing Brisbane team building activities that will give your coworkers a chance to connect with one another, check out our full list of team building ideas here!
Suggested workshops in Brisbane