With Christmas coming around fast, we want to help you find the best DIY Christmas gifts this 2020. It's been a stressful year and although you want to find the best Christmas gift ideas for your loved ones, you want to make sure you buy them something special.
Whilst being in lockdown may have made you reassess life and realise how important family is, there's no better time to show your loved ones how much you appreciate them than at Christmas. Christmas is all about spending quality time together with loved ones and although our DIY Christmas gifts have so many benefits to them, they are much more than a gift and could totally transform your loved one's future.
Our DIY Christmas gifts are more than a gift
Do you have loved ones who might be difficult to buy for? Or maybe loved ones who are stuck in a rut and need a new lease of life injected into them? Whilst we aim to bring out your creative side with our DIY art kits and online classes, we strive to help people start new passions or hobbies.
As an increased focus on wellbeing is on the rise, we all know we need to take time out of daily life and enjoy doing things we really love more often. When you concentrate on doing something you enjoy, it doesn't only reignite your identity, it reminds you of who are you, bringing more happiness and joy into your life. There would be no better Christmas present idea than to give your loved one the spark to start new hobbies and passions for 2021.
Our DIY Christmas gifts are suitable for everyone in Australia
We've made sure our DIY Christmas gifts are accessible for everyone in Australia, no matter where you live. If you don't live near a major city, you can jump on one of our live-streaming classes instead. This is a great opportunity to rebuild relationships with loved ones who might not live nearby. Buy a DIY Christmas gift kit so you can create memories and do the online class together, no matter where you're living in Australia.
Although we have thousands of online art classes to choose from, we're sharing some of our most popular virtual art classes so you can get some Christmas present ideas before you decide which will suit your loved one best.
DIY cooking classes for optimal health
We're all guilty of not spending enough time cooking for ourselves as much as we should do. If you know your loved one loves eating out and doesn't spend that much time using their own kitchen, our DIY cooking classes would make the best Christmas gift idea.
Not only would your loved one build the confidence to book restaurant-worthy meals at home, but they'll also save so much money from eating out. When you cook your own meals from scratch, you're more likely to choose healthier food when eating out. When you start to see the benefits of eating the right foods, you'll feel happier, have more energy and have better concentration and focus. That one cooking class you buy your loved one for Christmas could do so much more than you may have even realised!
Join your loved one on the cooking class so you can spend quality time together and create lovely memories together.
Book an online cocktail making class gift
Whilst Christmas can be quite stressful to organise, buy your loved one something they can really look forward to once it's all over and have fun at a live-streaming cocktail making class! Our online Christmas cocktail making classes make the best Christmas gifts for couples and anyone who has always wanted to learn how to make easy cocktails at home.
Most of us order cocktails on special occasions purely because of the expense, but when you learn how to make them properly, imagine how much you could save and the incredible cocktail parties you could host at home? Bring couples together to spend more quality time having fun learning how to make cocktails at home! Not only will it be a memorable experience, but they'll also be able to bond over making the best tasting cocktails for their friends and family.
Our online cocktail making classes also make fantastic Christmas party ideas as you can book a private class, and often make great online work Christmas party ideas too.
Transform your home with a hand-building pottery class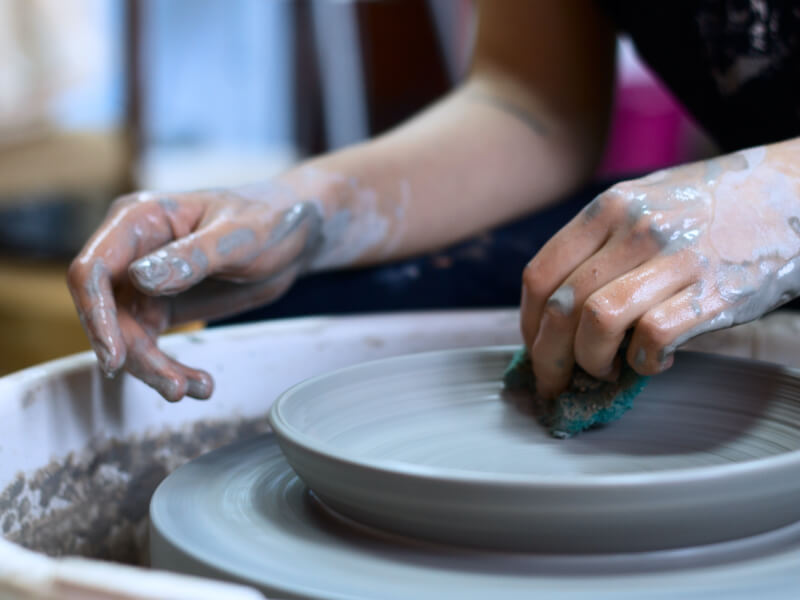 One of the most beautiful DIY Christmas gifts this 2020 has to be a hand-building online pottery class. Virtual pottery classes have become so popular recently because they are a fantastic meditative art form which helps you take time out of the daily stresses of life. As more people are taking note of their mental health, online pottery classes are on the rise.
Not only will your loved one be able to transform their kitchenware they can use every single day, but they'll also be able to look at their new favourite mugs, bowls and vases with pride, knowing they made it themselves.
Although many people assume you need to use a pottery wheel to make pottery, our DIY pottery kits include absolutely all tools and materials you would have been given if you attended the class in person. As long as you have clay, water and a fantastic teacher, you'll be able to learn how to make beautiful pottery for your home!
How do our DIY Christmas craft kits work?
If you're unsure how our online classes and DIY Christmas craft kits work, we'll send you a craft box to your front door, prepared by love from our Australian makers and teachers. Inside, you'll find all of the tools and materials you would have been given if you attended the class in person. When you set up your little workshop at home, simply log onto Zoom to find the teacher ready to teach a fun and engaging class! It's as simple as that!
Transform your loved ones lives now and book a DIY Christmas craft class they'll love!