Discovering the best DIY pottery kits and how to make your own pottery from home is an exciting way to turn your house into a crafting studio, and get creative this quarantine season! Learning how to build, sculpt and shape clay is not only one of the most engaging things to do when bored at home, but also incredibly therapeutic. Discovering how to make pottery has been linked to an improvement in mental wellbeing, and is regularly used as a form of art therapy by medical professionals, making it the perfect choice when looking for fun things to do at home.
With ClassBento's new LiveBox feature, you can master the ceramic arts from your living room with our live stream and craft box delivery service. We've handpicked some of the best pottery kits we have available for you to check out.

Finding a fully comprehensive pottery at home kit has never been easier, and the fine folks at Handmaker's Factory in Melbourne have assembled one of our most all-inclusive craft kits for adults yet! This craft box and the accompanying live stream will give you a thorough explanation of all the materials you'll be using, and their uses and versatility within the discipline.
You'll be shown the basics of hand-building pottery techniques so you can master the fundamentals, therefore giving you more freedom as you improve with your pottery skills. Once you've got the hang of things, you'll have the opportunity to build a variety of ceramic objects with the guidance of your expert instructor over the live stream. This craft box is perfect for anyone looking for a thorough introduction when it comes to learning how to make pottery at home.
This is one of the best pottery kits for kids ClassBento is offering! Combining traditional hand-building clay techniques with your little one's imagination, Jumping Creek Designs will show your children how to build a magical landscape using traditional moulding clay. With the box containing a range of paints as well as paintbrushes, they'll also be able to decorate it however they like.
They'll learn how to apply effective pottery tips and tricks to building a world that's completely their own and, unlike other pottery kits, what they end up making is entirely up to them. Jumping Creek Designs specialises in workshops for kids, and their live classes online are guaranteed to offer the same level of care and expertise that their children's workshops otherwise offer.
Building pots, mugs, vases and miniature figurines are all well and good, and an ideal place to start if you're new to making pottery. If you want to dive into the deep end, however, this clay sculpture class will show you how to build a totem-style figurine in whatever style takes your fancy!
In one of our most creative live classes online, this pottery kit is ideal if you're chasing rainy day activities for a family or groups of six or more. Although not currently viable due to pandemic laws, this class is ideal for a household/family looking to burn the time creatively and work on building something together. Once you've finished, you can pack your totem into the box provided and a courier will come, pick it up, and return it to you once it has been glazed and fired. Please note, this service is only available to residents in Sydney.
Ok, this one isn't strictly a pottery course, but as far as craft kits for adults go, this one is a double-whammy banger. Not only does it combine the therapeutic elements of horticulture, but you'll also be building your little succulent's house out of polymer clay!
Our live classes online cover a vast array of arts and craft genres, and this one rolls the botanical elements into hand-building pottery! Not only this, but the amount and variety of polymer clay you receive in these craft kits will allow you to build between eight and ten succulent houses! Perfect for beginners to both disciplines, this one is sure to appease both the gardener and craftsman within you.
Covering all the basics, this pottery kit will show you how to get the most out of learning how to make pottery without using a wheel! You'll learn how to effectively shape and mould clay, how to smoothen it out effectively, how to join clay pieces together to create larger and more intricate pieces to enjoy. These craft kits for adults are also suitable for slightly older kids and teens who are interested in learning the finer points of pottery, or looking to expand on skills they may already have.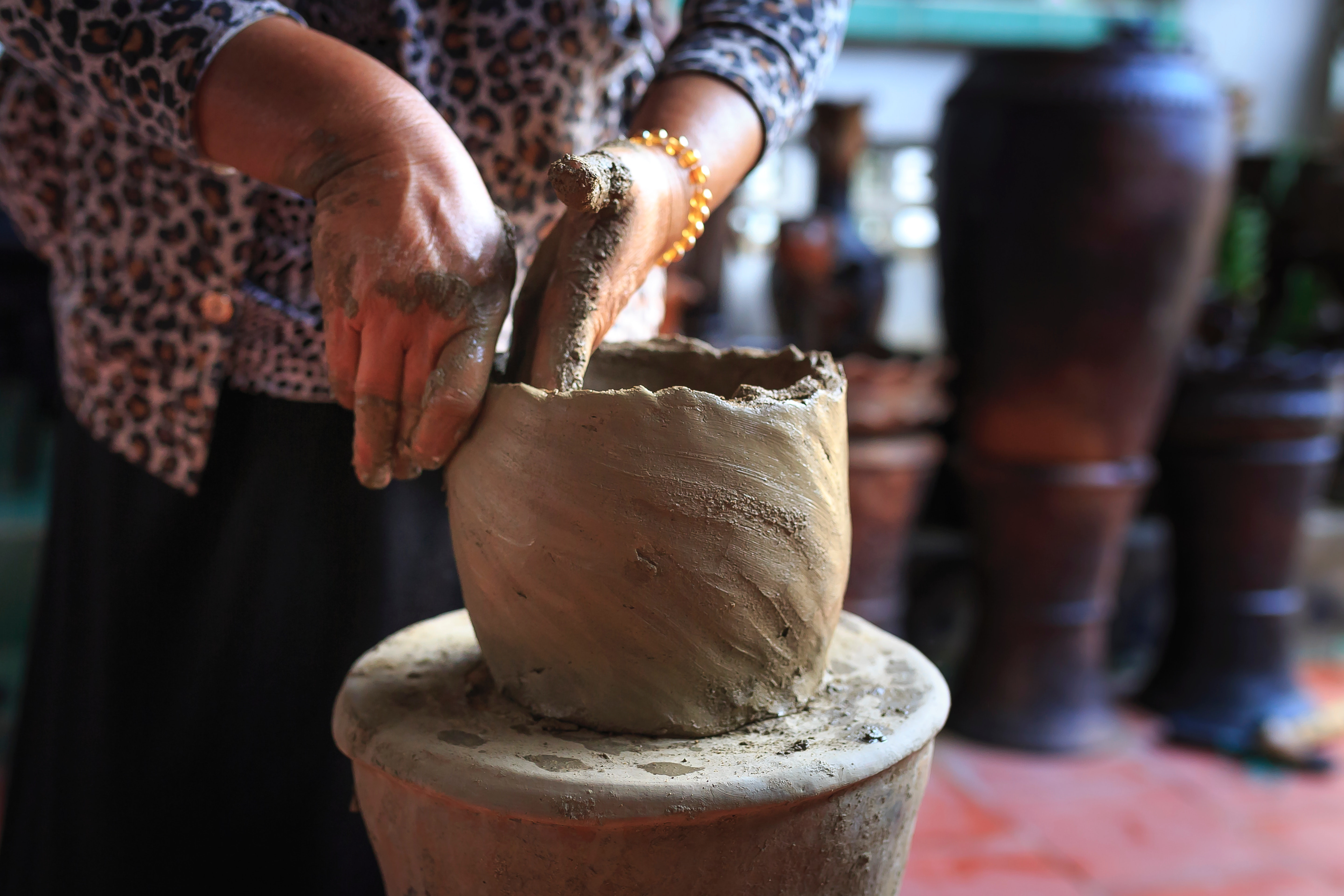 This is one of the few pottery kits ClassBento has available that's specifically designed for children, and also requires no firing process! With your ceramic pieces already delivered to you in the classes accompanying craft box kit, all the little ones have to worry about is decorating their choice of ceramic as best as they possibly can!
Similar in style to the miniature succulent class, you'll be learning how to make a hanging clay planter out of polymer clay! Your craft box will contain two plants, a variety of polymer clay, and instructions on how to care for and maintain indoor plants. One of the benefits of this pottery kit is that the class is offered as both a live stream workshop and as an all-in-one craft pack, meaning you don't need the internet to learn everything you need to know. This pottery kit is ideal as a gift for a loved one who struggles with technology, or to anyone who wants to add a bit of a green touch to their interior.