Celebrate your next big event with these unique cocktail making ideas, perfect for a party in Melbourne! Led by the city's best local bartenders and mixologists, you and your group will get to pour, mix, muddle and shake delicious cocktail recipes in a casual, hands-on environment. From Margaritas to Espresso Martinis, Daiquiris to Whiskey Sours, there are classic cocktail classes in Melbourne to suit everyone's taste and style!
Whether you're looking for fun things to do for your next birthday party or team building activities that are sure to start the conversation, a mixology class is a foolproof way to get everyone involved, excited and satisfied. Cocktail making classes are also amazing and unique experience gift ideas if you're stuck on what to buy for your loved one, as they'll not only have a great night out but will also learn skills to make their own cocktails at home! These indoor activities truly are the gifts that keep on giving.
Check out these cocktail making ideas for every occasion and get ready for what will surely be an unforgettable night!
Liven up your team building events with these classic coffee cocktails

Swap out the office coffee run for something a little bit more exciting with these classic cocktails! Melbournians are serious about their espresso and it's hard to live in the city without being a dedicated caffeine-lover. It's no wonder, then, that coffee-themed team building activities are guaranteed to please everyone.
Of course, the traditional Espresso Martini is your most popular coffee-based cocktail, but you could also try something new like a coffee Old-Fashioned or a White Russian. Mixologists are usually open to suggestions from their students and would be pleasantly surprised if you go for a cocktail that is more unique. You could also check out some of their signature cocktails before the class, to really get a feel for what they love teaching.
Add zest and zing to your next birthday party with citrus cocktails
Looking for birthday party ideas that will give you a zest for life? Add a generous squeeze of lime or lemon juice to your citrus cocktails and get everyone buzzing and excited. At these hands-on Melbourne workshops, you can finally learn that perfect margarita recipe or get busy making minty mojitos with your best friends and favourite family members by your side!
Do you know a birthday guy or gal in the city who'd just love a cocktail making class? Surprise them with an experience gift card or jump on Zoom with them from the comfort of your own home for an online workshop. There's no better way to show your loved one that you care than with unlimited cocktails they'll be able to make at home!
Pretty in pink drinks that are perfect for a fun hens night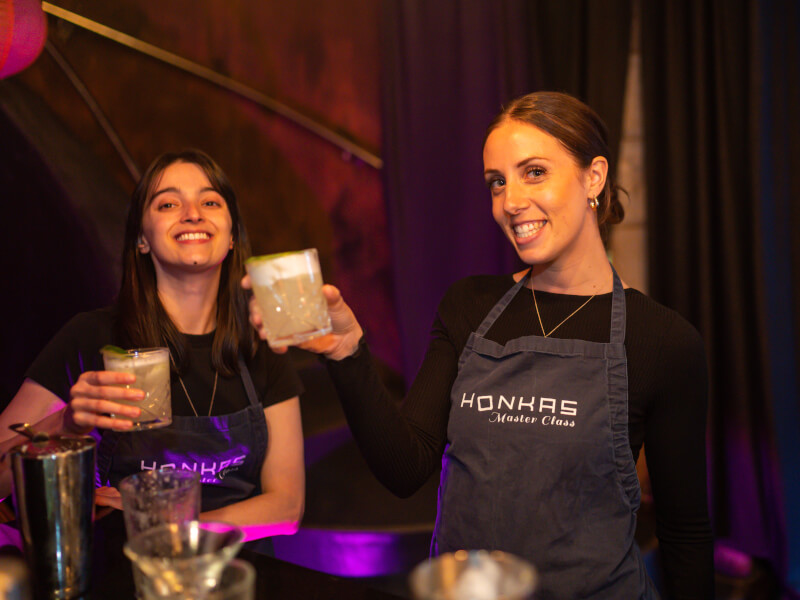 Hens nights in Melbourne are always fun, no matter what kind of bachelorette party activities you choose to do! If you're looking to mix things up from the usual pub crawl or casino night, why not try something new and classy? Make your hens party a memorable one with these sweet and stylish pink-themed cocktails.
Of course, the classic cocktail for a girls' night is the Cosmopolitan. This cocktail is sweet and tangy with a hint of citrus that you and your favourite ladies will love, but mixologists will be more than happy to teach you different variations of this drink during your class.
For more adventurous bachelorettes, you could try something like a Raspberry Lemon Drop Martini or a fun Pink Champagne cocktail. Feeling more creative? You could even come up with your own signature cocktail using champagne or sparkling wine!
Gather the guys for a whisky-themed bucks party
The ladies aren't the only ones who can have fun making and sipping their cocktails. These mixology courses are great for bucks parties too! If you and the guys also want to get into the (whiskey) spirit, then whiskey-themed bucks party ideas will be sure to please!
It's no secret that Melbourne is home to some of the best whiskey distilleries and bars, so why not put your cocktail making skills to the test with some Old-Fashioned or Manhattan recipes? Whiskies, ryes and bourbons are all different types of whiskey, so mixologists will be able to teach you the basics of each and help you pick out the perfect drop for your group. Pair your drinks with some chocolate or cheese to really compliment your fun and flavoursome night out!
Show your partner how much you care with these sweet date night ideas
Shake, stir and muddle your way into your partner's heart with these delicious, easy cocktails! Ideal for date night ideas that are a little more exciting than going to the movies or grabbing dinner at a restaurant, cocktail making is sure to get their heart fluttering, in more ways than one.
You could take turns mixing and shaking different cocktails while your other half measures out the right amount of alcohol. Once everything is prepped, it's time for tasting! Take it in turns to try each other's drinks and see who can guess which recipe belongs to whom.
Not sure where to start? These classes can be designed for couples, so get ready to do some old-fashioned flirting with new cocktail recipes!
If you're searching for romantic things to do in Melbourne, why not try one of these classes on Valentine's Day? Whether it's an intimate dinner or private room hire at a local bar or restaurant, you could design the ultimate experience for two, all while learning cocktail recipes that you can bond over for years to come!
Grab some friends for a rum-tastic evening of tastings and tipples
Spice up your casual get-togethers with rum-tastic mixology classes! Rums are one of the most popular spirits in Australia, as we love that sweet flavour as well as that beautiful golden colour.
There are few better ways to learn about rums than by being taught by someone who is passionate about them – and if you know anything about Melbournian bartenders, it's that they live for passion. Rum aficionados will be more than happy to teach you all about white, spiced and dark rums as well as other rum-based cocktails to try later on.
Cocktail workshops in Melbourne