Are you looking to brighten your home this year? Come along to fun pottery classes in Perth and learn how to make beautiful DIY ceramics for your living space. Buying home decor can be expensive but by creating your own handmade pottery, you can save money and customise your own one-of-a-kind creations!
Whether you're wheel throwing or hand building clay, you're putting your heart and soul into the pieces you want to proudly display at home. This way, it can be uniquely you and will help bring more life to your space.
These Perth activities are also great for spending quality time with your friends and family, as well as making your own DIY ceramics for yourself or a special someone. Whether you're looking for romantic date ideas, classy hens party activities in Perth or gifts for her, don't miss out on showing appreciation with a thoughtful, handmade gift!
Read on to discover the different types of DIY pottery you can make at ceramics classes in Perth and prepare to breathe new life into your home.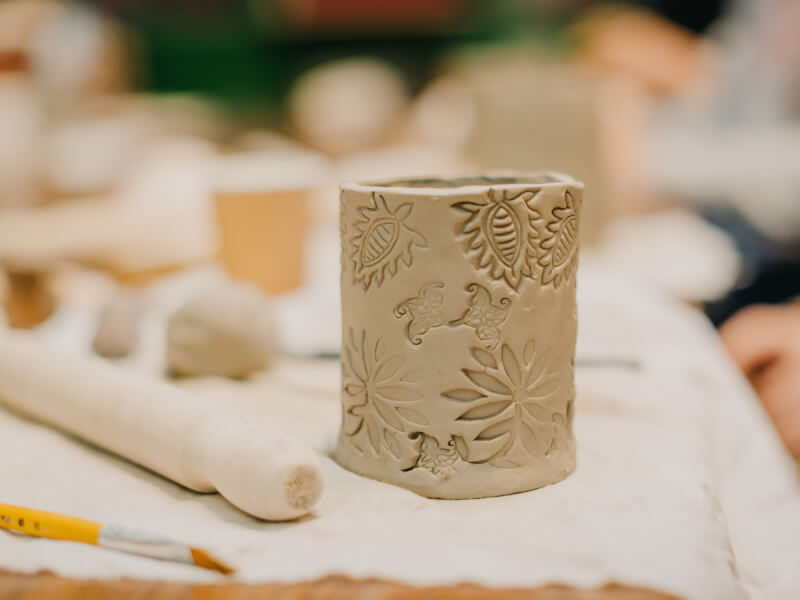 Head to your local Perth pottery studio and create your own ceramic pieces with beautiful leaf and flower imprints. In this unique clay and sip class in South Fremantle, you will be inspired by nature and flowers as you can collect your favourite ones from outside or use their studio selection. Guided by your friendly teacher Mandi, you will learn how to hand build clay and use the leaves and flowers to imprint on your stone creations.
As you create, you can sip on your favourite drink, enjoy some nibbles and mingle with your loved ones. Ceramics classes in Perth are perfect for fun birthday party ideas so get your favourite girls together for a night out and do something creative with a glass of wine in your hand.
Paint your own pottery
Looking for things to do in Perth this weekend or ceramics classes near me? Join Little Paint Co for a custom ceramic painting workshop! You get to choose from a wide range of 70 different pottery pieces to paint your masterpiece on from bowls, mugs, planter pots to many other beautiful homeware items.
Then it's time for you to put your own unique twist on the pieces. Add some flowers, funky shapes or dots and even some glitter glaze. You will be taught ceramic painting essentials and can use an array of tools like sponges, stencils or bubble glaze to create amazing colours, patterns and textures. At the end, your teacher will glaze and fire it for you and after two weeks, you can pick up your handmade creations. Easy as that!
If you're on the hunt for hens party ideas, Perth pottery classes could be the right pick for you! Celebrate the special day with your friends and make gorgeous DIY ceramics that will be the perfect addition to your home.
Make a quirky ceramic mug and spoon
Join Hannah of Moody Rabbit in her cosy home studio and create your own ceramic mugs and spoons! At these ceramics classes in Perth, she will take you through the steps on how to hand build clay into a personalised mug and spoon set. You will also learn how to paint them with ceramic paints and brush on glaze using your own colours and patterns. Once they are fired in the kiln, you can pick up your beautiful set after two weeks and take it home with you.
This pottery course is an experience like no other where you can get creative, be hands-on with clay, as well as have a relaxing night out with friends or loved ones. So why not try signing up for Perth workshops and create DIY ceramic art that will last a lifetime?
Kids can discover the art of hand building clay
For those who have kids, head to Not Yet Perfect in Perth CBD and unleash their creative spirit with a hand building clay workshop. These beginner's pottery workshops include basic techniques on how to create gorgeous pinch pots using hand building and coil building techniques. It's the perfect introduction to the world of pottery as kids are free to get messy with clay and try something new. The friendly teacher at Not Yet Perfect will also do the hard job: cleaning up the mess!
Pottery classes in Perth are suitable for both beginners or for those who want to start a new hobby. Kids can take home their hand-built pottery, as well as some newfound skills!
Do you have any green thumbs or aspiring gardeners in your gang? Come along to this beginner pottery class in Coolbellup and learn how to make ceramic planters and saucers. Under just a couple of hours, you will learn how to shape and mould earthenware clay using the slab hand building method. You'll also get a chance to paint and glaze your ceramic pots with your own unique designs. In the end, you will have created your very own beautiful flower pots that can be put outside at home or given as DIY gifts to friends and loved ones as housewarming presents!
Looking for date night ideas? Bring your partner along to this beginner pottery class and get creative with your own DIY ceramics. This way, you can make a personalised planter and saucer set perfect for your plant friends!
Mould clay into a beautiful vase
If you're looking for creative things to do in Perth this weekend, a ceramic vase could be just what you're after! This unique class will teach you how to make one-of-a-kind vases at your local clay studio. Whether you're a beginner or have some pottery experience, pottery classes in Perth are suitable for you as a friendly, experienced ceramicist will guide you through moulding and hand building with air-dry clay. You will then enjoy a glass of wine while working away on your own unique piece!
Plus, no kiln is needed, as air dry clay only needs 72 hours to harden. This means you can take home your beautiful vase right after the workshop! Perfect for team building activities, why not try this pottery class and learn how to make hand-built pottery together.
Create your own clay sculpture from scratch
Have you always wanted to sculpt clay? Well, here's your chance to in this clay sculpture pottery course in Mount Hawthorn. Led by expert Natalie Zuchetti, she will teach you how to design, colour and glaze your clay sculpture, as well as sharing her professional tips and tricks.
You can bring along your favourite photos or memorabilia and turn them into ceramic pieces that can be displayed on your home table or shelf. These custom-made clay sculptures are also great wedding favours and birthday party ideas as well as thoughtful experience gifts for her so don't miss out on these fun Perth pottery classes!
So, whether you want to create nature-inspired pottery or paint some of your favourite patterns and designs on clay sculptures, ceramics offer a whole range of DIY home decor items for your home.
Pottery workshops in Perth