What does every girlfriend really want? Quality time with her gal pals, of course. While there's definitely a place for romantic date nights for two, these gift experiences for her will win you serious brownie points with your bae. Whether your girlfriend has a tight-knit crew of two or three besties, or an entire flock of gal pals, these cute gifts for girlfriend have all the feminine feels.
Ready to get inspired? From wine-soaked paint and sip classes to cocktail making masterclasses, read on for our guide to the best presents for girlfriend.
Paint and sip classes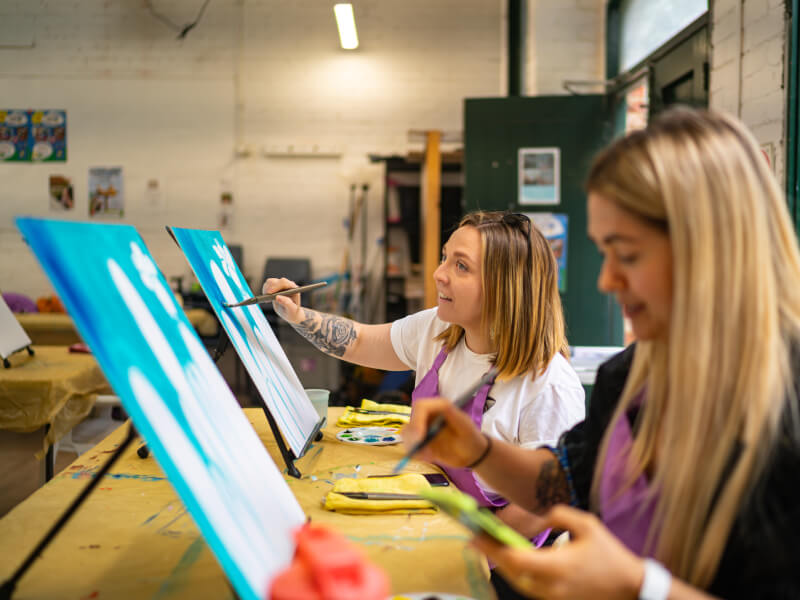 It's official, wine and watercolours are a match made in heaven. Paint and sip classes are one of the best gifts for her as they appeal to all ages and interests. Whether you're brainstorming ideas for your girlfriend's 30th birthday or looking for something special to celebrate your 10th wedding anniversary, paint and sip classes will go down a treat. Painting and drinking are always more fun with friends, so why not purchase a few classes and encourage your girlfriend to invite some of her nearest and dearest along?
Learn to paint Monet masterpieces while sipping a glass of Merlot, or channel your inner Picasso with a glass of Pinot Noir in hand. If your girlfriend has a passion for travel, she'll love workshops like our Moroccan retreat paint and sip class. Most classes are BYO, meaning your girlfriend and her besties can bring along a bottle of their favourite wine. No experience is necessary, with all classes led by expert artists who walk you through every step of the process.
Clay hand building classes
Looking for fun things to do in Melbourne that your girlfriend will love? Clay hand building classes make perfect gifts for ladies who aren't afraid to get their hands dirty. There are loads of unique classes to choose from, including a ceramics class that teaches you how to make your very own boob vessel vases – a guaranteed hit with the ladies!
As well as mastering the art of clay sculpting, there's plenty of time to chat with friends and share a laugh. It's this social aspect that makes these cute gifts for girlfriend a sure-fire winner with your other half. If your girl is feeling a little burnt out at work or getting stressed in the leadup to your wedding, clay hand building classes are a great way to relax and unwind. Creating beautiful works of art with your hands is incredibly therapeutic, meaning your girlfriend will leave feeling utterly Zen. Plus, she'll have a cute ceramic to show for it too! Looking for more feel-good gifts for her to boost health and happiness? We've got you covered.
Cocktail making classes
Is a girl's night really complete without a few craft cocktails? Didn't think so. If your girlfriend and her crew are all about hard-hitting espresso martinis or salty margaritas, cocktail making classes are the perfect choice. These gift experiences for women are some of the most fun things to do in Sydney and they'll even take you behind the scenes of some of the city's hippest local bars. As well as sipping cocktails with her closest friends, mixology masterclasses are the perfect way to break the ice on hen nights where the mother-in-law is mingling with the maid of honour for the first time.
It's not just Sydney where you can learn to make craft cocktails, with cities across Australia offering these cute gifts for girlfriends. In Perth, our best-selling cocktail masterclass and bar tour for hens parties is a sassy way to celebrate brides-to-be. Your girlfriend and her squad will sip their way through the streets of Perth and Northbridge, playing fun games along the way and most importantly, learning to create their favourite craft cocktails from scratch. Hen parties aren't the only excuse to treat your girlfriend to a cocktail making class, with mixology masterclasses also making fantastic Christmas gifts for women.
Floristry classes
Looking for fun things to do in Brisbane for a hen party? Floristry classes teach your girl and her besties to create beautiful flower arrangements from scratch. DIY flower crown making workshops are one of the top Brisbane activities for hen parties, with every special lady leaving with her very own flower crown. Taught by some of the most sought-after florists in the city, your girlfriend and her crew will learn from the crème de la crème.
Floristry workshops are also one of the top fun things to do in Perth. For a serious celebration, why not splurge on a dried flower workshop with bottomless brunch? Helped along by free-flowing prosecco, the lovely ladies in your life will learn how to arrange their own bespoke floral pieces. There's no need for any previous flower arranging experience, with all classes geared towards beginners. You really can't go wrong with these blooming marvellous (see what we did there?) presents for her!
Go exclusive with these cute gifts for girlfriend
From Taylor and Selena to Oprah and Gayle, female friendships are one of the most precious assets a woman can have. They have the potential to bring so much love, joy and happiness into a woman's life, which means encouraging your girlfriend to nurture these friendships is one of the grandest gestures you can make as a partner. Our experience gifts for women fit the bill perfectly, combining fun and hands-on activities with plenty of opportunities to bond with the girls.
If you really want to treat your lover to the ultimate girl's night, why not go exclusive and book a private class? With enough attendees, you can secure your girlfriend and her inner circle the undivided attention of a bottle-flipping mixologist, a professional artist or a flower-obsessed florist.
Ready to win those brownie points we talked about? Browse our diverse range of cute gifts for girlfriend. We have thousands of classes across Australia, including the best Sydney activities and loads of options in other major cities like Melbourne, Brisbane and Perth.
Flowers and Plants workshops