What could be more meaningful than a DIY experience gift card this Christmas? Not only will your gift recipient be empowered to learn a new skill and make something, but you can also join in on the action! Paint a masterpiece, arrange a Christmas wreath and much more with these unique gift experiences.
As the silly season ramps up and everybody rushes to the stores to tick off their Christmas shopping list, you can sometimes lose sight of the true meaning of the festive season. Try something new this year and get an experience gift card that offers quality time and connection over material gifts. Your special someone will see just how much you care and enjoy making priceless memories at a beginner-friendly class.
Setting aside time in our busy lives and DIYing handmade gifts is the perfect opportunity to unwind and focus on what's important. Amidst the hustle and bustle of our daily routines, taking on a creative project can be immensely fulfilling for both ourselves and the person we are gifting. It's a chance to challenge ourselves and tap into our artistic side, while simultaneously bringing joy to others. Whip up quality chocolate for a significant other or build your own succulent terrarium to gift to a kind co-worker.
We've provided you with options for DIY projects to gift and the best workshops to share with a Christmas experience gift card this festive season.
Learn how to make chocolate
Calling all sweet tooths! Learn how to make delicious desserts at chocolate making classes. Guided by a passionate foodie, you and your gift recipient will get the lowdown on what goes into chocolate, how it's made and (most importantly) how best to enjoy it!
Arrange a Christmas wreath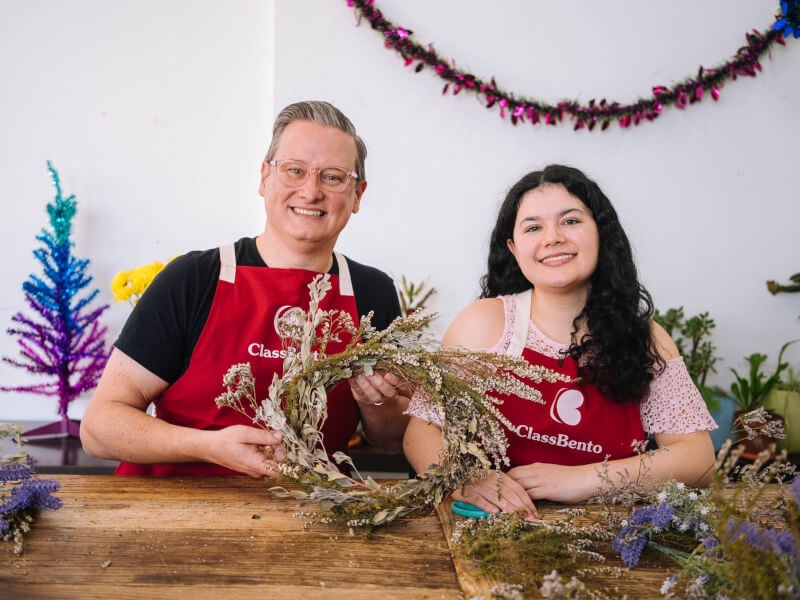 If your special someone loves all things Christmas then Christmas wreath classes will definitely put a smile on their face. We definitely recommend testing this class out before Christmas Day rolls around to make sure you can display your wreath all throughout the holidays.
From dried flower wreaths to succulent wreaths, there are so many fun and unique designs to choose from! Get an e gift card for a wreath making class to get into the spirit this festive season.
Find more inspiration for DIY Christmas gifts here.
Hand build clay creations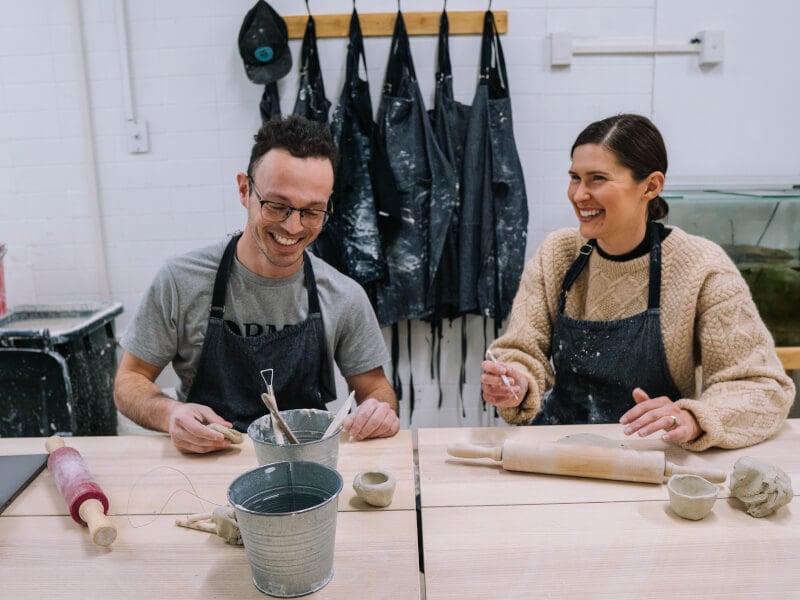 Looking for relaxing things to do in Sydney, Melbourne and beyond? Clay hand building classes are some of the best indoor activities you can try with your loved one. From learning how to sculpt your mate to shaping your own ceramic mugs or even making your own teapot, these unique experiences are sure to be memorable. Your weather-proof digital gift card is just one part of the gift–a one-of-a-kind handmade creation completes the package!
Make a succulent terrarium
Looking for gift cards for her? Succulents are the perfect pick for Christmas! They're easy to grow and require little watering making them the ideal gift to give (or receive). Terrarium workshops come with everything you need including pots, soil, pebbles and succulents so they're super easy to put together at home. You can even gift your finished terrarium along with a matching plant care guide!
Cook up a storm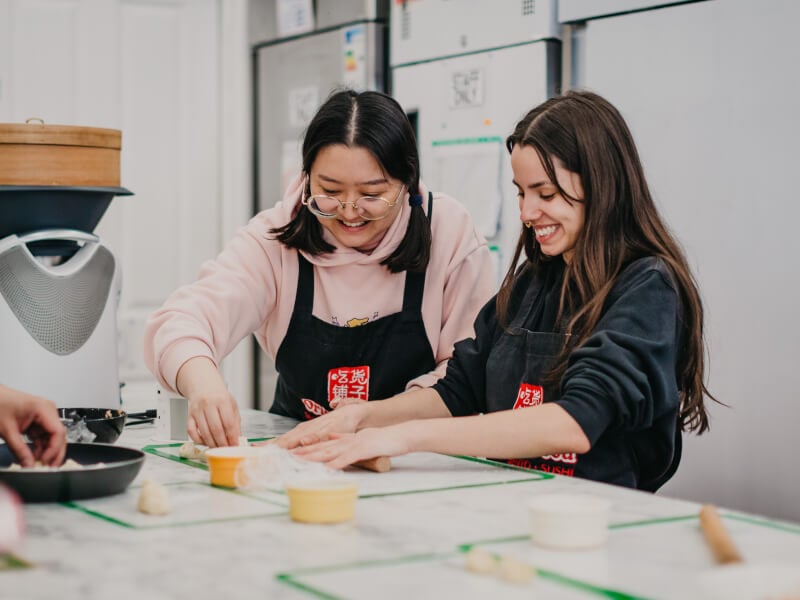 You and your gift recipient can roll up your sleeves and put together a scrumptious meal with experienced chefs at Cooking classes. These unique experiences are great for that special someone who's always trying out new recipes in the kitchen. They're one of the best ways to spend time with loved ones these holidays. Plus cooking classes are a fun thing to do for couples. If you need a romantic gift look no further than a digital gift card for a cooking class that reflects their favourite cuisine.
Paint a masterpiece
Looking for fun indoor activities? Painting classes are a fun way to try something new. From learning how to paint your favourite landscape to paint and sip in the dark, you'll get the opportunity to practice and create your very own painting. At the end of the class, you'll both take home your own personal memento of this special, shared experience. Talk about the gift (card) that keeps on giving!
Learn how to crochet
For some, crochet is an everyday hobby and for others, it's a craft that can be quite difficult to learn. Crochet classes are a great way to get started on your crocheting journey. With the help of an expert, you'll make a simple scarf or blanket with ease and even learn how to read patterns. Retro knitwear is making a comeback, so crochet classes are the perfect gift card for teens.
Bake sourdough bread from scratch
Bread making is one of those things that looks really hard but is in fact super easy! Sourdough bread making classes will take you through the basics of shaping your dough into loaves and even let you decorate them with seeds or herbs at the end.
Shake up cocktails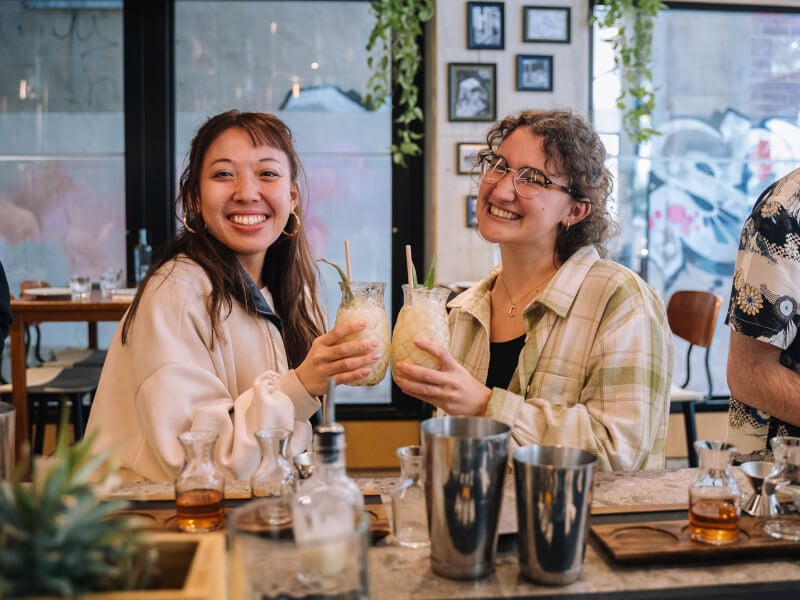 Master your mixology skills at cocktail classes and you'll be a pro in no time. Choose from classic cocktails or signature cocktails and enjoy a night of creativity and laughter with your loved ones. Your expert mixologist guides will have you making beautiful drinks in no time!
Carve a wooden spoon
Need a gift card for him? Wooden spoon carving is a fantastic DIY experience if you're looking for unique activities. Not only will you be gifting your special someone with something they can use in their everyday cooking, but this class is also an affordable option meaning it's perfect if you're working with a budget this Christmas season.
Make a bespoke signature fragrance
Let your giftee DIY their own signature scent with a perfume making gift card and revel in their delightfully fragrant company. With a perfume making class, you can put a personal touch on the traditional Christmas gift of perfume. Plus when you get a gift card for two, you can come along and bond with the lucky receiver of your gift this holiday season!
Who said gift vouchers were impersonal? This Christmas give your loved ones an e-gift card based on their interests and hobbies and delight in their growing passion. Better yet tag along for the gift experience and enjoy the greatest gift of all–quality time with loved ones.
Gift a unique experience
Pick a fun experience for them, or let them choose from our thousands of creative classes and kits.
Valid for 3 years.
card_giftcard Get a gift card